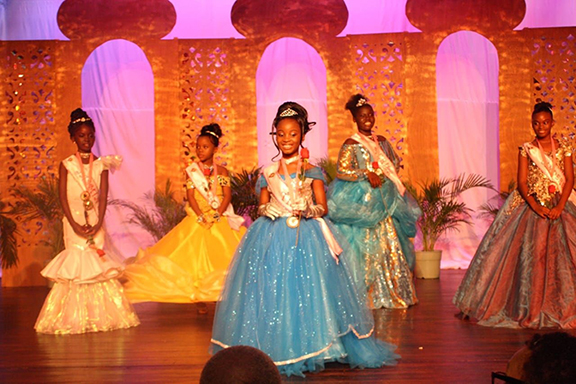 Eight-year-old Akeela Simpson of Comenius Primary brought the curtains down on the Miss Princess Guyana Pageant when she was crowned by last year's princess Oshay Roberts at the Theatre Guild on Sunday last.
The pageant which was run for the second year, carried the same Disney theme. Akeela played the character of Princess Tiana, while the other contestants were: Per'yah Jones – Rapunzel, Patrice Rollox – Belle, Ske Dawson – Snow White, Rihanna Maloney – Jasmine, Kristen Morris – Cinderella, Dyana Joaquin – Pocahontas, and Luanna Cockfield – Princess Merida.
At six o'clock, an hour before the pageant, persons were treated to a Cocktail Meet and Mingle. The pageant began with a group dance during the introduction segment. The Creative Wear Segment followed, which saw the girls adorned in unique pieces assembled from upcycling materials. The Ministry of Communities sponsored this Green Generation Project segment.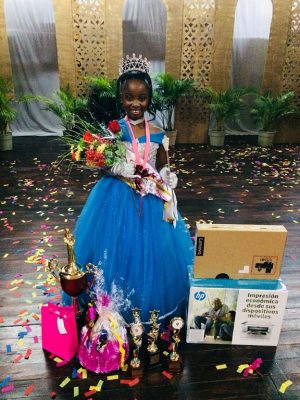 The talent segment saw Per'yah playing the violin to the Tangled theme song, "I See The Light". What was surprising was that Per'yah did not play the violin prior to signing up for the pageant, but within four short weeks, she was playing the violin onstage. Patrice danced to the R Kelly and Celine Dion song "I'm Your Angel", Ske danced to "Greatest Love", Akeela did a soulful dance that told the story of Tianna's dream to own her own restaurant someday. Rihanna did a dramatic piece called 'Who Are We', which questioned the older generation about the example they are setting for the younger ones. Kirsten too followed with a dramatic piece 'Books' which surrounded the adventure found in books. Dyana sang a cover of "How Far I'll Go" from Moana, and Luanna did a fusion of dramatic poetry and dance. Poetry. Oshay Roberts followed with "IT Must Come to Meh Class," a calypso song that focused on technology in the classroom and served as a plea to the ministry.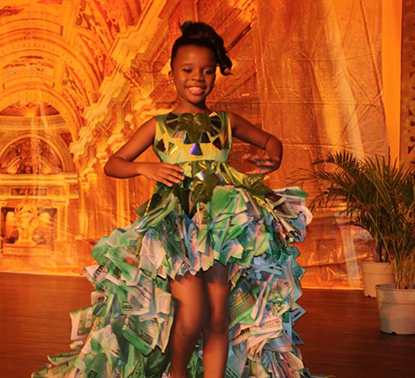 After a 20-minute intermission there was a group dance by children attending various primary schools. The dance was choreographed by Natasha Johnson. This led to the Evening Gown segment followed by the Question and Answer segment. The questions surrounded what they would take away from their Disney princess characters, their experience in the pageant and other family-based questions. The queen was chosen based on compounded scores gained on the night of the pageant as the well as one of the three preliminaries. While the scores were being tallied, Kalief Sobers serenaded the contestants with "She's Royal". Throughout the evening, the audience was treated to dances put on by children from Comenius Primary, a performance by Stephen Ramkellawan, and Kalief.
Prior to the pageant, preliminaries were held for People's Choice Award on Facebook, Miss Photogenic, which was done at HBTV Channel 9 via a call-in show and a Personality Interview that questioned the girls on the princesses they represented.
Rihanna took the Miss Photogenic Award, Luanna the Best Personality Award, and Akeela bagged five awards: People's Choice, Best Talent, Miss Congeniality, Best Gown and Best Smile. In the Creative Wear Category, Dyana copped this award for the most creative piece to have come from upcycling. Her piece was designed by Mark Junor and consisted of newspaper, CDs and fabric totalling at least 80 percent of recycled materials. She won a trophy along with a $25,000 cash prize.
"The idea behind the pageant… if you look back on these Disney movies, they show you strength, poise, kindness and bravery. Many of the princesses had only one parent present in her life. It teaches you to overcome your challenges despite your situations. This is what we want them to learn. This is not a beauty pageant. A lot of the girls came shy and they left more confident and more open. They are more interactive with their parents and we want to motivate them to be better people," National Director of the Miss Princess Guyana Organization and CEO of Nandre's Kreations Neilson Nurse said.
He took the opportunity to acknowledge his team who would have worked assiduously in preparing the contestants for the pageant: Tyon Allen (Choreographer), Fredrick Minty (Actor), Nikouma Philadelphia (Music Teacher), Keshea John (Professional Model), Leslyn Johnson (Teacher) and Kimberly Fernandes (Actress).
All the contestants received medals for their participation while Akeela and her two runners-up Luanna (1st runner-up) and Ske (2nd runner-up) won a one-year gift certificate from Eco for Life.  Akeela and Ske each received an educational voucher of $10,000 while Luanna received a gift certificate from Bravo Arts to be a part of a two-week workshop.
In addition, both Ske and Luanna received a tablet each along with trophies. Akeela along with her crown and sceptre was also awarded a laptop computer, a printer, a cell phone, an outfit by designer Sidney Francois along with a $100,000 gift certificate from Give Another Chance Foundation.  
Around the Web