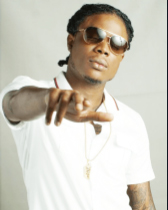 Popular Jamaican dancehall singer Masicka is expected to hit the National Park stage on September 29, for his 'They don't know my story' concert compliments of Lion Heart Entertainment, Guinness and Kings of Kings Records and Productions.
Born Javaun Fearon, the 26-year-old dancehall sensation is said to be enjoying a breakout year in dancehall, becoming the most sought-after artiste.
According to a press release from the promoters, Masicka is coming to Guyana for the first time and according to Damion 'Teflon' Forbes, the principal of Kings of Kings Records, all systems are in place to host the show which will also feature world-rated and sound-clash champions Bass Odyssey.
"Masicka is more than excited to come to Guyana. He's aware that Guyanese love his music. He knows that Guyana is a great place to perform, and what I can say to people is grab your tickets early, avoid the rush. Apart from Masicka, we have Kellz from Tobago and Sky Kidd from Antigua performing also for the first time in Guyana… We will see Lion Heart Sounds making a return, DJ Ackeem and other top local deejays," Forbes said in the release.
In recent years, songs like "Top Striker" and "Knock It," allowed Masicka to show his ability to tell vivid stories of the streets and his rise to the top. Coupled with his undeniably versatile melodic sensibility and punch-to-the-gut delivery, Masicka has made it clear that he is a musical force to be reckoned with, in Jamaica and beyond.
Masicka said he is looking forward to his time in Guyana, since he is aware that some of his music is on the playlists of many dancehall fans.
The Marriott Hotel, Digicel, White Castle Fish Shop and Chelsea's Restaurant are listed as some of the sponsors for the show which carries a gate entry price of $3,000 per ticket, while VIP tickets are being sold for $8,000. Early-bird tickets will be sold for $2,000 and are available at White Castle Fish Shop, Clairan's Boutique and Chelsea Suites.
Around the Web