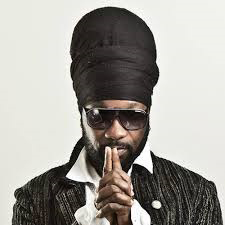 France-based Guyanese Reggae singer/songwriter Cleveland McBean known as Ras McBean has released a new album this year, 'Reggae On A Mission', which he recorded in Serbia.
Cleveland, who lives in Paris, told The Scene during a recent vacation here that he has been singing since he was the age of seven. Originally, he sang gospel and soul. His singing career started in 1990, but his life in the music business really kicked off in 1998 during a competition in French Guiana.
He had travelled there with two other artistes to represent Guyana and had sung a song called "Laid Back" which won him first place and a vacation to France. He travelled there in 2000. The trip there made him look at music from another perspective. "When I went out there and see the need for music, I said, 'you know what? I will anchor right here and do my thing.' My talent exploded there," he said. "I was accustomed to being in a country where music was stifled, and it always made me feel congested so when I had the opportunity of being in a place where there is no limit to a man's talent in music… I started singing with different producers and got on to people who had concerts and said, 'you sing good'. Then I started performing at one show after the next… at that time I started writing my own music until one day I was singing at a show and two producers were in the crowd. My crowd had started getting larger and larger; one time it was 500 then 800, until it reach 3,000. They came to me after the show and asked to speak with me. The name of the label they were with was called 'Irie Ites'. They were two Caucasians and they said, 'Rasta man we've been watching you for a while now. You merit the opportunity of doing an album with us'. They took me and gave me a house and my own vehicle. I did my first album called 'Pack Up and Leave'. This album was about me leaving Guyana. It spoke about how I left, how my mom cried, when I travelled, what I went through… the album was sort of emotional for me."
He later met his wife with whom he has four children. He learnt French in six months and was able to do so since he saw to it that he learnt three new words every day. Paris, he said, is like a dream for some people, adding that it was a dream for him when he first arrived there but it became a "gift" for him given what he was able to achieve. His work is so vast that in France he is noted in the book of artistes (The Book of Music) as one of the most powerful voices in reggae music.
Cleveland records his music in his home studio. He explained that for him music is like breathing.
Stevie Wonder and Celine Dion are two of his inspirations. He said of Dion, "I go to see her to talk." He also admires Phil Collins, who he says, "is very powerful."
Paris itself is an inspiration, he said. Because everywhere he goes he sees different things to write about – different attitudes, a different way of life especially with being a multicultural country where there are people from all kinds of race living there. He also listens to Arabian Music sometimes and during a visit to Dubai he was awed with vocals of the singers there; this too has inspired him.
Over the years, Cleveland has recorded and produced three albums and close to 60 singles. His last album, 'Reggae On A Mission', was done this year through record label SoulCraft from Serbia. He had paid a visit to the country in 2009 and performed at a concert, but never believed that one day they would be calling him up until it happened last December while he was on tour in the US. At first, Cleveland said, he was a bit skeptical about going ahead, but then they began telling him about his music and how much they wanted him to work along with them. In February of this year he flew to Serbia where he remained in the recording studio for nine days, writing and recording 18 songs. Since the release of the album, the response has been great he said. Videos have been shot for two of the songs on the album: "Give Thanks For Life" and "Boots Tracks" and plans are in train for a third video for the song "Never Give Up".
This album, Cleveland said, is a bit more emotional for him since he wrote a song called "Mother's Love" to honour the passing of his mother who died last year. "I showed in the song a mother reaching out to her son, a son who needed to go out and face the world. She had said 'if things don't go the way you plan, come back home. I'll be waiting for you'. Even now I speak I get emotional. She had gotten up and hugged me and she said 'my son, I know you're going out there. It's not an easy world. I wouldn't stop you… go ahead face the world…,'" Cleveland said.
While in Guyana enjoying his rest prior to beginning a tour, Cleveland did interviews on NCN and with radio DJ Malcolm Ferreira. His tour will encompass 35 shows in Finland, Germany, Austria, Yugoslavia, Serbia, Hungary, Romania, Italy, Belgium, Holland and others over the next two months.
His other albums are 'Pack Up and Leave' which was released in 2004 and 'Enlightenment' (2010).
Because the lack of enforcement of copyright laws in Guyana, the albums are not available for sale here. For information on getting them, the artiste can be contacted on Facebook at Ras McBean.
Around the Web