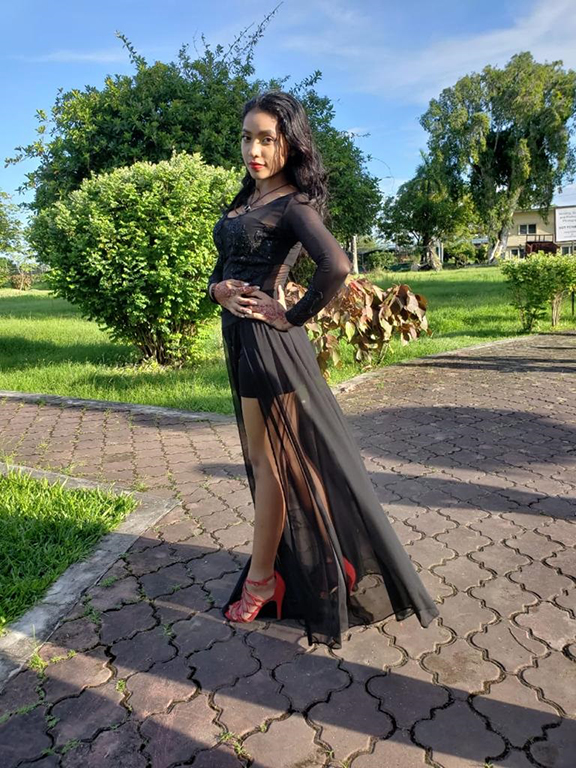 Aspiring Medic Petrina Gordon found her niche in modelling years ago when she attended St Rose's High School. However, Petrina only took up modelling as a profession ten months ago in November, when she modelled for Naya Andaaz which launched a clothing line at its annual year-end show.
"I've always been fascinated by it. My mom loves looking at pageants so I kind of grew up looking at these pageants and I would think to myself 'wow'. What caught [my attention was] the way the models carried themselves, like their posture, their walk of course, their facial expressions and the vibe they gave off when modelling," Petrina explained.
According to first year University of Guyana student, for two years she had danced and modelled at St Rose's High then for one year she danced as a part of Ishara Dance Troupe. Later, she joined Naya Andaaz Performing Arts and has been dancing there for four years. Dancing seemed to come naturally to her, but then she was encouraged by Director Vikash Liliah to take up modelling.
"I was scared at first when Vikash came to me and asked me to model for him because it was my first time [professionally]. I was so nervous. My palms started to get sweaty. I was having second thoughts. I kept thinking, 'What if I trip, these people will laugh at me'. But, as soon as I stepped on the stage the nervousness and everything that came with it went away and I was confident and determined. The team [Naya Andaaz Performing Arts] supported me in every way possible to make sure that I was ready," Petrina said. However, this soon passed, and the stage has become her playground. The model noted that she has always had great support from family and friends especially her mother who has always been a fan of entertainment/fashion. Since her debut last November, Petrina has also modelled for Nachle Designs which is managed by designer Melicia Partab-Alli.
Though she is open to doing various modelling gigs, Petrina resonates with Indian culture more, which may have to do with her participating in Indian cultural activities all her life. Her favourite piece to model is the sari, considered to be one of the most graceful and elegant dresses for women. For Petrina, it is beyond that and even more about how comfortable it makes her feel.
Recalling her first time modelling back in secondary school, Petrina shared that it was nerve-wracking for her and that she stood backstage trying to build confidence while the music played for her. Finally, when she gathered the courage to step out, the music had stopped. "…. Every single person in the auditorium laughed that day. Every time I think about it I always laugh because there was nobody else to blame but myself but that also taught me that I should always be prepared and that if I set out to do something I should do it, wherever I am and whatever I'm doing regardless of the circumstances I should always keep going," shared the Scorpio beauty.
Petrina believes modelling has bettered her in more ways than one. She has become more confident in herself. It has taught her to be courageous as modelling calls for determination. It has allowed her to share the 'diva' side of herself also.
Modelling, she noted, has given her the opportunity to wear some of the most gorgeous designer pieces and showcase them. She has also been able to do some networking. The only downside for Petrina is that she does not get to do it every day.
Petrina is inspired by Guyanese beauty and Miss India Guyana 2016 Britney Singh who went on to place in the top ten at the international leg and as well as cop the Miss Photogenic 2016 title. "She is my sole inspirer. I know her personally and I would have to say that she is the kindest and most down-to-earth person I've ever met."
When asked if there was anyone alive or dead who she would like to meet, Petrina said it would have to be her grandmother. Apart from having the opportunity to spend time with her again, Petrina shared that she misses her "chicken curry". Afterwards she explained about the ongoing debate about whether the right name of the dish is 'chicken curry' or 'curry chicken'. Laughing, she shared that she would be a chicken curry girl, but after a debate in her class she realized she was the only one who was using the phrase and everyone else stuck with their curry chicken, so she decided to change her wording. "I love curry chicken with puri to be exact and a tall glass of passion fruit juice," she added.
When asked if she plans to someday take up pageantry, Petrina indicated that she has not considered it and if she ever did, it would not be anytime soon.
Offering advice to persons hoping to take up modelling, Petrina said, "Chin up! Hold your head high. Be confident in what you do. Love what you do. Don't give up and remember to always be yourself. The journey of a model is hard only if you make it hard. So I'd advise you to only go for it if you love it."
Petrina's free time finds her taken up with dancing, binge-watching anime and watching football.
The model and dancer hopes that in the near future, she can be living her dream of being a Medic while still continuing her modelling and dancing careers in Guyana and beyond. Petrina can be contacted on Facebook at Petrina Gordon.
Around the Web