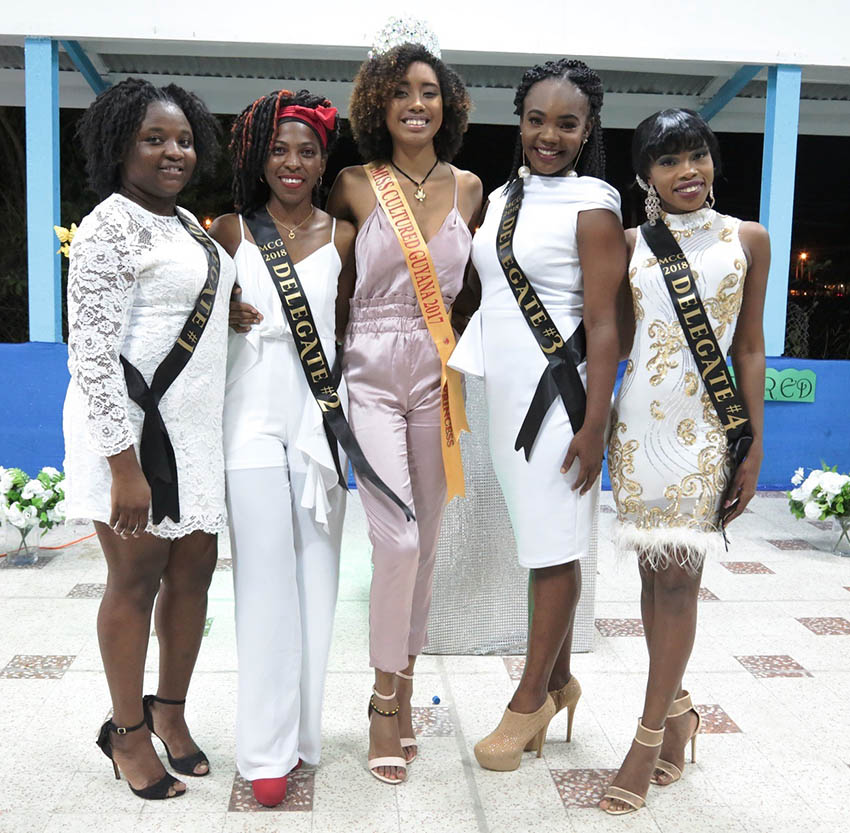 Four young women were last Saturday sashed as contestants of this year's Miss Cultured Guyana Pageant at the St Joseph High School in front of a small gathering. This is the third edition of the pageant, which was founded in 2016 under the stewardship of Lloyd N De Arts Production.
The contestants are Aneisha Arthur, Rishana Lambert, Emaley Nurse and Keliana Williams.
Keliana Williams is contestant number one and her platform is 'The Promotion of the Creole Cuisine, Locally and Internationally, through Education'. The 23-year-old enjoys nature, craft-making and singing.
Twenty-nine-year-old Aneisha Arthur hails from Turkeyen. She loves dancing, modelling and spending time with her family. She describes herself as one who is adventurous. Aneisha will be using her platform to highlight cervical cancer under the theme: 'Decreasing the Incidence of Cervical Cancer in Communities across Guyana through Education'. She is contestant number two.
Rishana Lambert deems herself a truly cultured and confident Guyanese woman. Rishana, contestant number three, will be focusing on 'Decreasing Human Trafficking in Guyana Through Education for her platform.
Emaly Nurse, contestant number four, is a 20-year-old who enjoys singing, dancing, the thrills of social media and participating in pageantry. Her platform is 'Empowering Guyanese Women of African Descent through Education and Culture.'
The inaugural pageant in 2016 saw seven beauties vying for the Miss Cultured Guyana title with Akiela Dey emerging queen that year. She passed the title and crown to young artist Romichelle Brumell in 2017. Romichelle will be crowning the lucky woman to win title and crown this year.
To participate in the pageant, the women have to fit these criteria: 100% Guyanese, must be a team player, someone who is cultured and between the ages of 17 and 35 years old.
The pageant's objectives are to promote cultural cohesion among citizens of Guyana, to create a new style of pageantry, assist young women in garnering adequate knowledge of Guyana's cultures, help women set and achieve goals, to strengthen communication skills and develop conscientious thinking abilities and to allow contestants to explore and showcase their talent through the performing arts.
The four contestants will be competing in various challenges in the run up to the pageant night –fitness, cookout, business plan pitch and a community-based project. They will also be participating in a cancer awareness seminar tomorrow. Then, come coronation night, the beauties will have the opportunity to contest each other in the Creative Wear, Creative Cultural Evening Wear, Talent, Professional Wear, Introduction done in Creole and the Final Question segments.
The committee in a release said, "The Miss Cultured Guyana Organization wishes to continue its journey in reviving our dying culture while developing young women across Guyana. Hence, we look forward to your continued support, sponsorship and patronage to our events. This will definitely encourage the longevity of the pageant and the voices of women across this wonderful land."
The pageant is slated for October 20 at the Theatre Guild from 8 pm. Tickets cost $1,000 and $1,500.
Around the Web