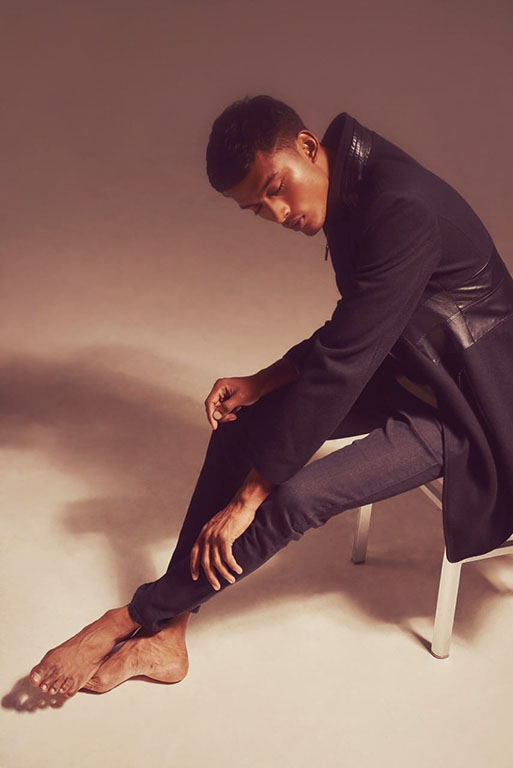 Mohindra 'Moh' Scarce's dream of walking the runway began in 2016 when he signed up to be a part of the Guyana Fashion Week (GFW) event and though he was not selected, the experience deterred him not one bit and only made him dream bigger.
Mohinda hails from Parika and now resides in Tuschen. He attended Greenwich Park Primary and transferred to Leonora Primary eventually. Upon writing the National Grade Six Assessment he secured at spot at St Roses High School having obtained 513 marks but attended the Saraswati Vidya Niketan School and later passed all 13 subjects he wrote at the Caribbean Secondary Education Certificate exams.
Seeing an ad for persons to audition for GFW, Mohindra thought it would be fun to try something new and exciting so he applied. Although he did not make the cut, he was asked to be among the crowd as a mingler, where he wore designer pieces while sitting in the audience.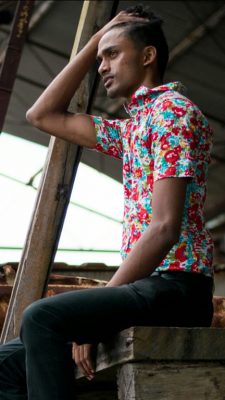 For a while, he had put modelling on the back burner and focused other things, something he managed to do until he was vacationing in the United States later that year. According to the model, he was walking through Manhattan and had stopped to catch a view of the place around him when a guy walked up to him and introduced himself. He was Demanti, the CEO of St Claire Model Agency and doing street scouting when Mohindra's 6ft 2' height caught his attention. He gave Mohindra a business card and told him to contact him should he be interested in modeling. At the time, Mohindra was a bit skeptical about a total stranger making such an offer, but after thinking it over for two days, he thought he would give it a try. Sometime later, when he showed up for his photoshoot, he was a bit surprised to find a number of models already at the location preparing for their shoots as well. Mohindra signed with St Claire as the first model of Indian descent as well as the first Guyanese model and was nicknamed Moh. His face now graces the timelines of St. Claire's Modeling Agency on Facebook and Instagram.
For Moh, his biggest motivation is remembering when he was scouted by St Claire, just months after he was seen as not fit for the runway. "At the time I met Demanti, I was surprised and overwhelmed… I was shocked that this was happening. I was skeptical also but I checked out his website and knew for sure it was something authentic. It felt good to know that someone had faith in me," he shared.
Demanti tried signing Moh to some big time agencies including Wilhelmina Modeling and Talent Agency and DNA Model Management but so far has not met with much success. Nevertheless, Moh remains optimistic that soon enough he will be on a runway.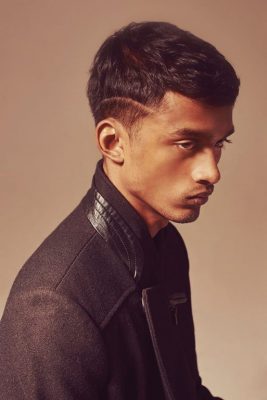 Recalling what it was like when he took up modelling, the University of Guyana final year student pursuing a degree in Geography, said that when he applied to GFW the responses he got from family members were not all positive. He added that he was never one to pay attention to naysayers. In fact this brought him to his surname and he recalled being teased about it at school, with peers calling him 'scary', or if a passage was read during class and the word 'scarce' was mentioned, the class breaking out in laughter. But he said he never cared what anyone else thought if in any way it was trying to defame him or to hinder him from doing the things he loved.
As a model Moh has to keep a particular routine when it comes to his eating habits, exercising and keeping a clean skin. To stay lean, he eats lots of salads and eggs for proteins and tries to avoid sweets though he admits to having cheated. He works out at least three times a week and does yoga every day. Yoga, he said, was learnt at the secondary school he attended and has ever since become a part of his daily routine; he spends 15 minutes every morning doing yoga. For clear skin, in addition to trying to have a balanced diet, he cleanses and tones his face to avoid acne breakouts though he is not always successful in this. He is required to take digitals of himself from his waist up every two weeks to show that he is in shape.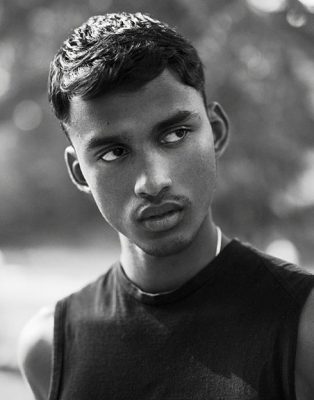 Sharing a funny story and one in which he learned a lesson, Moh said, "This one time I had a photoshoot and had on a couple pieces of clothing, a [mismatch] of colours. I didn't realize the colours weren't in sync. I thought I looked good for the shoot but was unsure of what I was wearing and so I asked the photographer if I looked good and he said a blatant 'no' and I thought to myself that this guy was rude but then he pointed me to a closet of clothing he kept for models doing photoshoots and I tried on the [pieces] and it fit perfectly. I learnt some tips on the clothing I should wear to shoots and black would be a standard colour to go with."
Taking into consideration what modelling for these agencies would mean, Moh listed a few advantages, which include travelling, getting recognition, networking, getting to wear designer pieces, and free photoshoots.
He. noted that while not all modelling gigs would pay financially, it still pays with regard to recognition, so you never really work for free.
Just having the opportunity to do photoshoots, Moh said, has bettered him, since his self-confidence was boosted and self-esteem built. He has benefited also in terms of knowing what sort of poses best suit him as well as the right facial expressions.
When asked if he sees himself becoming a full-time model, Moh said that modelling is seasonal so more than likely it will just be seasonal for him. Not sure where he will be in the field of geography in a few years, Moh said right now he thinks he may become a cartographer but will leave the future to figuring itself out for the time being.
Demanti is working on getting Moh signed with other model agencies.
Apart from going to UG, Moh also works at a private school as an office coordinator. In his free time he enjoys working out at the gym, doing yoga, watching the television series "How to Get Away With Murder" and reading non-fiction. The last book he read was Failing Forward.
His pet peeves are people who are full of drama, gossiping, deceitful people and chaos and confusion in particular at Stabroek Market. He said he understands that the vendors and bus drivers have to make a living, but has to block it out to get work every morning.
His favourite dishes are curried chicken and dhall puri, fried rice and pot roast chicken and baked macaroni. He does not know to make any of the dishes but his mother makes them all and he boasted that she makes the best gulab jamun, adding that he usually looks forward to Diwali and Phagwah just so he ca have it. Moh can be followed on Instagram at mohindra_scarce.
Around the Web