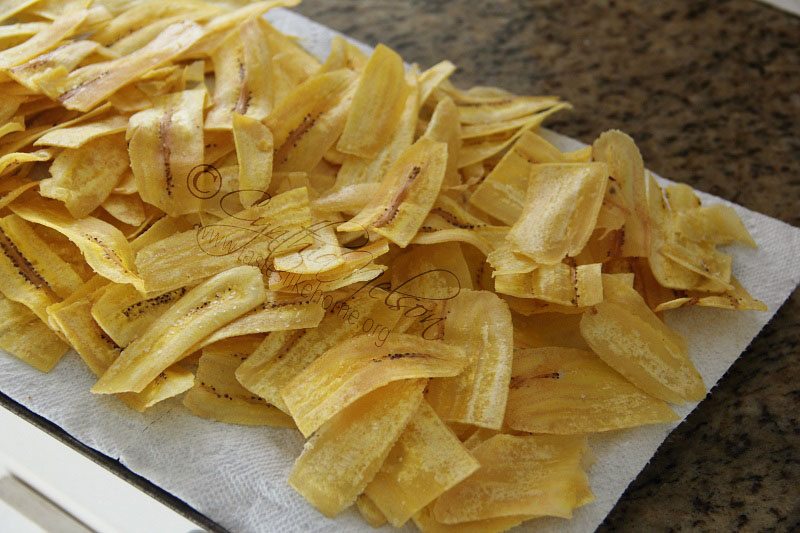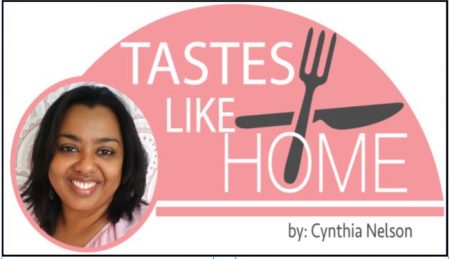 Hi Everyone,
Here is the checklist for a traditional plate of Nachos:
●Crispy
●Cheesy
●Flecks of heat from hot peppers
Nachos are made with 3 ingredients – corn tortilla chips, cheese, and hot peppers. The chips are assembled on a plate, sprinkled with cheese and heated until the cheese melts. It is then topped with thinly sliced raw or pickled jalapeño peppers and served hot. Just like eating cereal, each bite is different – some crisper, some a combination of crisp and softness where the cheese melted; and as the plate of nachos cools, parts of it get even softer. If you happen to be eating one of the more modern takes on Nachos, then you can expect to get different things with each bite – a bit of meat, creamy guacamole or refried beans, tomatoes and onions from a salsa fresca. Actually, these days, people get creative with their toppings for this dish; you can find sour cream, shredded lettuce, sliced olives, thinly sliced, pickled vegetables and drained canned beans scattered across the chips. It's a great one-platter dish to serve family-style as an appetizer, while hanging out with friends or sometimes as a meal.
The other day I was making one of my favourite snacks – green plantain chips, and as I bit into a warm crisp chip—in between frying a batch—I wondered how well the plantain chips would work in place of tortilla chips for Nachos. I   couldn't think of reasons why they wouldn't work. I figured that I might perhaps need to slice the plantains a little thicker, and instead of cutting them into coin-like rounds, I'd halve the plantains and slice them lengthways, this way, there would be more surface for the toppings. I invited my friend Pat over the following weekend.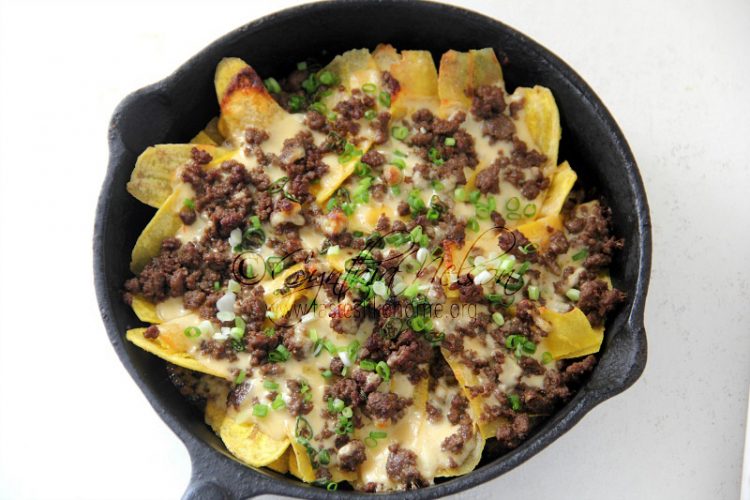 Testing the plantain nachos using the traditional method I believed to be best since it was an experiment, and besides, my friend Pat is a good sport so even if it didn't work out, she was unlikely to complain. The plantain Nachos were a triumph if I may say so myself. Instead of one of those melting cheeses that gets gooey, I opted for a sharp cheddar so when it melted, it baked right onto the chips giving it an extra savoury flavour. I had also made some of my seasonal Pico de gallo and topped a batch of the Nachos; the addition of the salsa definitely elevated things. Excited by this, I couldn't wait to make Nachos again, this time with a cheese sauce and cooked minced beef.
I settled on the idea of a cheese sauce based on research and some back and forth with a few foodie friends. The rationale is that with the cheese sauce, a variety of cheeses could be used to flavour the sauce and I could boost it even more with things like roasted garlic and fresh herbs, if I wanted to (I didn't but it was good to be aware).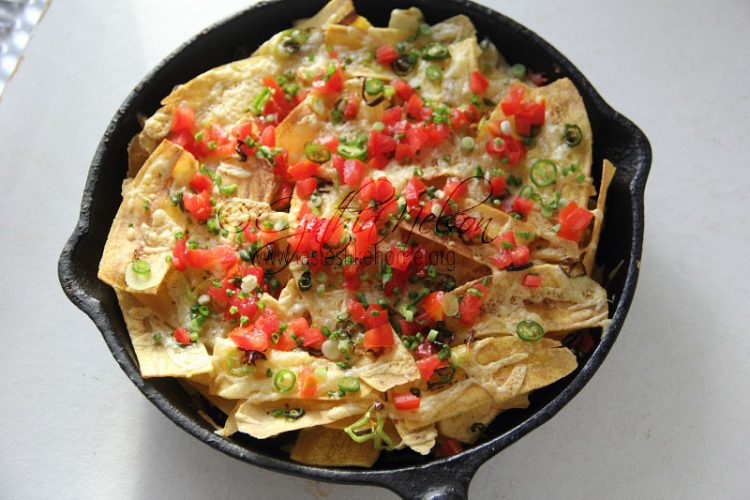 With a tip from America's Test Kitchen, I decided to layer the chips, cheese sauce and cooked meat so that with each bite you got cheese and meat. At this stage, it was simply a matter of heating through everything. Winner, winner all the way! You've got to try it. Here are a few things to note.
● Slice the plantains about half a millimetre in thickness. Check a ruler to get a sense of the thickness. Of course, if you have an adjustable mandolin, it will be easy to figure out.
● Plantain chips can be made a day or two ahead and be stored in an airtight container for freshness and crispness.
●Making a cheese sauce is not necessary but to get that melting gooeyness, use a combination of American cheddar, New Zealand or England cheddar, Monterey Jack and Pepper Jack. Or simply grate a combination of cheddar and jack cheese and sprinkle.
●Layering is optional, you can simply sprinkle the cheese on top and bake or put under a broiler to melt.
● Bake in a preheated 400-degrees F oven for 12 – 15 minutes or until cheese is melted.
● Serve Nachos hot.
● Personally, I find the addition of a fresh salsa lifts the Nachos, serve it on the side or sprinkled on top just before serving.
● Cooking and serving the nachos in a cast iron or oven proof pan, keeps the Nachos hot, longer.
Cynthia
Around the Web