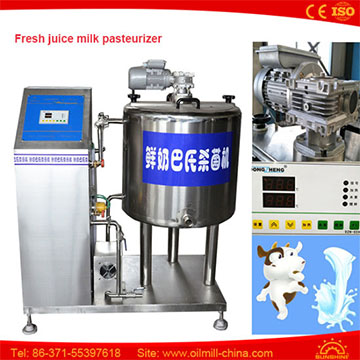 When next you go shopping, you have the option of adding another beverage to your shopping cart, following the appearance of B&S Green Fields Pasteurized Sugar Cane Juice on the market. The attractively packaged product is one of the more recent manifestations of the continuingly impressive growth of a local agro-processing industry that is now bursting at the seams with export potential.
If there is nothing uncommon about sugar cane juice served from roadside stands where the lengths of cane are ground by ancient looking mills, and the juice served instantly, the proprietors of B& S Greenfields lay claim to a breakthrough in the 'manufacture' of the juice, through a pasteurization process that enables a shelf life of up to several weeks.
Perhaps unsurprisingly, B&S Greenfields is one of a host of agro processing companies —it was registered less than a year ago in May 2018, in the names of Samuel Blackman and Odetta Nedd-Blackman and its trading address is 130 Nelson Street, Mocha, East Bank Demerara. That, however, was not the origin of Mr. Blackman's encounter with cane juice as a commercialized beverage. More than forty years ago, his now deceased father, Colin Blackman, a one-time employee of the Guyana Power and Light Company, had launched his own small business as a cane juice vendor, offering the dark syrupy beverage on Water Street and at the Bourda vendors' arcade. Samuel had watched his father produce the cane juice and even helped with the marketing, never mind the fact that the limited shelf life compromised the commercial value of the product.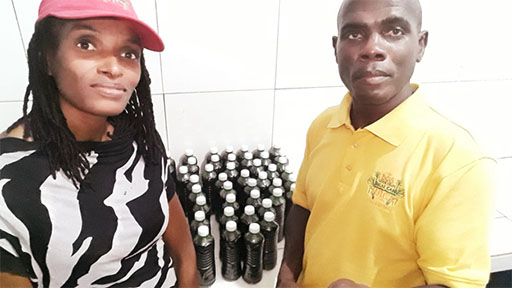 Accordingly, keen as he was to transform his father's 'hustle' into a more thriving trade, he decided that his first mission would have to be to find a way of maximizing the visibility of the enterprise by increasing the shelf life of the cane juice. Pasteurization –   a process in which some foods and beverages, including milk and fruit juice, are treated with mild heat, usually less than 100 °C (212 °F), to eliminate pathogens and extend shelf life – worked. That process, coupled with careful refrigeration, now means that the cane juice can be refrigerated (not necessarily frozen) for a period of up to six months. Raymond Ramroop, a production Specialist employed with the Beharry Group of Companies, confirmed for Stabroek Business that agro processors routinely conduct their own research and tests in pursuit of extended shelf life for foods before taking those tests to laboratories for confirmation.
It was the long sought after breakthrough in shelf life that pushed Blackman to another level in the cane juice business. In April last year, he 'traded in' his job as an Engineer with GPL to enter into the world of agro processing. With the payoff he received for his service with the Power Company, he invested in the acquisition of a cane juice mill and a pasteurization machine, and set about upgrading the factory at his Mocha residence to ensure that it met the safety and health standards required by the Government Analyst Food & Drugs Department.
In the course of his exchange with the Stabroek Business, Blackman reflected briefly on his transition from employee to self-employed agro processor. "Challenging but rewarding" is how he describes his current pursuit. In 'another life' he had worked as his father's helper selling cane juice on the streets. These days, he has 'graduated' to another level, offering consumers a product which he has worked hard to refine. What has helped significantly, is the fact that he came to the job as an agro processor already having been a Certified Project Manager, with training from the Project Management Institute and experience in occupational safety and health.
The sugar cane used in the manufacture of the juice is harvested from the eight acres of land owned by Mr. Blackman. The cane is available all year round, though Blackman says that harvesting imposes its own demands. Beyond that, the Blackmans have begun to discover the further challenges associated with adding value to their product on account of higher contemporary standards of packaging and labeling. In less than a year, he says, the cost of bottles has increased three times, whilst labels cost $22 each. Over time, however, he has come to recognize that capturing a niche in the market requires investment in, among other things, product presentation.
He is, he says, pleased with the growth which the enterprise has realised. Trading is better on hot days and during good trading periods he has been able to market around three thousand bottles of juice per month.at a retail selling price of $260 per bottle. If, Blackman concedes, his prices are higher than the popular aerated beverages, he insists that the health value justifies the additional cost.
Over time, the Blackmans have steadily expanded their market, realising patronage in Linden, Georgetown, East Coast Demerara, West Coast and West Bank Demerara. The product can be found at the Guyana Marketing Corporation's Guyana Shop, located on the corner of Robb and Alexander streets as well as at the popular Budget Supermarket, Essential Care Pharmacy, Fresco Supermarket, Harper's Shop at Buxton/Friendship Public Road, Carib Foods, DSL Cash & Carry, Totaram Supermarket, Ram's Supermarket and Guyoil Gas Station on the West Bank of Demerara. Understandably, much of his time is taken with deliveries across parts of coastal Guyana.
Keen to have his product catch the eye of the 'big players' in the food retail sector, Mr. Blackman is currently engaging both Massy and Bounty Supermarkets.
The Blackmans have set themselves two relatively short-term goals. The first is to popularize their pasteurized cane juice as a healthy beverage option and the second, to expand their market into Berbice and Essequibo. For the moment, however, Samuel Blackman feels a sense of satisfaction with what he has accomplished so far in taking his father's enterprise to another level.
Around the Web