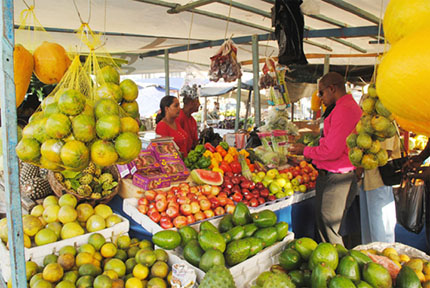 If the recent Global Fruit and Vegetable Juice Market Research Report 2018-2025, published in January by the California-based market research and consulting company, Grand View Research, is anything to go by, there may yet be room for Guyana in the global US$150 billion-plus fruit and vegetable juice market.
The market is expected to grow by more than 5% during the forecast period, the rise in consumption of these products being attributable to changes in consumer tastes, driven mostly by the adoption of healthier diets and the advent of convenient cold pressed juices on the market.
Grand View Research tags fruit and vegetable juices as being "one of the fastest growing segments in the beverage industry," noting that there has been "a latent shift in the consumption of healthy juices from aerated sodas," which they say, "have no nutritional value in a sharp contrast to fruit and vegetable juices available in the market."
What may be of somewhat more interest to countries in the CARICOM region, not least Guyana, is the report's assertion that in regions of the world, including Asia, where fruit drink consumption continues to grow, market growth is being propelled by rising demand for mango, pineapple and orange juices, the fruit of which are all grown extensively in the region. Over time, there have also been experiments with juices derived from these fruit, though production capacity and challenges associated with safety and health requirements in importing countries have proven to be challenges. If and when those challenges can be overcome, there is also a potentially lucrative external market for cold pressed juices, comprising natural extracts from fruits and vegetables and their blends, though most of these products are non-pasteurized and are meant to be consumed within a few days, with refrigeration. The report, meanwhile, also 'talks up' fruit and vegetable blends, the production of which is believed to be possible in Guyana but which, almost certainly on account of limitations in technology and investment capital, have not been tried. "Rising consumption of such products," the report says, "has caused this segment to garner the highest market share," adding that "the advent of fruit and vegetable blends has been gripping the industry by a large extent owing to its additional nutritional quantities," while  "demand for healthier products has also propelled the growth of vegetable juices in the industry".
Local agro processors with whom this newspaper has spoken, believe that the sector has demonstrated sufficient creativity in its manufacturing pursuits to be able to 'turn out' products that would impact the international market, though they concede that efforts to secure a meaningful market share could be compromised by challenges associated with access to a sufficient and sustained supply of raw material fruit and vegetables, as well as the absence of equipment associated with producing such beverages in volumes. Just recently, a group of local agro processors expressed the view that government should support investment in machinery associated with the manufacture of agro processed products.
On the whole, according to the report, fruit juices are available in a wide variation, ranging from citrus to tropical fruits, and are preferred for their nutritional value additions, incorporated as a part of the daily breakfast routine, as they provide a daily quota of minerals and vitamins in one serving. "With increased number of consumers globally following the trend of healthier lifestyles the demand for fruit juices has increased tremendously causing manufacturers to develop new variants," the report says. Moreover, it asserts that fruit and vegetable blends are increasingly being opted for ahead of aerated drinks "that showcase high sugar content."
The global fruit and vegetable beverage industry, the report says, is dominated by North America, a circumstance that affords relatively easy market access for Guyana and the rest of the Caribbean, though it is widely believed the safety and health associated with the USA's Food Safety Modernization Act (FSMA), as well as the stringent food safety regulations that apply in Canada, could hinder exports… The European region followed closely behind the North American region in terms of market share. Presence of cognizant consumers and adoption of healthy eating habits are major factors for the prosperity of the industry in the region, the report says.
Meanwhile, the report says that the existence of large population pools and rising consumer awareness in nations such as India and China is anticipated to fuel industry growth in the Asia-Pacific region.
So popular has the fruit and vegetable juice market become, that the current key global market participants include conventional beverage manufacturers such as the aerated beverage giants Coca Cola and Pepsi. Here in Guyana, the two local beverage giants, Banks DIH Ltd. and Demerara Distillers, have also placed non-aerated beverages on the market as they seek to develop products that further increase their already significant consumer bases.
The Grand View Research report says that while "major market players" continue to dominate the global fruit and vegetable beverage market, they however, "face intense competition from local players…who price their products at a slightly lesser price", causing the market to be 'highly fragmented."
Around the Web