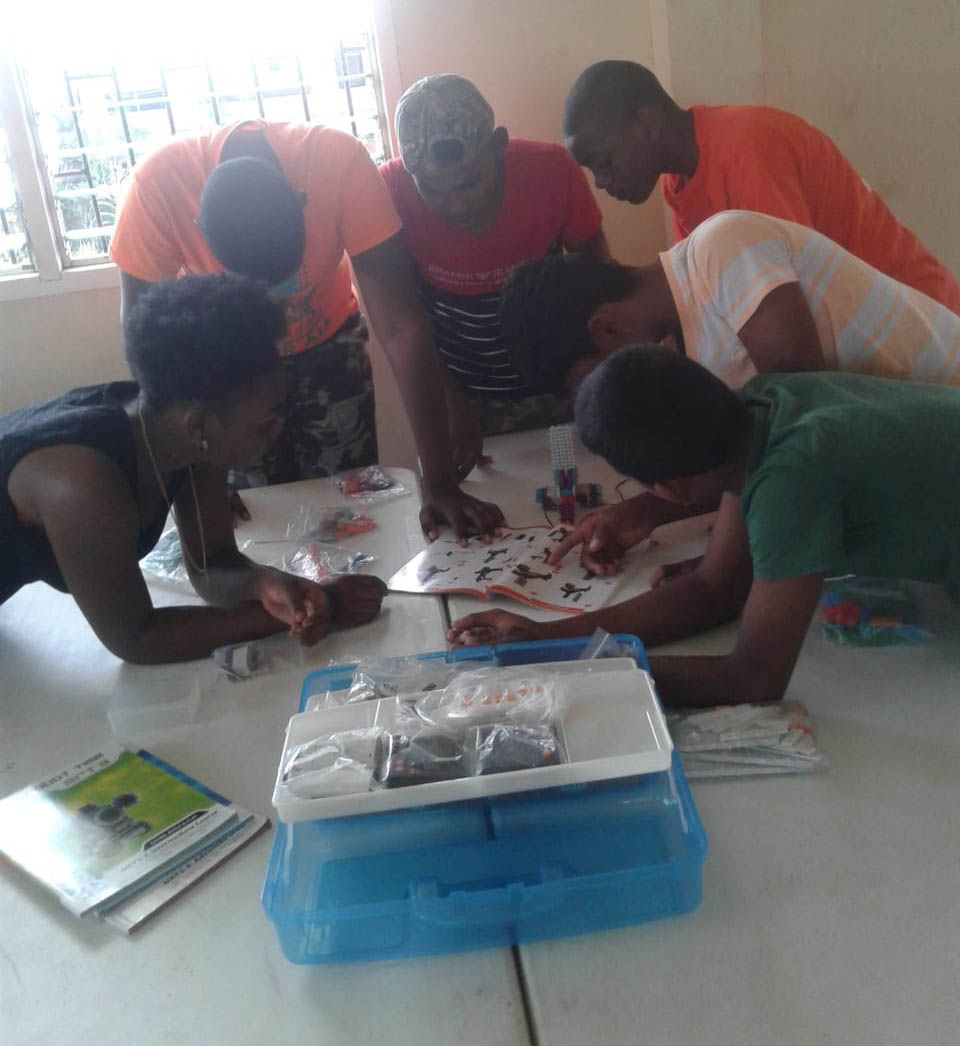 It is generally accepted that the trajectory of our schools' curriculum still requires more than just a bit of 'tweaking' to better prepare it to meet the developmental challenges of the twenty-first century. It is, one might think, now better understood that the concept of curriculum change – curriculum re-shaping may be a more appropriate expression – has become a matter of particular urgency, the long-awaited emergence of oil and gas as developmental assets and the advent of concept of the 'green economy' seemingly bending the national curriculum in the direction of technological thrust whilst retaining those high-value aspects of our conventional curriculum that have served us well.
Acronyms like STEM (Science, Technology and Maths) and the discipline of Robotics are, these days, shedding their sense of mystery as academics, development specialists and entrepreneurs alike begin to better understand the nexus between the relevance of disciplines and the country's development path.
"It really is a matter of the key players in the development of our country understanding the terms like STEM and Robotics are not simply attractive-sounding catchwords and phrases, but critical tools for our country's development," says Karen Abrams, a one-time national basketball player, holder of an MBA degree and one of the founders of STEM Guyana, the organization currently leading the charge in the direction of infusing what she calls "a sense of relevant newness" into the national curriculum.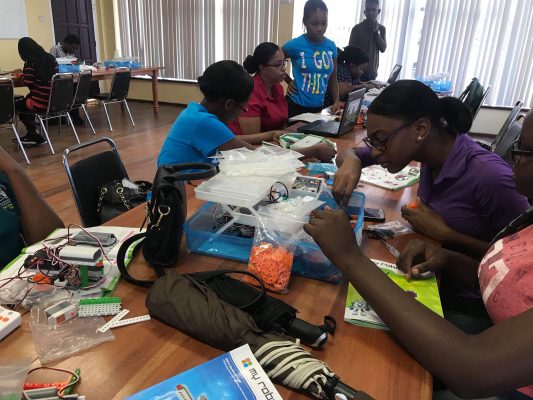 Education Minister Nicolette Henry has already sent signals that curriculum change will see disciplines like STEAM and Robotics sitting cheek by jowl alongside the conventional subjects whilst the business community has already recognized the entrepreneurial side of the new direction which education is taking to show an interest in investing in the growth of the sector. The University of Guyana, preoccupied as it is with having curriculum change keep pace with development priorities, is doubtless interested in what STEM technology and Robotics has to offer. A case would appear to exist then for a pooling of material and intellectual resources and it is, it seems, down to the Ministry of Education to begin the discourse in this regard.
In this context our education officials can hardly do better than begin the discourse by engaging the STEM Guyana foundation, which, in terms of introducing STEM and Robotics into Guyana at the community level is clearly leading the way. What is more is that up to this time far too little is known, across the country, about STEM Guyana's collaborative work with the Department of Youth and the outcomes not just in terms of community impact but, as well, in terms of the training of more than forty young trainers whose game-changing brilliance offers a comforting confidence booster in a society where there is still a scarcity of skills in the disciplines which they are pursuing.
Modest
What is unfolding in a modest room in a Middle Street building occupied by the Department of Youth is an experience in educating young people that has eluded us for many years. It is not just their enthusiasm for robotics that is impressive but the extent to which their exposure to a new, creative curriculum has caused them to 'grow,' notably intellectually and more importantly to infect other young people in the communities where they live.
Director of Youth, in the Ministry of Social Cohesion, Melissa Carmichael has committed her office to providing opportunities, which will allow these drivers of Robotics to contribute to the national preparation for the future.  The target group of the effort is mostly out-of-school young people, upward of fourteen years old, unemployed and without job skills. To that end, the Director, herself a young woman and her team of highly promising trainers are working under the guidance of  Abrams. Up until now they have implemented three technology programmes which are being monitored and evaluated for their value and effectiveness.  The three programmes are inter-related; they are the Youth Innovation Project, the Cyber Guyana project and the National Robotics Project, all three of which are being implemented under an MOU agreement with STEMGuyana. 
 Carmichael is upbeat. "The programme has persuaded me that our young people are talented beyond our imagination.  They are also informed and incredibly smart.  They have been a part of society that has been tormented by social issues and yet they continue to come up with solutions and ideas that are relevant and which, I believe, will make a great impact one day. Robotics provides opportunity for these young people to bring alive their creative skills and talents."
The group of four young women and a single male with whom the Stabroek Business met on Wednesday have grown way beyond their training in Robotics. They have now been assigned the 'pushy' Abrams to carve out knowledge-sharing niches in their own communities.
The group is working with STEM Guyana through a Department of Youth Robotics Programme not just in the honing of their Robotics skills but also in what is termed "Club Management," an initiative aimed at equipping young leaders to teach Robotics.  Up until now their achievements have been noteworthy, not least the fact that they have themselves become "certified STEM Club leaders" and possess expert knowledge in robot building and programming, MIT Scratch coding and teaching the STEMGuyana lesson plans. In the period ahead the Department of Youth team will support more than thirty five  STEM clubs in ICT hubs across Guyana. Some of the Youth volunteers also support STEM club activities at local libraries involved in the National Reading & Robotics Programmme A further seven libraries are to be inducted into the programme before the end of the first quarter of 2019.
Debunking
Department 'Lead' Alicia Pompey, one of the four Youth Trainers with whom we met cited what she says is the role of Robotics in debunking the idea that the teacher is always right. "Robotics gives young people the opportunity and scope to ask questions, and to challenge the status quo.   It develops soft skills and encourages them to work together as a team," she says.
Youth volunteer, Tracey-Ann Massey says she was struck by the manner in which a single session changed the behaviour of one reluctant, introverted child.  "I thought to myself, if one session can have such an impact, imagine what impact we could have with a national programme."
Marvin Drakes, the sole male in the group, who is responsible for Central Operations of the Department's robotics programme travels around visiting hubs to help resolve problems and assist the robotics team to ensure effective service delivery.   We've been at a great disadvantage in Guyana and in too many places we are still using old methodology and thinking. Today, because of robotics, I think more outside the box."
 Department Of Youth Volunteer Racquel Todd-Inniss says that setting aside her training in Robotics the experience has taught her leadership. "I've actually been able to come up with ideas that benefit my community," Racquel says.
Judine Welch-Peters, the Coordinator for the Region Three Robotics Programme disclosed that her group will shortly be rolling out  Robotics programmes  at LaRetraite, Canal #1 and Wales. Currently, there are programmes in place at Bagotville, Salem, Parika and Hyde Park. 
 The Department of Youth is also offering Robotics programmes at ICT hubs in Berbice, Corentyne, Port Mourant, Cane Grove, Kildonan, Parika, Salem, Hyde Park, and Essequibo.  They also support programmes at the STEMGuyana Club at the Racquet Centre and libraries at Ruimveldt, Salem and Central Georgetown.  STEM clubs also exist at the Linden Library, Salem library, Bagotville Library and Kuru Kururu library. 
Abrams herself is keen to press her trainers into service in youth groups, the business community and, she says, across the school system. In that regard she is, she says, keen for engagements with Ministry of Education officials. I have no doubt that we can work together to roll out a programme that will impact the school system in a manner that will be beneficial to the children. As I understand it the Minister and her team are keen to go forward with a Robotics programme and I believe that STEM Guyana has the resources to support such a programme", Abrams told Stabroek Business.  
The future of Guyana looks bright with young people like Director Carmichael and her team of robotics ambassadors making such a significant contribution to Guyana.  Asked for one final comment, Carmichael stated that, "Guyana's children will continue to reap the benefits from our partnership with STEMGuyana.  I believe the nation will be better off because of our collective contribution"
Around the Web