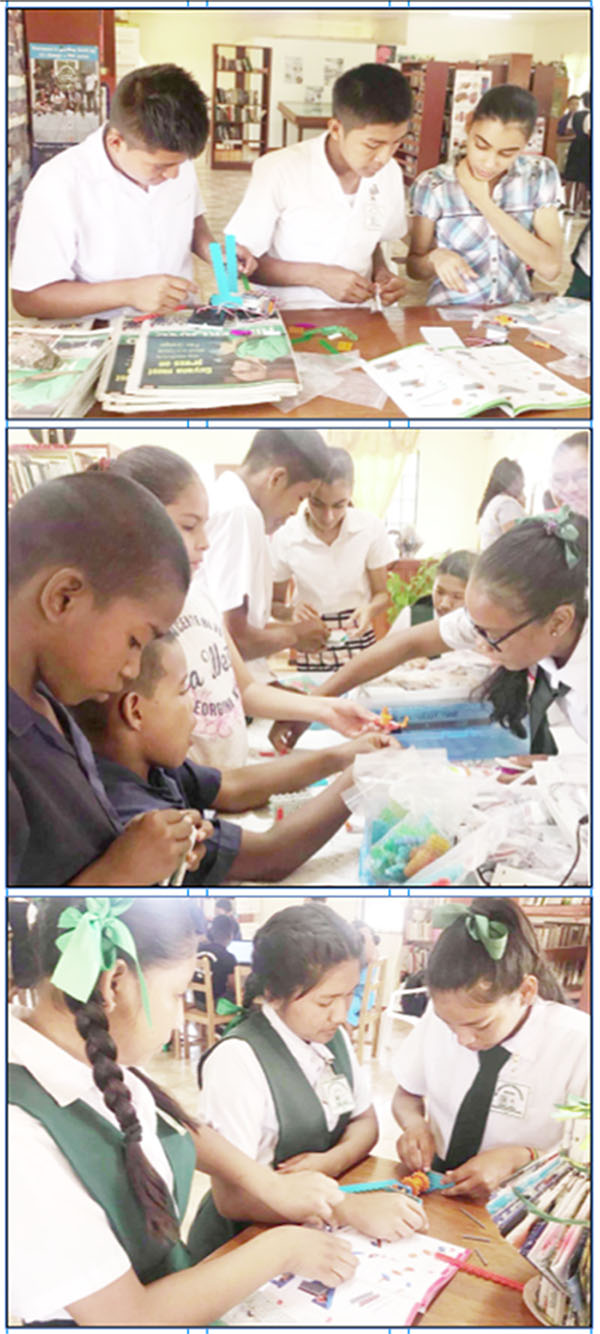 The role of information technology in linking communities was exemplified in the activities and outcomes arising out of the recent visit to Lethem by the Ambassadors of the STEM Guyana Organization under the leadership of the Guyanese-born, Atlanta-based national awardee Karen Abrams, who work in schools and clubs in Guyana in the areas of information technology, notably robotics.
Information technology is relatively new to most of the youngsters at Lethem now enrolled in STEM Guyana's Reading and Robotics Programme taking place at the Lethem Library, though, Abrams told Stabroek Business following the return of a team of trainers from Lethem last week that the sense of adventure, diligence and enthusiasm demonstrated by the participants more than makes up for their lack of know how. "The single most important feature of the work that we are doing in communities like Lethem is the speed with which the children are developing their robot-building and programming skills.
Abrams believes that the real benefit of STEM Guyana's work with children in hinterland communities is the discovery it has bared that in many communities outside of Georgetown, which would not normally be able to access such technology, "we are discovering young people who are equally talented, skilled and fearless about learning new skills and technology.
So successful was the breakthrough visit that Michael Sampson, one of the STEM Guyana Train-ers who visited Lethem told STEM Guyana afterwards that after just a single training session the youngsters from Lethem were clamouring to participate in next month's National Robotics Challenge. Sampson disclosed that by the time the STEM Guyana contingent had completed their mission in Lethem youngsters between the ages of 8 and 14 were signing up for STEM Club membership at the local library and 'dreaming' about travelling to Georgetown to 'chance their arms' against their urban rivals.
The Lethem Reading and Robotics Club meets each Saturday from 9:00 hrs to take advantage of facilities provided through sponsorship afforded by ExxonMobil and travel, accommodation and logistical support afforded through the involvement of Public Affairs Minister Dawn Hastings-Williams.
Up until now, ExxonMobil has sponsored "Reading & Robotics" programmes at eight public libraries across Guyana and the Company's Senior Director, Public and Government Affairs, Deedra Moe, says that ExxonMobil "is pleased to support STEM education, which we hope will result in the social and economic advancement of young people."
During a telephone conversation with Stabroek Business on Wednesday evening Abrams confirmed that the Robotics enthusiasts from Lethem have been cleared to join more than 400 of their counterparts from other parts of Guyana representing more than sixty teams from across eight of the country's administrative regions in the country's first ever national robotics competition.
"The challenge affords an opportunity for young people to work at something new and exciting. This goes beyond the issue of knowledge of the discipline. It is about children from all parts of the country working together, competing against one another and learning together. It is about the entire group emerging from the exercise with a worthwhile experience," Abrams said. ".Participants will strengthen their research skills, learn how to collaborate and resolve conflict while solving problems, and all while they learn to build and programme robots based on their own levels of creativity and innovation.  The best thing about participating in the May tournament is that there is no experience criteria.
The national robotics challenge will include an online or virtual component as well as a live component. Rounds One and Two  are Virtual events which teams will pursue at their home clubs. There will be two challenges under the theme, "A Green Economy" in Round One  of competition, two challenges in Round Two  and one challenge in the final round which will be staged at the Arthur Chung Convention Centre. The final round of the tournament will be sponsored by the Ministries of Public Telecommunications, and Social Cohesion, Education and Business along with the Department of Youth and the Guyana Office for Investment. (GO-Invest). 
STEMGuyana is currently working to add more corporate sponsorship to its existing support base and Abrams says that one of its primary objectives, going forward, is to work "very closely" with the Ministry of Education to help infuse STEM-related disciplines, "not least robotics" across the schools curriculum.
Around the Web