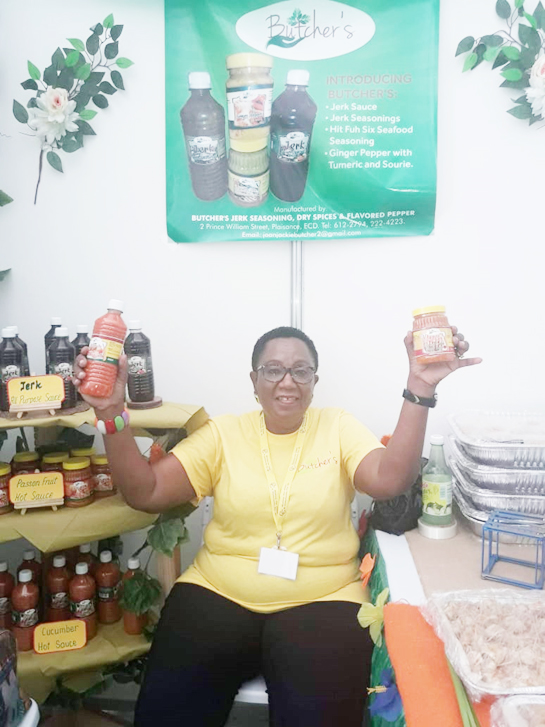 Jacqueline (Jackie) Butcher is just one of maybe thousands of Guyanese who, over the past decade or so, have become increasingly attracted to agro-processing, both as a means of satisfying their own penchant for 'invention' as well as pursuing a post-retirement employment strategy.
Hers is a bit of both. Her particular specialisation is in the creation of a variety of pepper sauces riskily flavoured with fruit as varied as pineapples and oranges. Some experiments of these kinds do not work. However, much to her delight and crucially to the popularity of her products, her experiments did. But that is only part of the story. What appears to delight her even more is that agro-processing has thrown up an exciting option once she eventually takes her leave of teaching.
On Sunday March 24, Jackie, like scores of other agro-processors, found her way to UNCAPPED 1V at Providence on the East Bank of Demerara. There is a sense in which the UNCAPPED event has been one of the lesser heralded developments in the business sector. At its heart it is largely about the impetus that it has provided for large numbers of mostly ordinary women to parade their skills, their ingenuity and their capacity to create. Jackie is one of these and when the Stabroek Business spoke with her both before and after UNCAPPED 1V it was clear that the Butcher brand, complete with business registration and a range of labelled products will expand into much more once her stint at the Harold Davis Special School eventually comes to an end.
Like a true Caribbean woman, Jackie's range of agro-produce reflects a belief that hot spices are close to the hearts of bona fide food lovers…so that whether it's with her hot sauces, or jerk seasonings, she favours end- products that produce an eye-watering effect. Her range includes jerk sauces, flavoured peppers, Cucumber Hot Sauce, Carrot Hot Sauce, 'Hit for Six' Food Seasoning and Ginger Pepper Seasoning. All of these possess their own culinary 'dispositions' and their own particular markets. Some do better than others but she persists with the whole range asserting that a favoured creation is not an easy thing to surrender purely on a whim of sluggish sales.
As is the case with so many other agro-processors, events like UNCAPPED are her 'mecca.' At least in some measure, the crowds, the commensurate public attention and the opportunity for at least a modest spike in sales, compensates somewhat for the more protracted periods of market drought where foreign imports flood out the lesser known products like hers. Even though the efforts of the small agro-processors continue to encounter a fair measure of pushback, they stubbornly continue to be responsive to what is evolving into an enormous appetite for local packaged and bottled foods.
Jackie shares the same concerns like the others in the agro-processing sector. There exists a dichotomy between earnings needed in order to grow the sector by producing a greater variety of high-quality agro-produce on the one hand and on the other, the challenges associated with growth such as: borrowing for investment, limited local markets, the difficulty in accessing foreign markets, the high costs of packaging & labelling and the lack of official support in acquiring manufacturing equipment.
Being a small agro processor is like climbing a mountain, she says. The problem is that small agro-processors have staked their livelihoods on what they do so that there is no backing out now.
Still, (setting aside the 'small blessings' that came from UNCAPPED 1V), Jackie believes that there are things to be thankful for…like the incremental product development that she has been experiencing and the fact that gradually, better packaging and labelling is now available.
 Her next target is to complete the processes associated with having her products displayed on the shelves of the Guyana Marketing Corporation's Guyana Shop. All of these are keeping her busy. Marketing, at this stage, is still largely a Facebook pursuit though she is always on the lookout for alternative arrangements through which her products can reach the market.
Around the Web