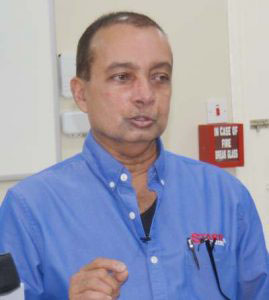 For two days last week, Starr Computers  pressed its recently elaborately re-designed second floor display space now designated its Innovation Centre to introduce what the company's Chief Executive Officer Mike Mohan describes as "technology in the age of Robotization".
And notwithstanding the two separate sessions staged on successive days to allow, first, the media and afterwards the wider community of tech-enthusiasts to become acquainted with the technology, it will be some time yet before either group becomes entirely familiar with the technology on display.
On Wednesday, during the media session, Mohan fended off questions from the Stabroek Business regarding whether or not the new Innovation Centre and its display meant that Starr Computers was about to break new ground in terms of its product offerings, asserting instead that the new Innovation Centre and its contents "will be focussed on modern educational development starting with Robotic Toys. Over time, Starr Computers' success in introducing reputable hi tech brands to the local market has been facilitated through integrated technologies from a range of high profile international manufacturers including Samsung, Lenovo, Epsom, and APC. The principal aim of these collaborative initiatives…and now the creation of the company's Innovation Centre, Mohan says, is to support the country's development of a modern education system beginning with the company's introduction of robotic toys into modern classrooms. "Every day we are experiencing new discovery-related disruptions that change career paths. I believe, therefore, that the next generation will be challenged to create their own pathways to success. It will be important that every child has access to a mobile device which can help them relate to the curriculum," Mohan told Stabroek Business.
 On Wednesday, during his interview with Stabroek Business, Mohan said that he was "both interested and impressed" by the emergence of STEM Guyana and the fact that it efforts were already "making waves" across the country. "With regard to the recent announcement by the Ministry of Education regarding its interest in introducing robotics in schools, I believe that there is room here for collaboration with the STEM Guyana people and we at Starr Computers are certainly willing to collaborate in any initiative that will advance the cause of education in Guyana."
 According to Mohan, the imminent advent of oil and gas "as a factor in both our economy and our daily lives" and the attendant challenge of "fast-forwarding" education, the need has already arisen for modern classrooms that allow every child to interact with their teachers and communicate with each other through shared technology "using a wide range of mobile devices across multiple operations systems platforms." In this regard he disclosed that Starr has succeeded in integrating technologies from its various international partners to develop its own modern classroom solutions.
Mohan further emphasised that one of the principal functions which the company's new Innovation will serve would be that of showcasing the future technological road maps of the company's respective international partners in areas of development that include Business Solutions, Retail Management, Laser Pro-jection, Security Solutions, Power Management and Education. He added, "Our innovation will lead the way in promoting cutting edge technology."
Meanwhile, the Starr Computers CEO disclosed that the company's Innovation Centre will also showcase what he described as "disruptive technologies including the current Robotic Vacuum Cleaner while the recreational drones already on display will soon be joined by an industrial drone on the Observation Deck, suitable for the agricultural sector.
Around the Web