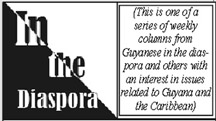 By Phil Miller
Phil Miller is a British investigative journalist based in London. He works as a reporter for the Morning Star newspaper and writes freelance for other publications. A shorter version of this article appears today in The Morning Star newspaper (www.morningstaronline.co.uk)
The UK's plan to build a new military base in the Caribbean after Brexit is in total disarray, with the country's defence minister blindsiding senior officials who know almost nothing about the scheme. British diplomats spent the New Year frantically asking their colleagues in London for clarity about which Caribbean country had agreed to host the mysterious new barracks, it has emerged.
Defence Secretary Gavin Williamson MP unveiled the ambitious scheme at the end of 2018 when he gave an interview with Britain's Sunday Telegraph paper, saying: "I am also very much looking at how can we get as much of our resources forward based, actually creating a deterrent but also taking a British presence. We are looking at those opportunities not just in the Far East but also in the Caribbean as well."
He did not specify where in the Caribbean the base would be, but a source close to him said Guyana or Montserrat were the most likely options. We can now reveal the chaos that unfolded inside Britain's Ministry of Defence (MOD) in the days after that newspaper interview was published. Scores of internal emails, released through a freedom of information request by UK's Morning Star paper and supported by Stabroek News, show that British diplomats and senior military officials had no idea about what their Defence Secretary was planning.
One British diplomat was furious when he saw the news, writing in an email: "I note from today's Telegraph interview with Secretary of State for Defence that we are opening bases in 'Montserrat or Guyana' in the next couple of years. Great if someone wants to tell me about it or ask my views at any point: I thought this was what the 15 Jan meeting was going to look at?! Has anyone asked Guyana (Commonwealth, but Queen not Head of State)?"
The diplomat added: "Both locations are a nightmare to get to, and Guyana has interesting neighbours" – a possible reference to Venezuela, a country whose socialist President Maduro is loathed by Britain's government. The diplomat went on to say: "Luckily I subscribe to the Telegraph as so far this year it has enlightened me about Commonwealth Recruiting, funding for Commonwealth veterans, and now these new bases…"
Britain's Defence Secretary has gained a reputation for making major policy announcements without consulting colleagues or civil servants. Last month, he claimed Britain's new aircraft carrier would patrol the South China Sea on its maiden voyage, which angered Beijing which swiftly cancelled a visit by Britain's chancellor. The Chancellor took to the BBC to vent his frustration, saying that his colleague's announcement was "entirely premature".
We can now reveal that Mr Williamson's plan to open a new military base in the Caribbean after Brexit also appears to be largely speculation. The trove of emails expose that there has been little or no planning to build a barracks in Guyana or Montserrat – but there does appear to be a scheme to upgrade Britain's jungle warfare training camp in Belize.
Mr Williamson's sudden comments about a new base caused havoc inside Whitehall. Hours after his interview was published, one civil servant asked desperately: "Assuming this piece is accurate, do you have any further information you can provide us in relation to Secretary of State's aspiration to develop a military base in the Caribbean (possibly in Montserrat or Guyana)?
"This is the first we have heard on this and I'm certain it will generate significant interest in the region and with cross-Whitehall colleagues. We will likely need to explain the provenance of this idea, what has been done thus far and what discussions (if any) have occurred and with who."
Another official, probably from the Foreign Office, was equally alarmed: "My High Commissioners in Jamaica (regional lead) and Guyana, plus Governor Montserrat are all concerned about this and would appreciate Lines To Take." The Caribbean island of Montserrat is a British Overseas Territory, with a governor directly appointed from London and a locally elected premier.
The governor appears to have been completely ambushed by the announcement and his team urgently asked London for clarification: "I imagine this may be speculative and inaccurate, but the [Telegraph's] report is already whistling round the expatriate community on island here … With apologies for bothering you over the festive break would you be able to get us some more background"? The Governor said he was "unaware" of the plans and warned: "The Premier and I both have New Year interviews planned so will need fuller briefing as soon as possible."
As the day went on, civil servants managed to speak to Mr Williamson's special advisor, who claimed he "didn't commit to anything specific" and "had only discussed the Caribbean in very generalized terms during the interview and the Telegraph have been highly speculative/made more of certain aspects than they should have." Amid the confusion, officials began to suggest that there would not be a new base in Guyana or Montserrat – but that Britain would upgrade its barracks in Belize.
Williamson's deputy, armed forces minister Mark Lancaster MP, visited Belize in September 2018 and signed an agreement to keep the base open for the next 15 years. One official said: "Unless SofS [Secretary of State for Defence, Gavin Williamson] has done some more thinking over the festive period, we believe SofS was referring to the thinking which came out of Minister Armed Forces' visit to the region this year (potential of enhancing our presence in Belize or Guyana to meet our obligations in the Caribbean) – which SofS agreed with Minister of Armed Forces could be highly beneficial for a modest investment."
The official concluded: "So we don't think this is anything particularly new. I am trying to get hold of the transcript and will keep you informed as I hear anything more." Another civil servant agreed, saying that the Armed Forces Minister "has always been pretty clear we should develop the Belize option – as far as I'm aware we don't have any access options in either Guyana or Montserrat to build on like we do in Belize."
The confusion within Whitehall carried over into New Year's Eve, with another frustrated official commenting: "If the Telegraph simply made up Montserrat and Guyana as planned bases then perhaps we correct them. If SoS said Montserrat and Guyana deliberately then perhaps we could have some policy to back it up. If SoS mis-spoke and meant that we are looking generally at reinforcing OT [Overseas Territory] Defence capability (reserves), and at an enhanced Central American presence (Belize) – ie not South America – then perhaps we could correct/shift emphasis accordingly."
Although the names of who wrote the emails have been censored, this official appears to be closely involved with British military policy towards the Caribbean, commenting sternly that: "If I (and High Commissioner Guyana) have missed something about a sudden new plan for a base there then we do need to know". The Foreign Office team in London were clearly confused, saying on New Year's Eve: "I expect I will get a phone call from the Guyanese High Commission in London asking about this. Please can you look into it and share some lines to take?"
Gradually it emerged that expanding Britain's existing base in Belize was the most likely scheme, with one military official commenting: "We have been pretty clear we should develop Belize while supporting Overseas Territories to develop their own reserve defence forces – as we have been with Montserrat by supplying them uniforms and training etc". They said emphatically: "Guyana has never been mentioned."
Finally, the MOD concluded: "It's fair to say that article caught both [redacted] and I a little by surprise and we have been engaging with Ministers office in an attempt to understand the background. It seems Guyana was mentioned in error and Montserrat was mentioned presumably because of Minister Armed Forces' recent visit and our subsequent support for the Montserrat Defence Force." They said: "Our focus is on developing our footprint in Belize, not Guyana and Montserrat. Apologies for the additional work this has caused. Happy New Year though!" A colleague confirmed "we believe that SoS was referring to the Belize option."
Although a new British military base in Guyana appears to have been ruled out for now, the MOD revealed that it conducted three military exchanges with Guyana in 2018 that were "designed to further the defence relationship". These included a visit to Guyana over May-June 2018 by a British army engineering team to train Guyana's defence force in "Combat Engineering Training", as well as a dozen RAF personnel visiting Guyana for an exercise last April. The MOD also delivered "a regional Exclusive Economic Zone course in Guyana during Feb 2018." This is the maritime block that extends 200 nautical miles off Guyana's shore and includes its newly discovered oil fields.
Several UK companies are involved in Guyana's oil industry and Britain's ambassador Greg Quinn has previously said "A lot of the work that I do is to support the UK companies who are looking to come out" to Guyana to work in the new sector. Mr Quinn will speak via Skype to an audience at the Guyana High Commission in London on 28 March about the twinning of Georgetown with Aberdeen, the Scottish city that has "fifty years of experience as an oil town."
Morning Star showed the documents to Dr. Jan Mangal, a former Petroleum Adviser to Guyana's President. He warned against any attempt at militarising Guyana's oil industry: "On the topic of militarization, there is a clear connection to valuable resources such as oil. The politicians and power-brokers will say we need to militarize to protect our oil from foes. But militarization will likely do the opposite.  It will waste our oil revenue on expensive military gimmicks. 
He added: "The same countries which are taking an unfair share of our oil revenue will try to sell us overpriced and useless military toys, thereby taking even more of our oil revenue. And the increased militarization will likely be used against the people of the country itself, to keep them subdued. Guyana is a perfect country to be exploited since it has some entrenched internal divisions." Dr. Mangal concluded: "Guyana only can become strong and successful if these internal divisions are overcome. Militarization will not help Guyana succeed."
Reflecting on his extensive experience of oil industries in other parts of the world, Mangal said: "Many countries well endowed with fossil fuels have had their democratic systems undermined with authoritarian systems. Foreign powers will happily undermine democracy and human rights in fragile countries to keep the oil flowing and protect unfair deals which rob countries of a fair share."
Britain's MOD was contacted for this story but a press officer said he could give "no steer on the firm location" of any possible new UK base in the Caribbean. He said a speech made by Mr. Williamson on 11 February represented the department's latest thinking on the subject. In that speech the minister said:
"We will also be using our string of global support facilities and military bases more strategically… Further afield we already benefit from facilities in Belize … And, I believe that we need to go further. Considering what permanent presence we might need in areas including the Caribbean and Asia-Pacific to extend our global influence."