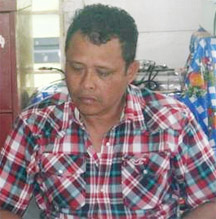 Deputy Chairman of the National Toshaos Council (NTC) Paul Pierre is appealing to the authorities to provide firearms and other means for toshaos – who have the power to make arrests as rural constables but no means to protect themselves from acts of violence.
Pierre made the appeal yesterday in the wake of the beheading of Toshao Solomon Lewis of Kurutuku Village in the Middle Mazaruni and the severing of his son, Marvin's hand after they intervened during a domestic dispute between Lewis' son-in-law and his daughter on New Year's Day.
He told Stabroek News that the issue of arming toshaos had been raised at NTC conferences previously and he had raised the issue in 2015 and in 2016, even before he became an NTC executive member.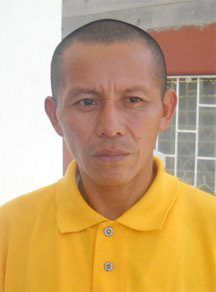 Toshaos are given precepts saying that they are vested with the authority of rural constables but they do not have the means by which to carry out their duties especially when dealing with violent citizens, he said.
"We don't even have handcuffs or batons," he said. "We need firearms. In the communities, we are faced with all kinds of acts of violence and there are no police or law enforcement officers nearby."
The Moruca sub-region has 11 titled communities and only one police station at Santa Rosa, he pointed out. Pierre, who is the toshao of Kwebanna Village, which is 24 miles by road from Santa Rosa, said that when he calls for a police patrol or assistance, he is usually told the police are understaffed or they do not have transportation.
The police in the area are in need of a vehicle or vehicles, and boats and outboard engines as some areas are only accessible by water, he said.       
In the revision of the Amerindian Act, Pierre asserted, provision should be made for toshaos or their families to be compensated for injury they sustain, or, dying in the line of duty.
Since the death of his colleague, Pierre said that toshaos have been calling him to express their security concerns in their communities. "Every single toshao has to deal with violence in his or her community and he or she has no means of protecting themselves," he said.
Asked about the call by the NTC for arming of toshaos, Minister of Indigenous Peoples' Affairs Sydney Allicock told Stabroek News that he was aware of the need for the protection of toshaos against violence by unruly citizens in the execution of their duty.
He said the toshaos are supposed to receive back up from police but the police presence in the communities is not a regular feature. For instance, he said, in the North Rupununi, there is only one police station with about five to eight police officers at Annai to serve over ten communities in far flung areas.  
Individual toshaos have applied for firearm licences for their own protection but that would not solve the problem in all the communities, he said. Allicock added that government was promoting community policing groups and the arming of these groups and how, is another issue to be discussed.  
Meanwhile, in a statement following Lewis' demise, Allicock called on the public to report cases of domestic abuse, a cause of worry for a long time.
While toshaos are rural constables, he said, there will still be insecurities as was witnessed in this case and the overpowering of the authority of the village council by wrongdoers.
"This is something the villages and communities need to focus on to avoid another mishap," he said.
According to Allicock, he was informed that this was not the first time that the son-in-law was abusive to his partner. "It's really, really sad."
Reiterating the need for proactive community policing groups, he said, "We will have to find a way of encouraging village councils to establish policing groups that will deal with such matters at that level and who can also bring such cases to the relevant authorities."
Junior Indigenous Peoples' Affairs Minister Valerie Garrido-Lowe, who has direct responsibility for social and welfare issues, said the ministry has taken steps to address domestic violence issues by employing and training welfare officers and members of the respective village councils.
Garrido-Lowe said seven welfare officers were employed in 2018 and two more will be employed in 2019. To date, two welfare officers are employed in Region One (Barima/Waini), one in Region Eight (Potaro/Siparuni) and four in Region Nine (Upper Essequibo/Upper Takutu).    
Allicock and Garrido-Lowe shared the concern in which villagers "would close ranks" and no one, including the victim, would speak out against the perpetrator.
Garrido-Lowe is to visit Kurutuku in the coming weeks to meet with the women to ensure they are empowered "not only financially or economically, but also educate them in regards to their rights." 
Both ministers expressed regret for the unfortunate incident and assured that the ministry will assist relatives during this difficult time.
A new toshao will be elected as soon as systems are put in place Garrido-Lowe said. In the meantime, the deputy toshao is performing the duties of toshao.
Around the Web