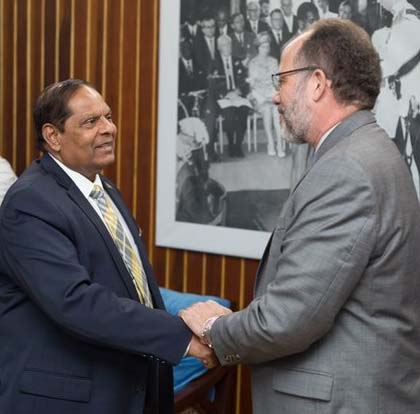 The government on Wednesday briefed representatives of CARICOM and other bilateral partners on its plans following the no-confidence vote of December 21 last.
A release from the Department of Public Information (DPI) on Wednesday said that the meeting took place at the Ministry of the Presidency.
The government has faced increasing pressure to abide by the consequences of the vote which requires general elections in 90 days. The government is however challenging the validity of the motion and has since moved to court. The government has also caucused with envoys of the US, UK, Canada and the European Union who had earlier met with Opposition Leader Bharrat Jagdeo who laid out his position on the vote.
DPI said that Government's delegation comprised Prime Minister Moses Nagamootoo and Minister of Foreign Affairs, Carl Greenidge. 
According to Greenidge, the foreign dignitaries were briefed on government's position, following the December 21 vote, and assured of its efforts to maintain stability.
"They had a few questions. Implications of the vote as we see it and what actions the government is proposing to take. We also indicated that there is to be, as agreed, of course, a sitting of the House tomorrow afternoon (Thursday) and that is to look at what the Speaker has to say about the consequences of the vote which was an undertaking he gave at the last sitting and also to look at other matters on the order paper, which spans a range of things."
The Speaker has since said that the motion would not be reversed and this has led to a formal approach by the government to the courts.  Government's delegation met with Secretary General of CARICOM Ambassador Irwin La Rocque, Ambassadors Alexander Kurmaz of Russia, Cui Jianchun of China, and Narciso Reinaldo Armador Socorro of Cuba, High Commis-sioner Venkatachalam Mahalingam of India and Ronaldo Vieira, Charge de Affairs of the Brazilian Embassy.
Around the Web