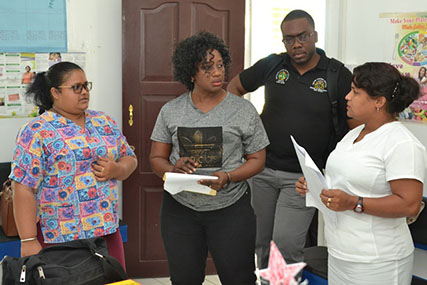 The Ministry of Public Health (MoPH), Regional Health Services, in its effort to focus on preventative health care practices, will soon be providing the residents of Agatash, Four Miles and surrounding districts with improved health services.
According to a Department of Public Information (DPI) press release, a supervisory team of directors from the MoPH recently visited the Agatash and Four Miles Health Posts in Bartica to determine the areas in healthcare delivery which could be improved. The team focussed on areas of primary health care that related to maternal and child health and promoted a preventative health care approach instead of a curative one. They also sought details regarding catchment areas, clinical records, immunisation coverage, laboratory sample collecting, human resources and possible new services, the DPI release added.
The visiting team consisted of Director of Regional and Clinical Services, Dr Kay Shako, Director of Primary Healthcare, Dr Ertenisa Hamilton, Director of Vector Control Services, Dr Horace Cox and National Coordinator of Medical Laboratory Services, Joyce Whyte.
 Dr.Shako, who spearheaded the visits to the two health care facilities was quoted as saying, "We are more concerned now with improving our primary health care because it deals with the more preventative aspect of health care and if we can zero in on prevention or preventative medicine rather than curative well then it means that we are going to reduce the high cost of health care that we have here in Guyana."
While health posts essentially offer level-one health services and do not cater for complex and critical cases, it was proposed that these two facilities be a hub for specific services while the staff benefit from training to upgrade their skills to better serve residents.
"There are some areas that we would want to zero in. Number one, that will be training for our staff within these areas so that they can provide a higher level of health care and persons can come and they can have a more targeted approach. We also want to provide the services in terms of the patients having their samples taken and the testing being done here," the Regional and Clinical Services Director added.
The DPI also stated that the team looked at making services more accessible and available to residents instead of having them travel to Bartica for basic healthcare which included treatment of the common cold among other outpatient services.
After the visits, a meeting was convened by the Minister of Public Health, Volda Lawrence, Regional Chairman and Regional Executive Officer of Region Seven and the MoPH directors, to chart the way forward in ensuring that new services can be facilitated in the region, especially at these two facilities.
Around the Web