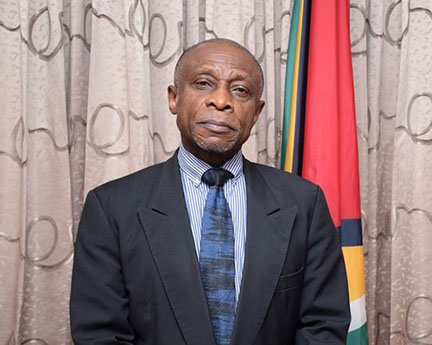 Venezuela is seeking to expand its maritime space not only in Guyana's territory but also in the Exclusive Economic Zones (EEZs) of Caribbean Community (CARICOM) and other states, including Colombia, Barbados and Suriname, which must all be vigilant as a result.
This warning was issued last Thursday by Minister of Foreign Affairs Carl Greenidge and former Minister of Foreign Affairs Rashleigh Jackson, who both pointed out that regular aggression against Guyana by Caracas including the recent interception of an ExxonMobil-contracted vessel in Guyana's maritime space, has implications not only for Guyana but for the rest of the Caribbean as well.
Greenidge and Jackson spoke at a Guyana Trades Union Congress forum on Venezuela's aggression against Guyana at the Critchlow Labour College. They cautioned against Venezuela's expansionist approach to increasing its maritime space and enforcing its actions through domestic laws which are not recognised internationally.
Having intercepted the vessel, Greenidge said, Venezuela's National Assembly issued a proclamation on Venezuela's maritime space which shows 14 Caricom states being affected. "We are not the only ones. We are the ones who are making noise. Venezuela is telling the other countries, 'Don't worry. We are interested in Guyana. Guyana is the problem,'" he said.
Among the other states affected are Barbados, Suriname, St Kitts, Montserrat, Dominica, St Lucia, St Vincent and the Grenadines, and Grenada. "When the Venezuelan's claim as regards their maritime space is looked at, when you superimpose it on what exists, they are also laying claim to the EEZs of these Caricom and Caribbean territories," Greenidge said.
Venezuela's seguing from claiming land to claiming Guyana's maritime space, Greenidge said, has become even more important to them because of the valuable resources, such as petro-carbons, that are to be found below the sea.
Venezuela's concern, he said, is that even though it has the longest Caribbean coast, the eastern Caribbean islands form an arc to the east of Guyana, cutting Venezuela from the Atlantic Ocean proper. "If they have an ambition to be an Atlantic power, they do not have the basis within which to carry that out," he said.
Venezuela now laying claim to almost all of Guyana's EEZ, he said, is because Guyana has its 12 miles of territorial sea, its EEZ and is entitled to space on the extra continental shelf which is beyond the 200 miles EEZ. Venezuela is basing its claim to Guyana's maritime space on a projection of the estuary of the Orinoco River and the projection of its continental shelf, and the supposed rights of Venezuela to the seabed, which was spurious, Greenidge declared.
"The wells are located on the seabed. This seems to be a new ploy by Venezuela to justify, perhaps, action, if not physical action—an attempt to fashion a legal claim to the seabed," he warned.
According to the United Nations Convention on the Law of the Sea (UNCLOS), Guyana has to settle its maritime borders with its neighbours, the minister said.
In relation to Suriname, the border was settled after Suriname seized an oil rig in Guyana's waters in 2000 and the UNCLOS arbitral tribunal determined that Guyana's boundary with Suriname was what Guyana had indicated.
"In relation to Trinidad and Tobago, Barbados and Venezuela, the boundaries have not been settled," Greenidge said. The UNCLOS, he said, "requires that we work on these bilaterally as far as possible to put in place the lines separating our sea space."
In the case of Venezuela, he said, Venezuela wants to discuss an area to which they have no entitlement. "They do not have a coast this side of Pointa Playa," he said. "If you do not have a coast you do not have maritime space."
When attempts are made to settle the maritime issue with Venezuela, Caracas would say they want to agree on the land issue first, which is in relation to its claim of Essequibo, Greenidge noted.
Guyana's maritime territory, he said, "is almost a rectangle but it has to be adjusted to take account of Trinidad and Tobago's rights. It may not remain where we have it because we have to make some allowance for Venezuela but not much. That is what really upsets them."
Venezuela tried to stop Guyana from being considered for rights beyond the 200 miles EEZ but the United Nations concluded there was no lack of clarity over Guyana's land boundaries and as such no problems with its maritime space, Greenidge pointed out.
"We have a situation where Venezuela's maritime claim runs through Guyana to even Suriname and French Guiana. The law says you can only negotiate maritime space with your neighbour," the minister pointed out.
Venezuela's decree 1787, passed in May 16, 2015 which was subsequently succeeded by another decree 1859, sought to define the maritime spaces off the coast of Venezuela. Those decrees seek to claim almost all of Guyana's maritime space. Guyana has rejected those claims and has since initiated proceedings before the International Court of Justice to confirm the legal validity and binding effect of the 1899 Arbitral Award on the boundary between the two countries in order to resolve the controversy following Venezuela's contention that the arbitral was null and void.
Around the Web