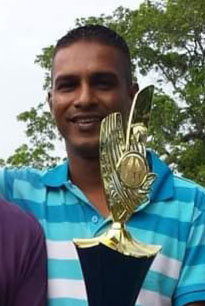 As the execution-style killing of a Suriname rice dealer on Monday on the No 63 breach, Corentyne continues to baffle law enforcers here, it has been learnt that Nitender Oemrawsingh was a bird enthusiast and would come to this country to make purchases.
Meanwhile, the authorities in Suriname are expected to investigate the allegation of their lawmen venturing over to Guyana undercover to probe the death of  Oemrawsingh.  Just prior to his killing here, Oemrawsingh had been linked to the largest drug bust in his country.
Surinamese online news, De Ware Tijd, reported yesterday that Suriname's Acting Chief of Police, Roberto Prade said that an investigation will be launched, since he had insisted that no Surinamese police officer would have come to Guyana or is expected to come to Guyana to assist with the investigation of the murder of the rice exporter.
According to De Ware Tijd, when questioned, the acting chief of police said that Oemrawsingh was not questioned by police in Suriname, as he pointed to official records which supported this claim. He noted that investigators were expected to question the man. He had suggested too, that the supposed questioning could have been done by "dirty cops".
Additionally, the De Ware Tijd, had reported, that Oemrawsingh's lawyer, Irvin Kanhai, told local news last Friday, that his client had not fled Suriname after he was wanted for questioning, and was expected to turn himself over for questioning.
Calls to the Commander of 'B' Division, Paul Langevine, for an update on the murder investigation and to ascertain if they have launched an investigation into the allegation of a Surinamese lawmen entering their division to probe without alerting the authorities, went unanswered yesterday.
However, Crime Chief, Lyndon Alves told Stabroek News, yesterday afternoon, that they have not been in contact with Surinamese authorities. However, when questioned about the claims of undercover Suriname police being present in Guyana, he said this was news to him. He noted, that no arrest had been made as of yesterday afternoon.
Meanwhile, Oemrawsingh's uncle, who had ventured to Guyana on Tuesday to identify Oemrawsingh's body, told this publication that he last spoke to his nephew last Friday. "Me talk to he Friday normal," the uncle said, while stating that his nephew never indicated to him that he was in any sort of trouble.
The uncle, who was somewhat reluctant to speak with media operatives present on Wednesday morning, had stated that his nephew was never arrested in Suriname but rather he had presented himself for questioning. "He been deh drive and do he business as normal. He was never arrested, he did go for questioning and that is it. Nickerie is shocked that is all I can tell you," the grieving uncle said.
This would now suggest that it could have been 'dirty cops' who would have questioned Oemrawsingh and learnt that he was about to provide police with vital information that would have led to the arrest of influential persons in Suriname who allegedly have a stake in the drug smuggling business.
The uncle had further noted that he believes the investigation is for Guyana's lawmen to pursue, since he is of the opinion that the killer may be from Guyana, as he could not comprehend why a Surinamese would have wanted to murder his nephew who he said has been helping the less fortunate in his country for years now.
The uncle told Stabroek News on Wednesday, that a Suriname policeman was present in Guyana and had returned to Suriname on Wednesday morning before the post mortem examination. According to the uncle, the man had gone back because there was nothing more for him to do here in Guyana, and he had suggested that the investigation was for local lawmen.
It is being alleged that the exporter was shot dead on the orders of a big businessman in Suriname who was afraid that Oemrawsingh would have ratted him out in connection with the drug seizure in which he, the deceased, was fingered. "According to information we have is that he [deceased] is a man that will squeal easy, so a certain businessperson whose drugs it was is afraid that he would a call his name," a source had said.
According to the source, it is strongly believed that the drugs discovered last week did not belong to the deceased but that he was involved in transporting the illegal substance. "We were told that this is his first time in this," the source had added.
The body of Oemrawsingh, 40, of Corantijn Polder, Nickerie District, Suriname, was found Monday around 4.30 pm on the Number 63 Beach. He was clad in a blue armless shirt, black trousers, a pair of socks and boots. Nickerie has a large Guyanese community.
A post-mortem examination was carried out on Wednesday morning at the Skeldon Public Hospital mortuary by Government Pathologist, Dr Vivekanand Bridgemohan, who gave the cause of the man's death as shock and haemorrhage due to a gunshot wound and laceration of the brain.  
A police source had told this newspaper that based on the gunshot injury, it is suspected that a .32 pistol was used to shoot the man straight in the middle of his forehead. He was either pursued from Suriname to Guyana or a contract killer here did the job.
Last seen in Guyana in August
Meanwhile, Stabroek News was reliably informed, that Oemrawsingh was last seen in Guyana in August of last year.
Stabroek News had previously reported that a relative had said, that he had been a frequent visitor to Skeldon, Corentyne.
According to information gathered yesterday, the man was last seen alone in Skeldon in August on a business transaction. The relative yesterday said that Oemrawsingh would often visit Skeldon alone.
Questioned as to where the man would reside during his visits, the relative explained, that to his knowledge, the man would come via the backtrack route in the mornings and return in the afternoons.
He suggested, that the man would venture to Guyana to purchase 'Sea birds', since he was a known 'bird man' in Suriname.
Oemrawsingh is the founder and sponsor of the Nitender Oemrawsingh and Derrick Fung Fen Chung Songbird Competition, which is very popular in Nickerie, Suriname.
 Stabroek News contacted well-known rice exporters in Berbice who stated, that Oemrawsingh was not known to them. They added that they would have never interacted with the man with regard to any business transactions.
The father of two was the proprietor of Nivash Rice, a milling company in Suriname, and was questioned last week by Surinamese police following the drug bust. 
Surinamese media last Wednesday reported that at least 2,300 kilogrammes (5,070 pounds) of cocaine had been found. In an interview with local radio station ABC, Prosecutor General Roy Baidjnath Panday declined to confirm the exact amount, but said it was likely "well above a thousand to at least two thousand" kilogrammes, Reuters had reported.
News agencies in Suriname reported that the seizure was made at the Jules Sedney Port in Paramaribo, after the discovery was made by the port security during one of their routine control checks.
According to a source in Suriname, five more persons were held in connection with the investigation into the drug seizure investigation, bringing the total number of persons in custody to nine.
 The source noted, that four persons— a customs officer, identified as Dharmindersingh Achaiber, 49, two female customs brokers and a truck driver, Shailendra Oemrawsingh,43, who was employed with the deceased's company, remain in custody for further questioning.
According to Star News in Suriname, Achaiber and Oemrawsingh's attorney, Irvin Kanhai has had no access to his clients. The online news noted that Kanhai has appealed the matter.
Meanwhile, the cocaine which was seized was destroyed yesterday in the Brokopondo District by means of incineration. A total of 2,200 kilos of cocaine and marijuana was set on fire by the Public Prosecution Service yesterday in the presence of the press.
Around the Web