Berbicians yesterday intensified their protest against the Guyana Water Incorporated (GWI) over the recent hikes in the charges for water.
The protest action, which was held opposite GWI's Chesney office on the Corentyne, saw massive support from Corentyne and Canje residents.
Most of the residents yesterday maintained that they cannot afford to pay the increases, while some said they would be willing to pay only if they are given better quality water.
Sharon Beepat, of Lot 40 East Canefield, East Canje Berbice, said that GWI needs to improve the quality of water supplied to her area. "My concern is if they are billing us, they need to give us proper water. We should have gotten proper water, not like the rusty water you get that can't wash white clothes," she said.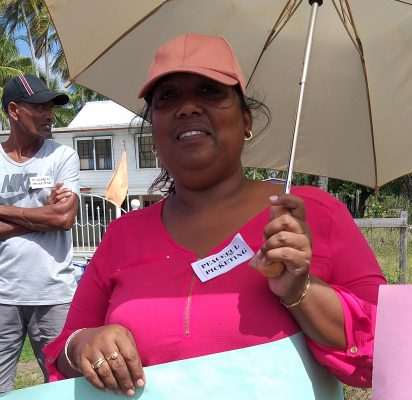 "I'm paying a water bill and I'm still buying water to drink," she added, while noting that she pays an additional $260 per bottle of drinking water, which usually lasts her family an average of two days.
Additionally, the woman stated that water bills are always distributed late in her area and she urged that this be improved immediately.  "They need to bring our bills up to date," she said.
The protest, which was organised and supported by the People's Progressive Party/ Civic, Region Six, is expected to continue every Monday morning until GWI officials arrive at a compromise with the residents of Region Six.
PPP Regional Supervisor Zamal Hussain yesterday stated that they are advocating that the GWI officials meet with the residents of Region Six and "listen to their complaints," after which a compromise can be worked out.
He said, "…Over a one month period we have an increase of $741 to $30,000. Imagine someone working the minimum wage, what is going to happen if the bill increase with that amount? The person left hungry for the rest of the month because GWI and GPL bills have to be paid and they have nothing left to feed their families," he said.
Additionally, Hussain suggested that residents should pay a minimum rate per year until they are provided with treated water.
Hussain also pointed out that in the West Canje Area, a pipeline that was damaged several weeks ago is yet to be fixed. He said, "The customers have to feel the brunt of the incompetence of the GWI officials."
Hussain also said that he has attempted to meet with GWI's Regional Manager to address the concerns of residents of the county but he has not been able to so.
Stabroek News attempted to meet with the manager yesterday but was told by the security guard at the Chesney branch that the manager would not be meeting with any media operatives.
After a protest last week, GWI said in a statement that its "harmonization of rates is an incremental one, which took effect on October 1, 2018 and was approved by the Public Utilities Commission."
In response to the statements by protestors regarding the company's billing system, GWI had said it "wishes to categorically state that Region 6 boasts 97% bill delivery efficiency and recorded 100% bill distribution in December, 2018."
Around the Web