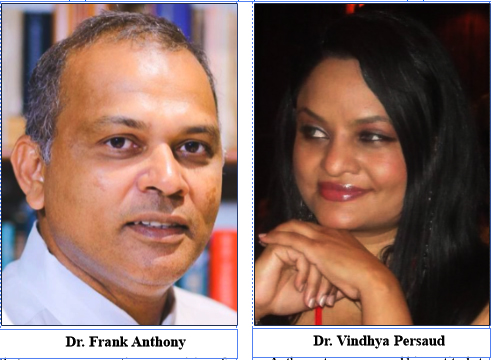 Two of the three PPP members who withdrew from the party's presidential race on Saturday have said they did so due to insufficient support from the Central Committee and backed Anil Nandlall in the ensuing two-man race which he eventually lost to Irfaan Ali.
Early yesterday Dr. Vindhya Persaud said she pulled out on account of "insufficient support" while Dr. Frank Anthony last evening noted that he did not have a clear majority of votes from the 35-member committee.
 "I withdrew on the day of voting on account of insufficient support for me among the 35- member Central Committee and supported Anil Nandlall in the ensuing two man race. Dr. Frank Anthony and Gail Teixeira had also withdrawn,"  Persaud said on her Facebook page yesterday.
Anthony, later indicated in a similar post that "while I knew that I had the support of some of my fellow Central Committee members, I felt I did not have a clear majority of votes to win. I decided that it was appropriate to withdraw and gave my support to Anil Nandlall."
Both politicians have stressed that they have been repeatedly questioned about their decision to withdraw and acknowledged that an explanation was due to the many who have supported and encouraged them.
"I was encouraged by many, many persons to be a part of the PPP Presidential candidacy process. I participated fully in that process; presenting my vision for Guyana and being questioned intensively," Persaud explained.
The daughter of the now deceased former Agriculture Minister and longtime party member Pundit Reepu Daman Persaud, thanked all who sent messages, called and expressed encouragement before and after the process, adding that she is touched and humbled by the outpouring of support.
"I remain committed to working for a better Guyana," she ended.
Anthony, too, expressed his gratitude to those who supported and motivated him over the years to continue to work in the best interest of the Party and people of the country before committing to remain "a humble servant of the people of Guyana."
"Sincere thanks to those who believed in and stood by me as the Party went through its process of selecting the presidential candidate. Your kind words, phone calls, messages and candid conversations have all served to motivate and encourage me," he said, adding that the decision to exit the race was not an easy one.
"As leaders, we are often called upon to make tough and selfless decisions. In this instance, I did it with the belief that it was in the best interest of the Party and country," the former Minister of Youth, Culture and Sport stressed.
Ali secured 24 votes, significantly more than the 11 secured by Nandlall and was therefore confirmed as the party's presidential candidate on Saturday. Since then there has been criticisms especially on social media over his election with many supporters expressing the view that Anthony or Nandlall would have been better choices.
Ali is currently at the centre of two controversies. The first related to his tenure as Minister of Housing in the PPP/C government and sees him facing 19 charges over the allocation of house lots to Cabinet members and other persons in the 'Pradoville 2' Housing Scheme. According to the case submission the lots were sold far below market value thereby defrauding the state of millions of dollars. 
Additionally the elected candidate, who has since promised $100 billon investments and 50,000 jobs should he be elected President, has seen his academic credentials questioned.
Around the Web