Stressing that threats have been made to Guyana's territorial integrity as far back as 1969 when the Rupununi Rebellion occurred, President David Granger yesterday reminded officers of the Guyana Defence Force (GDF) of their responsibility to secure the state.
"The Defence Force has been, and must always remain, ready to deter aggression, defend national sovereignty and ensure the development of our country as a safe, secure and strong state," he said in the feature address at the opening ceremony of the GDF's Annual Officers' Conference, held at State House.
The conference is being held under the theme "Effective transformation for total national defence."
Aside from the rebellion, Granger mentioned the December 22nd "hostile incursion" on a vessel undertaking seismic surveys lawfully within Guyana's Exclusive Economic Zone (EEZ) by a Venezuelan corvette.
He said that a note of protest has been dispatched by the Ministry of Foreign Affairs rejecting Venezuela's aggression. He said, too, that this would be Venezuela's second naval assault against Guyana's territorial integrity and sovereignty.
Granger also said the persistence of transnational crime alerts Guyana to the need for continued vigilance to protect airspace, land borders, coastline and territorial sea and he added that overflights and landings by aircraft suspected of involvement in illegal activities undermine the territorial integrity and sovereignty.
The influx of more than 3,000 migrants fleeing economic and political distress in Venezuela, the president said, also necessitates the need for stronger controls along borders.
"The Guyana Defence Force therefore, must maintain itself in a state of readiness to secure our entire country and protect it from present and future dangers," he said before adding that in keeping with the responsibilities in the Defence Act, the Force is therefore obligated to secure the state and safeguard the entire territory from invasion, incursion and insurrection.  "Incursions must be deterred. Insurrections must be suppressed. The state must remain secure," he stressed.
He reminded that the Force faces numerous challenges in protecting the territory, which includes an elongated coastline and land and river borders of nearly 3,000 km, the expansive hinterland and an extensive network of waterways that constrain its ability to control its territory effectively.
The small size of the economy and limited physical infrastructure diminish the Defence Force's ability to respond rapidly to threats against our territory, he said, before adding that the defence policy emphasises the doctrine of total national defence, which implies that all the elements and instruments of national power – economic, military, political, social and technological – will be employed in the interest of national security.
The Head of State also used the occasion to stress to officers that conducting long range patrols to the farthest corners and frontiers of the country is a part of their responsibility. "The GDF was never intended to be a 'coastal' force; it is, and will remain, a comprehensive national force. It must reach every corner of the country and must be competent in conducting long-range patrols, in any weather or terrain, by day and night and for long periods.  Officers and soldiers who cannot go on long-range patrols, in any weather or terrain by day or by night, for long periods have no place in the Defence Force," he said.
'First line of defence'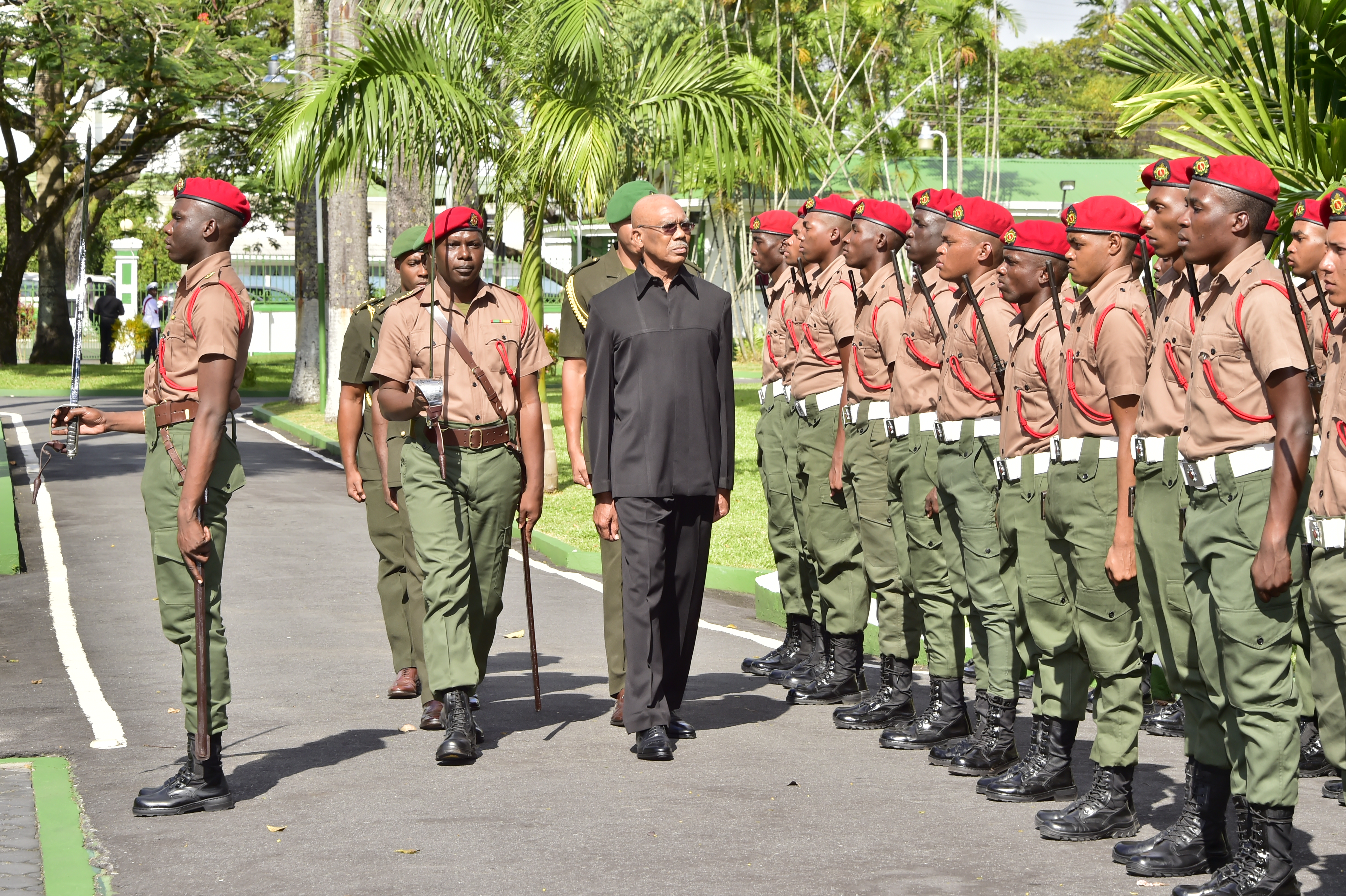 He also noted that frontier villages – those which lie along the borders – are vulnerable to illegal incursions and therefore residents must be protected from these threats. "Frontline villages are guardians of our national territory and patrimony. They are our first line of defence against any attempt at incursion. They are the eyes and ears which can alert the Defence and Police forces to hostile action which threaten public security and national defence," he stressed before reminding that several military exercises were held in a bid to repel threats to human safety.
He said that Operation Armadillo was launched last year to respond to the threats posed by criminal gangs along the borders and to protect our frontline villages and involved maintaining friendly relations with frontline villages, mobilising village defence units and improving communication. According to Granger, this Operation resulted in a reduction in reports of assaults by foreign 'Sindicato' gangs and reinforced border security.
Operation Ocean Guard, he noted, was launched in June, 2018, with the aim of exercising continuous aerial and maritime surveillance of the coastline and territorial waters. He said it resulted in improved safety, a decrease in the incidence of piracy and the disruption of contraband smuggling and drug- and people-trafficking.
Granger noted that two exercises, Exercise Green Heart and Exercise Ironweed, will be modified to emphasise the importance of long-range jungle patrol. "These exercises will continue to prepare our troops to master all forms of terrain and weather conditions and respond to emergencies and the Chief of Staff has received instructions to create long-range ration packs to allow officers and soldiers to sustain themselves during longer Ironweed and Green Heart operations," he said, while adding that the operations and exercises demonstrate the Force's preparedness to defend the state. "They help our troops to become more agile and versatile and more confident in their legs," he added.
With regards to strengthening of the Force, Granger noted that a portion of the $14.02 billion budgetary allocation will be used to procure light transport aircraft, drones for border surveillance, inshore patrol vessels and engineering and transport equipment. That budgetary allocation this year represents a more that than 75% increase when compared to the $8 billion allocated in 2014.
He pointed out that the Signal Corps, Air Corps and the Engineer Corps were outfitted with resources last year.
Noting that the Regular Force must continue to consolidate its work, already resumed, of restructuring its organisation by strengthening the technical corps and by deploying the Reserve Force countrywide, he reminded that in October, 2015, he had announced that the Force would be restructured and reorganised to ensure that it is well-commanded, well-trained and well-equipped to perform its role.
Further, he said that the Reserve Force, the Guyana People's Militia, has increased from 125 members in January, 2015 to nearly 1,500 in January, 2019 and he stressed that recruitment must continue until it is 50% of the strength of the regular force.
Granger said too that the Guyana National Cadet Corps (GNCC), which was resuscitated in January last year, has trained 364 young persons from six participating schools in five administrative regions. The training, he said, is aimed at enhancing the skills and leadership abilities, building character and instilling the values and standards of civic responsibility.
Granger also noted that the nation can be assured of the government's resolve to protect the people and preserve the national patrimony as well as its commitment to continuing to take measures to shield the people from the peril of transnational crime. "The Force is the vanguard of national defence. The Force is conscious of its duty to preserve our territory, protect our people and develop the economy by implementing our national defence doctrine," he stressed.
Meanwhile, Chief of Staff Brigadier Patrick West, in his remarks, noted that in 2018 the Force adopted an increased operational posture and this will be continued this year with increased patrols so that more land and sea spaces can dominated.
He noted that since the last conference, 73% of ranks benefitted from local training, which will be continued this year. He said that through collaboration with the University of Guyana, the redesigned Standard Officers' Course will graduate its first batch of graduates with an Associate Degree in June this year and at the same time the first batch of Reserve Officers will graduate after a nine-year hiatus.
Around the Web