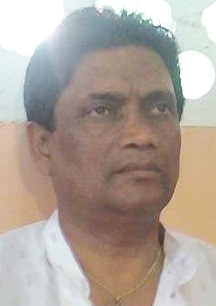 Cabinet has been updated on the police investigation of former government Member of Parliament (MP) Charrandass Persaud and is now awaiting a fuller report, Minister of State Joseph Harmon said on Thursday.
Responding to questions from reporters after the opening ceremony of the Guyana Defence Force's Annual Officers' Conference, Harmon disclosed that Cabinet was advised that the investigations are "well advanced and because of the nature of the investigations the police would prefer to keep the work that they are doing under wraps until such time that they are able to give a proper and fuller report."
Asked about the timeframe for the delivery of the final report, he said that it was not for him to say but the police. "…It is a professional investigation that is going on and the police must be able to say where the investigation is," he explained.
An opposition-sponsored no-confidence motion against the government was declared passed by Speaker of the National Assembly Dr. Barton Scotland on December 21st following a "yes" vote from Persaud. Government had initially accepted the passage but later backtracked, claiming that the Persaud's vote was invalid given that he is a Canadian citizen and that the motion needed 34 and not 33 votes from the 65-member National Assembly to succeed. Court action has since been filed in relation to both arguments and the matters are current being heard by Chief Justice (ag) Roxane George-Wiltshire, who anticipates rulings by the end of the month.
Subsequent to Persaud's departure from Guyana, reports surfaced that he was being investigated and Police Commissioner Leslie James last week confirmed that the ongoing investigation of the former MP stems from a report of bribery and possible plans to move gold out of the country. He added that if the need arises, the necessary actions will be taken to have Persaud return to Guyana for questioning.
Since Persaud voted in favour of the opposition motion of confidence against the government, essentially triggering its collapse, he has come under attack from APNU+AFC MPs, officials of the administration and others. He has been accused of accepting a bribe but he has repeatedly denied this.
Persaud, who is presently in Canada, has insisted that he voted according to his conscience because he was dissatisfied with the functioning of the government. He said too that he was fed up of being a "yes man."
Minister of Public Security Khemraj Ramjattan has admitted that he was the one who tipped off the police after he received the information from Minister of Indigenous Peoples' Affairs Sydney Allicock about Persaud enquiring about the purchase of US$1 million in gold.
The information, Ramjattan said, came from an employee within Allicock's ministry who is a friend of Persaud.
James has said that a number of gold dealers have been interviewed.
Persaud has maintained that he made enquiries about buying gold for a client. "I have clients, who are still looking for gold and so I was negotiating with a couple of dealers, finding out the price, what it will take if you buy it in Guyana or  if they ship it and we pay for it and we receive it in Canada. That is what I was doing," he told a forum in New York via phone recently, while questioning what was wrong with making enquiries.
Around the Web