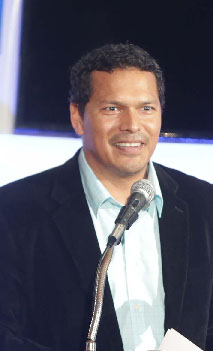 Lennox Shuman, presidential candidate of the Liberal and Justice Party (LJP) says he has met with the Canadian High Commissioner to Guyana on his intention to give up his Canadian citizenship in order to meet the criteria for entering the Guyana Parliament and to vie for the office of the President in upcoming general and regional elections.
Shuman told the Sunday Stabroek that the High Commissioner is yet to get back to him.
"I will be moving ahead when she gets back to me," he said.
Referring to the current case before the courts in which private citizen Compton Herbert Reid is challenging the validity of former government parliamentarian Charrandass Persaud's election as a Member of Parliament given his Canadian citizenship and his vote in a no confidence motion against the government which has triggered the holding of general and regional elections by March 19, Shuman said, "if there is a different ruling, we will take that into consideration."
He added, "When we receive the info, we will consider the best way forward."
Any legal dealing in relation to either giving up his citizenship or retaining it, he said, "I will be undertaking this through a law firm in Toronto, (Canada).
On January 12, at the launch of the party which he has founded, Shuman declared he will be giving up his Canadian citizenship.
He had said, "Because of a firm commitment to making a difference in Guyana and as a parliamentarian who swears to uphold the Constitution of Guyana, my first act cannot be to break the law," he said.
Apart from his dual citizenship which would raise the question as to his eligibility to contest for a seat in  Parliament, Shuman's period of residency in Guyana is also being questioned in relation to eligibility to be the presidential candidate. There is a seven-year residency requirement. Shuman has told Stabroek News that if he had not met the criteria for residency, he would not have entered the race for political office in the country.
Around the Web