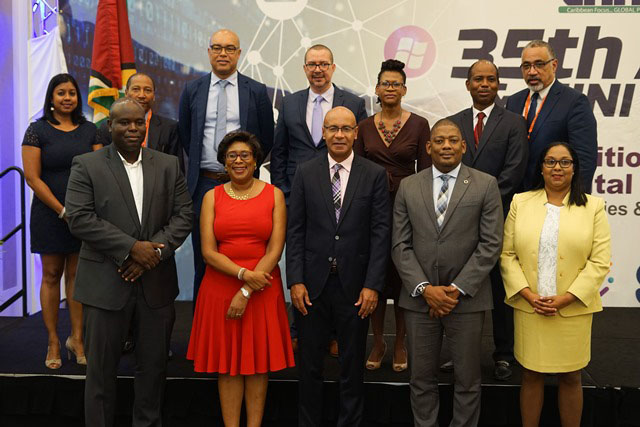 One hundred and eighty members and stakeholders from thirty countries are here for the Caribbean Association of National Telecommunications Organizations (CANTO)'s 35th Annual General Meeting (AGM) and Mini Expo which officially opened last evening at the Marriott Hotel.
The Department of Public Information (DPI) said that one of CANTO's founding members, the Guyana Telephone and Telegraph Company (GTT) along with the Ministry of Public Telecommunications and CARICOM facilitated the hosting of the meeting in Guyana.
Delivering the feature address, Minister of Public Telecommunications, Catherine Hughes said that many of the industries across the region that have been relied upon for many years, no longer have the scope required to support national and economic requirements.
With this in mind, she said that the Government of Guyana in 2015, established the Ministry of Public Telecommu-nications, with the aim of transforming the country's landscape with the use of Information and Communications Tech-nology (ICT).
Highlighting some of the key successes within the sector,  Hughes said that her ministry had commissioned 173 community ICT hubs which provide free internet access in most of the Administrative Regions, especially those hinterland and rural areas. Hackathon and Code Sprint were also hosted to spot, promote and support emerging talents, she said, according to DPI.
As part of Guyana's National Digital Transformation strategy, all of the Government ministries are now connected along with over 300 educational institutions. Plans are also in place to add hospitals and police stations. By 2020, more than 200 government services will also be available online, DPI reported.
All of these initiatives,  Hughes said  has seen Guyana positioning itself as an ICT hub in the Caribbean.
According to DPI, GTT's Chief Executive Officer, Justin Nedd said to date GTT has delivered 140,000 landlines and 300,000 mobile connections.
Outgoing Chairman of CANTO, Julian Wilkins provided an overview of some of the achievements over the past three years.
"CANTO is very keen on all stakeholders within the ICT environment, our mission has evolved over the years by promoting inclusiveness, that is embracing all ICT members. We advocated on key issues of the day more often than we did in the past and we strive to create an environment that encourages investments and innovation", he was quoted as saying.
CANTO was founded in 1985 and has grown to over 130 members.
DPI said that the four-day event is being held under the theme 'Transitioning to a digital region. The opportunities and the challenges.' The next four days will see presentations and workshops.
Around the Web