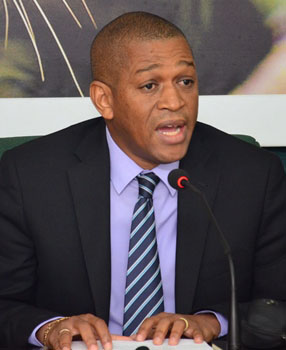 A competitive bidding process would likely be used for next year's slated oil licensing round, according to Head of the Department of Energy (DoE) Dr. Mark Bynoe.
Bynoe told a press conference yesterday that given the fact that the DoE plans to complete the review and gap analysis of the existing petroleum legislation by the end of this month and that it has completed a template production sharing agreement (PSA) that will be used to guide all other contracts, it is expected that the Department would be in a position to engage in another licensing round that is currently scheduled for the first quarter of 2020.
"As the Department has been on record indicating, this is likely to be a bid round. We are also aiming to conduct a multi-client seismic survey for data packages to encourage greater interest in the shallow continental shelf. This survey will be tendered as have all other recruitment that the Department has been engaged in," he explained.
He emphasised that it will be taken through the tendering process and those who put forward the best bids will be rewarded accordingly. In terms of the areas out for possible allocation, he pointed out that the ultra-deep area known as Block C has received interest from every major operation, which indicates that it is more plausible that the process will see a round of competitive bidding.
He further explained that the DoE decided to aim for the first quarter of 2020 since it is its expectation that the legal framework would be completed by then and that the primary legislation will be in place since it does not want to go to another licensing round using the same 1986 legislation.
Meanwhile, Bynoe also said that in addition to the ongoing work by ExxonMobil and its partners, three other companies are expected to accelerate their offshore drilling programmes this year.
"Thus far, the focus has been on the Stabroek Block and what Exxon has been doing. Based on indications from other operators, we expect one field to be drilled in the Orinduik Block by Tullow, one more in the Kanuku Block by Repsol and another in the Corentyne Block by CGX, with the latter two using what is popularly known as jack-ups," Bynoe explained.
He noted that the potential for exploration drilling in the Canje Block is still under discussion with the Department.
Bynoe also said the DoE has also been moving to put processes in place to manage the oversight of the PSAs and oil and gas contracts and is currently discussing the development of a depletion policy as the country seeks to optimise its extraction of petroleum.
He noted that the Department will also be making stringent efforts to further strengthen its human capital power through the continued recruitment of the expertise of both Guyanese and external advisers. As a result, by the end of the first quarter of this year it is hoping to employ a development adviser, a crude marketing adviser, a gas adviser, a commercial adviser, two legal advisors as well as other DoE staffers as it relates to having Guyanese  who can shadow the advisors. It will also be recruiting economists, econometricians, local content and procurement staff as well.
In terms of the local content policy, he said that the DoE has engaged a consultant to finalise the policy, which is due within two and a half months, and critical in that particular consultancy is the measuring and capturing of local content contribution both in terms of dollars and jobs and having a better definition of the activity level to allow for multipliers to be encompassed.
Bynoe was also questioned on whether operators have raised issues about political instability in light of the passage of the no-confidence motion against the APNU+AFC government last December.
"Keep your head down and do your work. We are technocrats first and foremost and much of what we are aiming at would be based on technocratic decisions… Where matters have to go to Parliament is outside of our control but [with] our day to day actions we are pressing ahead. Whichever government is in place, the implications for the people and country of Guyana are way beyond our great comprehension, so it cannot be a case whereby because of political impasse or something going through the course of this time means we have a state of paralysis," he said, while emphasising that the Department will continue with its job until instructed otherwise.
However, he pointed out that initially the DoE was asked about the implications but quickly reassured the operators that it will continue with its work.  
Around the Web