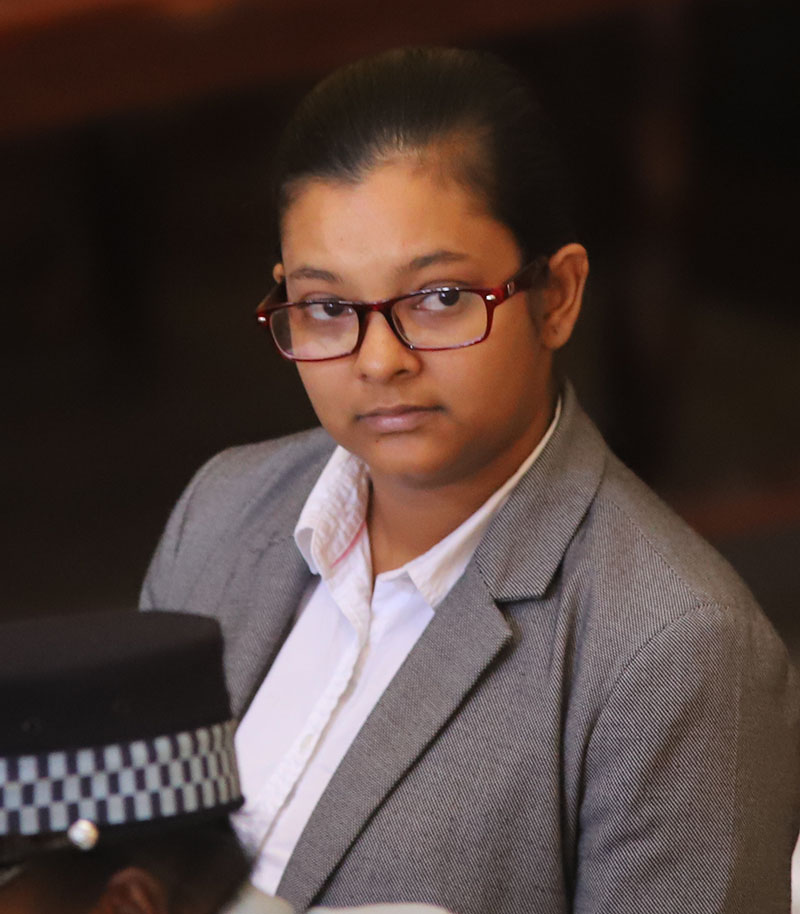 Sheneza Jafarally, the student who is accused of making a bomb threat that forced the cancellation of classes at the Turkeyen Campus of the University of Guyana (UG), was yesterday remanded to prison after being charged with the crime.
Jafarally, who is also known as Diane, a sales consultant, was read the charge in the courtroom of Chief Magistrate Ann McLennan in Georgetown.
It is alleged that the accused on February 5th, at Cummings Lodge, East Coast Demerara, sent by means of public communication a message which she knew to be false for the purpose of causing needless anxiety to the staff and students of UG.
Jafarally, 25, of 36 Sixth Street Cummings Lodge, denied the charge.
Attorney Latchmie Rahamat, who represented the accused, requested reasonable bail for her client, citing the fact that she was held for more than 72 hours already. Rahamat further added that her client would be willing to adhere to any conditions set by the court if granted reasonable bail. She noted that the only evidence against the young woman was a computer-generated printout, which was shown to the accused and bore a number similar to hers, but had no signature or other relevant markings.
Police prosecutor Gordon Mansfield, however, objected to the accused being granted bail, while highlighting the serious nature of the offence and the potential for the spread of public terror. The prosecutor added that further investigations of a similar nature are pending against the accused and if granted bail she may tamper with witnesses or interfere with the investigation.
In disputing the prosecutor's submission, Rahamat noted that her client was not made aware of any pending investigations and assured that she would not tamper with witnesses since the police would have confiscated her cellular phone and other electronic devices. She once again urged the court to grant the accused bail.
Having heard from both the defence and prosecution, the Chief Magistrate denied the accused bail on the grounds of it being in the public interest.
Jafarally was subsequently remanded to prison and is set to make her next court appearance before Sparendaam Court one on February 18th.
Jafarally was arrested last Thursday morning at her workplace after records from her phone allegedly linked her to the threats.
On Thursday, UG announced that classes at its Turkeyen Campus had been cancelled for the remainder of the week following a second bomb threat. The first threat was issued on Tuesday, while the second was on Wednesday.
It said police and fire service officers conducted a thorough search of the campus on Wednesday. "No explosive of any kind or suspicious object was found during this search. The closure of the campus will enable the administration, staff and student leaders to review the situation and enhance preventive and responsive measures for such threats," it added in a statement.
Around the Web