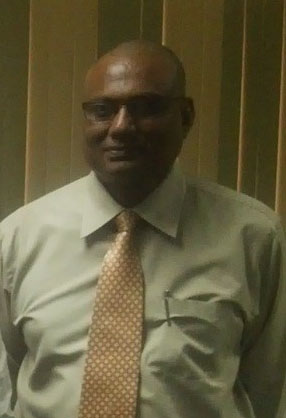 With the advantages of a valid list of electors and a pool of trained staff, the Guyana Elections Commission (GECOM) was in a position to hold elections within 90 days with time to spare, former Deputy Chief Election Officer (DCEO) Vishnu Persaud told Stabroek News in an exclusive interview yesterday.
"We have a list. I stand by my position that elections could've been held in that period because we have a list," Persaud stressed adding that GECOM should've at least tried to reach the 90-day deadline specified by the constitution.
Chief Election Officer (CEO), Keith Lowenfield has publicly stated that the secretariat would need 148 days to prepare for General and Regional Elections.
According to Lowenfield this timeline is influenced by a requirement of a minimum of 105 days for the training of polling day staff. This training he explained needs to conclude at least 21 days before elections day as statute requires the publication of a notice of poll at this time. 
"Even if I utilise 20 training teams at schools across the spectrum of Guyana, it will see us taking a minimum of seven to nine weeks to ensure we train in all regions," the CEO had stressed.
Persaud has a different calculation. He acknowledges that training in 2015 and 2016 did take two to three months but maintained that the same level of training is not required at this time.
He told Stabroek News that his professional opinion based on what he knows is that "there is now no need for a full blown training exercise" rather "people just need to be refreshed."
"In 2014 in preparation for elections we commenced training with the goal of establishing a pool of trained personnel that we can always go back to for the purpose of holding elections. In 2016 we went back to that pool and added to it and I believe it grew even more in 2018," Persaud explained.
He detailed that if he had to take a decision under "these circumstances" he would conduct one-day refresher sessions rather than the regular two-day training session.
"We don't need a three-member team; a two-member team will do. If we have 60 trainers under normal circumstances we would be at 20 locations for a weekend but if we cut that to two we now have 30 training teams at two locations over two days.  That's 60 venues over one weekend. You factor that into the regions and the number of venues it reduces the training time significantly," he stressed.
He acknowledged that some members of the pool might not be available and that new persons would require full training but reiterated that the pool is there and its members have likely worked for three elections so are very prepared.
"Invite those people and based on responses if there is a shortfall you advertise for that shortfall. That happened in 2016. I imagine the same procedure applied in 2018 and can be applied now," he said.
Asked if the secretariat could've mobilized without a directive from the commission, Persaud said yes they could've "mobilized in the sense of beginning training."
Lowenfield has stated and Stabroek News has seen correspondence to the effect that he has repeatedly asked since January 22 to be put into "operations mode" so that he can begin training.
"Today is the 8th [of February]. You haven't said anything to me yet. If you communicate to me, I move," Lowenfield had told reporters.
Government-nominated commissioner Desmond Trotman and Opposition-nominated commissioner Sase Gunraj had both corroborated Lowenfield's statement that the secretariat required a mandate from the commission to act but though Gunraj had claimed some things can be done as a matter of course without the commission's input Trotman claimed that the CEO had in the past been reprimanded for acting without permission.
Harnessed
"The CEO has been harnessed by commissioners who felt in the past he should not have leeway to do certain things. When he was functioning on his own, he was told if he wanted to purchase a lead pencil, he must come to the commission for permission," Trotman said.
Persaud who worked with Lowenfield at the commission for 16 years is certain that he was prepared to do the necessary work.
"I would be surprised. Given what I know about him I would be surprised if on December 22 he did not kick into action and begin preparing a work programme. I would be very surprised," he said adding that "if the commission had put the secretariat into operations mode by December 30 Guyana could've had elections by March 21 with time to spare."
He noted that in amending the constitution to include a No-confidence clause the framers did not even factor in a valid voters list.
"I doubt they would or could've foreseen that continuous registration would've been introduced as it was in 2005. There was a five-year gap so they took into consideration the need for a list to be prepared and that list would've had to be prepared in that 90 days. That preparation includes claims and objections which in the recent past has occurred over a four-week period and would've taken an average of 35 days out of the 90-day provision. That plus the statutes related to Nomination Day significantly reduced the time for training unless it was happening concurrently. Which it can," the former DCEO explained.
He further noted that having recognized the implications of the provision GECOM sought to ensure it was always ready for elections.
"At the secretariat when I was there we recognized that there is a constitutional provision that could necessitate elections in three months. In view of that we approached the commission and got approval for the claims and objections exercise to be done after every cycle of continuous registration. So that after every cycle of continuous registration we would have a list. The validity of a list at that time was three months we also asked for the commission to approve the life of a list for six months. The concept really was that throughout the year there would be a valid list. Today the validity of the list ends on April 30, another one kicks in on May 1 during the period of the validity of the list a cycle of continuous registration is carried out to make sure this happens," it was explained noting that the thinking was there would always be a list just in case a snap election for whatever reason is called.
Under normal circumstances, he stressed, it is the list which decides GECOM's readiness.
"At the point of GECOM having a certified list of electors the President is informed that we have a list therefore you may fix a date for elections within the legal timeframe. The life of the list," he noted.
Shortened
With a valid list in place, shortened claims and objections period to two weeks would have sufficed, he maintained noting that the important issue would've been "giving yourself enough time to move to elections within the stipulated deadlines".
Asked to address concerns that the list is "bloated" and therefore not suitable for the holding of "credible" elections, Persaud said the list will always have dead persons and migrants.
"People die and migrate every day. If a concern is specific to persons voting for dead person and migrants then the focus should be on how to prevent persons voting for other people," he clarified adding that there has to be collusion for that to happen.
"There are measures in place to guard against people voting for others. Though it is not legally necessary persons are asked to walk with their Identification Cards because it helps the process. In its absence an Oath of Identity is taken with someone else on list of electors identifying them. GECOM also tries to employ polling day staff from the district to work at polling stations; there is a folio with photographs of all persons on the list," he detailed.
Additionally, addressing concerns about the system of proxy voting, he noted "if there is fraudulent proxy voting then there is collusion" as "the system is one where proxies have to be investigated by the Returning Officer before they are issued."
House to house registration, he stressed will not sanitize the list but is likely to prevent the holding of elections in 2019 as it is likely to take in excess of nine months.
 "Sanitizing the list is totally different from producing a new list which is what house to house registration will do," Persaud stressed.
The issue of sanitization can be addressed through normal claims and objections as it provides for persons who are dead to be off the list. 
In June 2018, Persaud was  controversially replaced as Deputy Chief Election Officer when Chairman of GECOM, Justice (retired) James Patterson voted together with government-appointed commissioners in favour of the present holder of the office, Roxanne Myers.
Around the Web