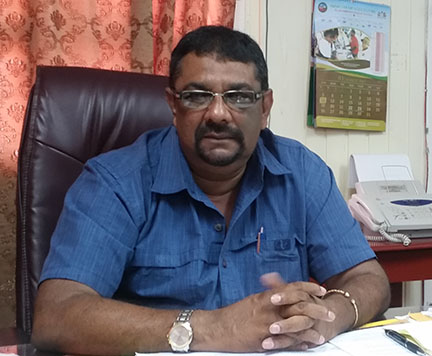 Chairman of Region Six (East Berbice-Corentyne) David Armogan on Tuesday said that if Guyana enters a "constitutional crisis," then regional contracts which have not been awarded should be put on hold.
"They should just be making salary and wages (payments) and make sure the hospitals run and the social services run but in terms of contracts that should be put on hold," Armogan, a PPP/C-nominated official, told media operatives in Berbice on Tuesday. He was questioned on whether the region's projects are likely to be affected during a "constitutional crisis."
Armogan said that projects which have been awarded are not expected to be affected since those contractors would already be in the process of carrying out those works.
However, he contended that after today, no contracts should be awarded, but pointed out that it is still left to be seen what orders Regional Executive Officer Kim Stephens will receive from the APNU+AFC government as to the way forward on regional projects.
Some projects that are yet to be awarded include rehabilitation works on several schools and drainage and irrigation works in the region.
According to Armogan, if orders are given to continue as usual by the government, then every transaction and other business would have to be documented for possible prosecution later.
The chairman also said that businesses within the region and the country by extension, will be affected "because when you are in uncharted waters, people will tend to hold back on their businesses."
According to him, if business owners are not certain about the future of a country, they will refuse to spend money. "If you don't know what is going to happen in a country then people are not going to spend their money bringing in goods and buying services and so. They will prefer to wait and see. It is going to have a dampening effect on the economy in a sense that people will be very hesitant," he said.
There have been reports that over the last couple of weeks, Berbicians have been encouraging each other to stock up on food items. However, Armogan warned that "panic buying" is likely to lead to a shortage. "People are starting to do panic buying and that itself will create a shortage," he contended.
"When you start to do panic buying and then if you don't have foreign exchange, it has implications for the banks in Guyana and foreign exchange, and if those things cannot take place the same (way) that business is being done now, then it will affect goods and everything coming into the country," he said.
Meanwhile, Armogan said that while it is unclear what the coming days will be like, he is certain it will have an effect on the region's affairs. "If it's not going to be business as usual this means the RDC (Regional Democratic Council) might (not meet). I don't know what will be the effect of our operation here but then I'm certain it will have an effect on regional affairs," he said. 
Armogan, who said that he has been a member of the RDC since 1997, said "I've never experienced this, even when we were in government, they had threatened to call a no-confidence motion. We prorogued the parliament and held an election within the constitutionally due time. This is the first time in the history of Guyana we are now moving in to uncharted waters where nobody seem to know what is going to happen after the 21st of March."
According to the chairman, the government and GECOM are playing a "cat and mouse game" while the country is heading into a "deep constitutional crisis."
He noted that his party, the PPP, has been calling on the international community to institute sanctions against the government.
However, he said, if this happens, then it is going to affect projects in the country as well, especially those that are being done in collaboration with international partners. "Our projects and so that we are doing here with IDB and all the other international institutions will be affected," he observed.
Around the Web