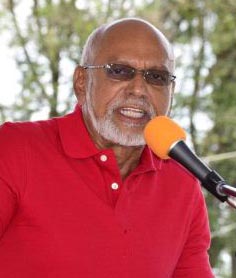 Following the Court of Appeal's decision that the December 21st vote on the no-confidence motion against government was invalid, former president Donald Ramotar has criticised the APNU+AFC administration for selectively recognising judgments.
"This decision has shown us the double standards in the behaviour of this regime. One ruling was welcomed and celebrated and one no respect was shown. They totally disregard constitutional issues when they totally ignored the ruling of the Chief Justice and now are speaking that they are champions of the judiciary after Friday's decision," he said.
Ramotar believes that the People's Progressive Party/Civic's appeal at the Caribbean Court of Justice (CCJ) will see the decision overturned.
He said that he hoped that the CCJ decision would be accepted with the same exuberance as the Court of Appeal's split decision.
Chancellor of the Judiciary (ag) Yonette Cummings-Edwards and appellate judge Dawn Gregory both agreed that an "absolute" majority of 34 votes were required to guarantee the motion's successful passage, while appellate judge Rishi Persaud dissented and endorsed the acting Chief Justice Roxane George-Wiltshire's earlier ruling, which had upheld the validity of the passage of the motion.
"Our constitution was very clear on the issue. I believe that 1961 onwards, the process was deliberate to keep our parliamentary seats in an odd number, so that you would never have a tie. As such, I don't think it was accidental. They are now introducing the whole issue of absolute majority," Ramotar said.
We had the Prime Minister Moses Nagamootoo on tape  saying that he doesn't know why the opposition brought the motion because  they would need 33 votes but now he makes an about-face saying it's 34. This ruling has grave implications for our country and even beyond our country," he added.
In January, Ramotar had told this newspaper that when his government was faced with a no-confidence motion from the opposition in 2014, it received legal advice from an attorney, Stephen Fraser, that at least 34 votes would be needed for the passage, but he and his chief legal advisor did not believe that it would hold up in court and feared that it would cause public upheaval.
"I thought it was foolish then and I still think it is foolish now, given the clear wording of the constitution," he said.
"To me, it was clear that 33 is the majority. I am no lawyer or constitutional expert, but in my view when the British instituted the Proportional Representation system, they deliberately used an odd number. I thought to say that to the people [that a 34-vote majority was needed], when common sense prevails, that it would create problems in the country," he added.
Asked what the "problems" were that he foresaw from the opinion, Ramotar said, "mass public protests, an uproar…" and he added that he thought the masses would believe he was insulting their intelligence and common sense.
Around the Web