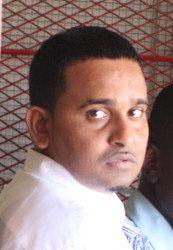 A remorseful Ravindra Paremdass, who was accused of murdering another man during a row over a bicycle, was yesterday sentenced to 12 years in jail on the lesser count of manslaughter.
It was alleged that Paremdass murdered Roopram Jagdeo, called "Lil Baby" and "Ribbit," between December 20th and December 21st, 2012, at Providence, East Bank Demerara.
Paremdass had been convicted in 2015 after a 12-member jury found him guilty of murder and he was sentenced to 57 years in prison by Justice Navindra Singh.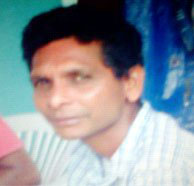 However, the Court of Appeal overturned the conviction and sentence last December and granted him a retrial.
When he appeared two weeks ago before Justice James Bovell-Drakes, however, Paremdass pleaded guilty to the lesser count of manslaughter and a probation report was ordered to inform sentencing.
According to the report, which was presented to Justice Bovell-Drakes yesterday, Paremdass said that it was never his intention to kill the deceased and said that they were both involved in a fight and he thought the man would have killed him. He asked for forgiveness from the wife, children and other relatives of the deceased.
The wife of the deceased, the report noted, stated that the death of her husband has affected her family since he was the breadwinner. Since he died, she said, she had to seek employment as a domestic worker but due to an illness she had to quit the job and the family is now being sustained by one of her daughters. She asked that justice prevail and that the accused is given a sentence that is duly fitting.
The report noted that while in prison the accused obtained a certificate and a medal after completing a tailoring course.
Former workmates of Paremdass didn't have anything negative to say about the accused except that he used alcohol excessively.
The court also heard that Paremdass and the relatives of the deceased once shared a harmonious relationship.
Subsequent to the reading of the report, defence attorney Maxwell McKay told the court that his client has expressed remorse for his actions and tried to advance his technical skills while in prison. McKay noted that the fatal altercation occurred after some level of provocation by the deceased. The attorney then requested that Paremdass' sentence be in keeping with what was said in the probation report.
Asked if he wished to say anything prior to his sentencing, Paremdass apologised to the court and the family of the deceased. He begged the court for mercy and to give him a second chance. Paremdass promised that once he would have served his time in prison, he would no longer drink alcohol.
Justice Bovell-Drakes, prior to sentencing the accused, told him that when he sees trouble, not to walk away but instead run.
Justice Bovell-Drakes then noted that because of Paremdass' approach to the court, statement to the family and his work while in prison, he would sentence him to 12 years for manslaughter.
The state's case was prosecuted by Tiffini Lyken and Tameika Clarke.
Around the Web