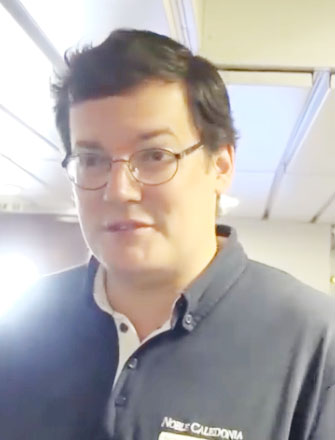 Several persons have been arrested and questioned about the robbery of visiting cruise ship director Neil Horrocks, who was attacked early on Saturday morning on Lombard Street, Georgetown.
Contacted for an update on the investigation yesterday, Commander of 'A' Division Marlon Chapman told Stabroek News that while several arrests were made in the case, the men were subsequently released on station bail. He said the investigation remains ongoing.
Horrocks, who is the Director of cruise ship MV Serenissima, was relieved of his iPhone, US$120 and a credit card during the attack, which took place around 1.05 am on Saturday.
At the time of the attack, he was returning to the ship following an outing.
He sustained injuries to his hands and was treated by a doctor on board his vessel.
Police sources had indicated to this newspaper that Horrocks had ventured to the Palm Court on Main Street, Georgetown, where he was reportedly drinking. From there, he boarded a taxi and disembarked in the vicinity of Mohamed's Enterprise on Lombard Street, where he was then attacked by two men.
The MV Serenissima arrived here last Friday morning and docked at the Guyana National Shipping Corporation wharf in Georgetown for a three-day visit.
In a statement on Saturday, Wilderness Explorers, the local tour operator for the ship, described the incident as regrettable.
It explained that with safety in mind, it scheduled an evening tour to facilitate individuals who wished to experience Guyana's nightlife, so there would be no need for any guest to venture out on their own. "Unfortunately, despite the advice provided one member of the crew did venture out on their own late at night. Sadly, they were robbed but fortunately not seriously injured," the statement noted.
Around the Web