What over seven years ago started out as an act of faith, is today a school that caters for the needs of 15 children diagnosed with moderate to severe autism and if the organisers have their way the school doors would be open to more children as there is a long waiting list.
The Step by Step Foundation describes itself as a foundation and school for children with autism and according to its chairperson Suraiya Ismail, the school has come a far way and now sees the involvement of the Ministry of Education.
Hearing a child talk for the first time, or just the simple assistance to parents who were unable to work because they had nowhere to leave their children but now can do so because of the school are just some of pluses of the foundation.
April is designated the month of autism awareness worldwide and Ismail said there is much more to be done for children with autism in Guyana, but over the years small steps have been taken. Admitting that the school is "relatively small," Ismail said, however, that it is a model school and one of the main successes is the foundation's collaboration with the ministry.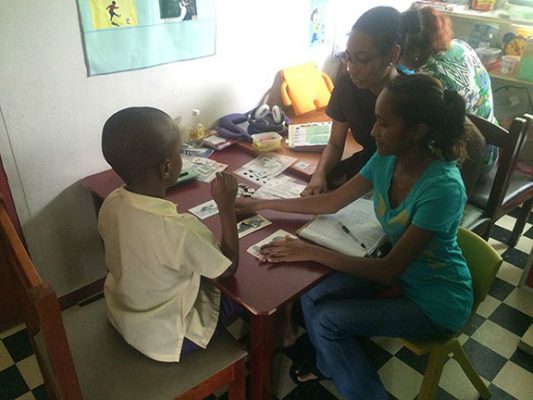 Recognising that its arms were too short to spread across the country, the foundation began negotiations with the ministry that have seen three tutors assigned to the school to be trained while working with the children. Upon completion of a six-month training programme, they will be returned to the public school system and another three are expected to be sent to the school to undergo the training.
"This is good for us," Ismail told the Sunday Stabroek during an interview.
The school, which opened its doors in 2011 first in Bagotstown but is now located in Hadfield Street, has its own in-house tutors as well whom it pays. The programme utilised is Applied Behaviour Analysis, meaning it provides individualised tutoring for the students. Ismail pointed out that the children will not learn at the same pace and as such cannot be placed in normal classes. At the school they are in groups of two or three and one tutor is assigned to a group.
There are some group sessions that involve dancing, music and exercise and other fun activities and with the new Hadfield Street location there is now a play area for the children. The children arrive at 8.30 am and leave at 3 pm except for those under five who leave at 12 pm. The school term is similar to the regular school system, except that it is open throughout the month of July as it is felt that two months without any schooling is too long for the children.
 "We also work with the parents," Ismail said. "This is extremely important because the management of these children should not end at the end of the school day, parents should continue it at home and should understand what it is we are trying to do and how we are trying to do it."
No fees are charged, but parents may make donations if they so desire. Ismail made it clear that they have never turned away a child "for financial reasons and we wouldn't."
Because of this, the foundation has to be on a non-stop fundraising drive which is hard as only Ismail and one other person from the six-member team are not employed and as such there is limited time the other members can give to the foundation. Because of these challenges, the foundation is now trying to set up a fundraising committee with people who are active and will be prepared to put on events. Ismail, who is 75, said with a small laugh that it is too much for her.
'Hard work but exciting'
Ismail described the work of the foundation of the school as "hard work but very exciting. It is so exciting to see, for example, a child who never spoke suddenly speak for the first time."
She shared the experience of having a six-year-old, who had never spoken, just start speaking one day and even calling her by name when she never even thought he had registered her name.
Some parents, she said, are practically in tears when they observe the progression of their children, but she was quick to point out that is "long and slow progress" and some parents don't understand initially that "nothing is going to happen overnight. We have to take our time, but they will improve, they will get better."
At present, the school could house about 18 students, but Ismail said they would need to employ another tutor. They desperately need a bigger school building and are hoping that the Ministry of Education would assist but are not sure when this will become a reality.
Ismail said there are many children who are on the waiting list and space is not the only issue. Children need to be properly diagnosed first, and at the moment while the country has people who can screen for autism, they cannot give a firm clinical diagnosis.
She is determined this year to have trained local persons and this could soon become a reality, as Ismail shared that one of the tutors has a Masters degree and only needs to take a short course in diagnosing to qualify.
There are about 30 to 40 children on the waiting list and Ismail said over the years while children have left it is not because they became too old but because they migrated. The school is currently working on having a trained occupational therapist to work with the older children to train them in whatever skills they could learn and at the same time negotiate with prospective employers to employ them. There are about three children who are approaching 15, and the task ahead is to prepare them, possibly, for the world of work.
The condition is called Autism Spectrum Disorder, because it ranges from mild to moderate or to severe and the because the school's children are almost exclusively moderate to severe, Ismail noted that some children with the mild diagnosis end up in regular schools where they have all sort of problems.
In most cases, because teachers do not know what to do, these children get pushed to the back of the class. Recognising this, the foundation in collaboration with ChildLink and with funding from the Commonwealth Foundation, started a project last October to mainstream the mildly autistic.
With the ministry's permission they have identified children in schools in Regions Three and Four and from September, teachers and parents of the children will be trained to better cope with them. As the children move up other teachers will be trained during the four-year project.
"Hopefully we would have made a start, because I am not suggesting for one moment that we would have solved all the problems, but at least it is a beginning and at least it is something that ministry itself could continue if it wishes," Ismail said.
She said too that there are some autistic children attending various other special needs school, but not getting the management that they need.
"It is a long process and we are just a very small group of people dealing with it…," Ismail noted, as she added that if someone left the foundation a few million dollars, "it would go a long way".
Ismail said some children at the school come from East Coast Demerara and West Coast Demerara and many times they would have a difficulty taking public transportation. A donor stepped in with an "enormously valuable" donation of a bus to transport children and to this date the donor pays for the driver, she added. While some of the children are taken by their parents, others are taken by the bus and positively their "attendance has shot up".
She said they invite sponsorship of a child adding that their donor package is divided into components and persons can choose what aspect they want to support.
The Foundation
The foundation was registered as a charity in August 2011 and in September the school opened its doors with five children and three tutors.
Prior to this, Dr Kala Ramnath, wife of former British High Commissioner Simon Bond had unofficially started the work after they came to Guyana with an autistic child. There was nothing in Guyana to assist the child and the British government sent a consultant regularly to work with the child. This led to Dr Ramnath setting up a little school in her garage for her son and two other children.
Because she was determined that when she left something would be left behind to cater for the needs of autistic children, she was the one who wrote the constitution for Step by Step and registered it.
Ismail said she "fell into it by chance" and shared that as a public health nutritionist by profession she had a consultancy firm and one of her researchers turned to her for help after her daughter was diagnosed with autism.
She started asking questions and later met Ramnath. The rest is history.
Digicel became the school's first sponsor and an executive member was gave them access to the first location in Bagotstown, rent free. The foundation now has to pay rent.
Ismail, who is not Guyanese by birth, said she has been impressed over the years by the generosity of Guyanese.
Born in India, Ismail said she left when she was a child and moved to the United Kingdom where she remained until 2001 when she moved to Guyana. She shared that she retired from her job at the London School of Hygiene and Tropical Medicine which was part of the University of London where she headed the nutrition department, but she did not want to retire in England.
"I had seen my mother go through retirement in England and it is lonely, very lonely and I had a lot of Guyanese friends. I was married to a Guyanese… but I had never lived here," she said.
Looking for a place to retire, Ismail said, she wanted to come to a society where she could contribute and work and where her skills could be of some value.
"I am not moving anywhere. This is home. I have Guyanese nationality and here I stay. It is a beautiful country," Ismail said.
She has worked with the Ministry of Education and Ministry of Health and was part of the Inter-American Development Bank's Basic Nutrition Programme that rolled out the sprinkles initiative which catered for anaemia in mothers and children. She also assisted with the school-feeding programme, especially in the hinterland schools.
She is the mother of one son and grandmother of two.
Awareness month
So far this month, the foundation has been highlighting its work and the public about autism in the media in collaboration with Republic Bank. The biggest calendar event is the foundation's annual walk, which this year will take place on April 28 and it now has a major t-shirt drive in an effort to garner much needed funds for its work.
"We are a charity and we rely on donations and fundraising mostly…," Ismail pointed out.
The walk will move off at 7.30 am from Promenade Gardens and will be led by First Lady Sandra Granger; it concludes at the garden where a programme will be held and will include a health booth.