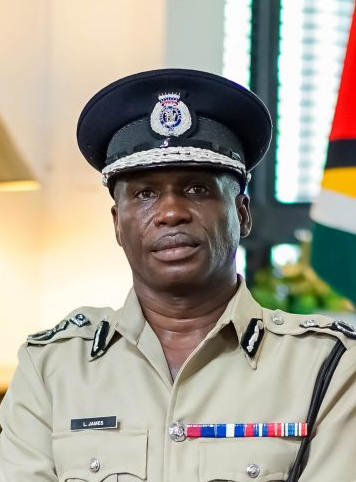 While reiterating that there would be zero tolerance for corruption within the Guyana Police Force, Commissioner of Police Leslie James yesterday said ranks who are unhappy with their salaries should resign rather than seeking to benefit from corrupt practices.
"You came on. You were told what is being offered and you decide to become an agent of the force. How come you have an issue with your remuneration?" James questioned. "…The uniform that you wear speaks of the image of the force. Your conduct, your performance also speaks to the image of the Guyana Police Force," he added.
James was at the time delivering the feature remarks at the opening of training courses at the Officers' Training Centre at Camp Road and Young Street, in Georgetown.
A total of 66 ranks, including those with responsibility for station management, newly-promoted subordinate officers and traffic constables, are expected to benefit from training.
"See yourself as very much important to this organisation. From this day forward, we would like to see a marked change of your approach to the police duties. We would like to see commitment as you execute your daily routine. We would like to see professionalism when you are engaging with your peers, when you are engaging with your colleagues and, more importantly, when you are engaging with members of the public, when you are engaging within our communities. Very, very important," James told the ranks.
Addressing the traffic police specifically, he said the GPF would like to see less or no allegations of corruption although he also made a point of highlighting the fact that members of the public are complicit.
"…Every time you heard of someone talking of a policeman taking a bribe, it's always as a result of an offer. I said once there is no offer, there can't be any acceptance. It goes both sides, offer and acceptance," James said.
He said that civilians cannot offer bribes and accuse the police of accepting. "You just cannot offer and then going and tell people police teking bribe. It's better for you to say, civilians offering bribes and the police taking bribe," James added.
Against this background, he explained that the police will also be going after those offering bribes after breaching the law and he said those found culpable will face the requisite action. "…And let me warn you civilians, we will be coming after you. Those of you who are offering. You can't be offering to police and then saying the police taking bribe. It is simple. Do not commit offences," James noted.
'Ensure there is no recklessness'
Meanwhile, James told the corporals who will participate in the station management training to follow the Standard Operating Procedures (SOPs) and comply with the Standing Orders of the force. "And station management is station management. We would like to see when you are in the enquiries offices across the country, you take charge of those offices. Ensure there is no recklessness in your subordinates' performances. Ensure that you and your subordinates understand very clearly that you have [SOPs] to follow, to maintain. You have our Standing Orders to comply with," James added.
His admonitions came in wake of the recent fatal shooting of detainee Teon Maxwell by the police at the Vigilance Police Station, which prompted concerns about how lawmen handled the case. Maxwell was fatally shot while attempting to escape in a GPF vehicle after attacking two ranks with a knife that he had kept in his possession even after his apprehension.
James also cautioned against "emotional-type" responses. "I always say and I will say again this morning: Decisions to be made should not be made with emotions. You are to engage your minds with a clear understanding of your training, with a clear understanding of the operation of the law, the laws of Guyana, so as to execute your duties. Not with emotions," he added.
The Commissioner also warned the ranks against taking persons into custody without due cause as it could have serious implications. "No one is to come to the station and ask you to take a relative into custody because they behaving bad. Behaving bad is not an offence," he said. "That is not your role. You are to have clear instructions, clear understanding of your functionalities, your roles and responsibilities," he added.
James further related that the force will be taking serious actions against those who fail to comply with the SOPs and fail to perform their duties following the Standing Orders.
"I wish to warn, I wish to inform, I wish to implore that we will be taking serious actions against you, the subordinate officers who fail to understand and to comply with your SOPs and to perform your duties following your Standing Orders. This work is very serious work. If you are timid, you are in the wrong job. You cannot be a timid soul and doing police work. It just can't happen. So if you know you meet this level and you are timid to perform your duties, write a short statement, we will receive it. Police work is serious work. Every time you write in the occurrence book or the station diary, it has implications," he further said.
Around the Web