Going beyond the scope of works, construction company BK International, funded the rehabilitation of a seven-mile stretch of road from St. Lawrence to Bendorff, East Bank Essequibo (EBE), at a cost of over $10 million.
A release from the Department of Public Information (DPI) related that Managing Director of the company, Brian Tiwarie, after being approached to assist with the road's initial rehabilitation, which involved depositing "crusher run material", felt the urge to do more.
After asking his engineer to visit the area and provide an estimate, he contacted the Region Three (Essequibo Islands-West Demerara) Regional Administration, from which he received permission to go ahead with additional works.
"We provided materials, placed the materials and shaped the road after removing old timber and other overburden that was placed by residents. The old timber and overburdens were placed by the residents for ease of transportation, especially during the rainy season. The cost of the project exceeded $10M but it was worth the investment," Tiwarie stated.
The newly rehabilitated road runs through the village of Naamless, which one resident related had not seen any road improvements in the past two and a half decades.
"It has been over 25 years since this road was looked after properly and within the last decade and a half, we pleaded with the people who were in power and they did nothing. Today, we are seeing a private businessman coming to our rescue. I rather suspect it has something to do with the frequent government visits we have been having in recent time so I must express gratitude to all those persons responsible who made this possible," Naamless resident, Pastor Malcolm Stuart commented.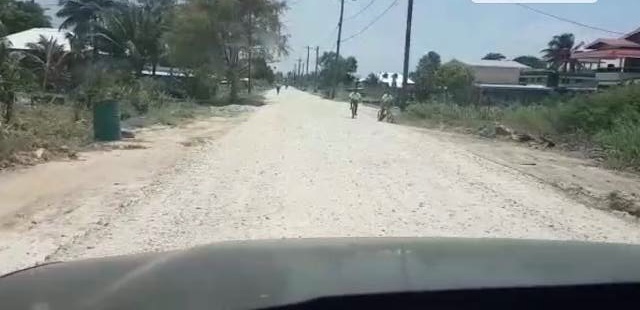 Another resident noted that, given that thousands of persons traverse the roadway daily, the road upgrade will be of benefit to many.
"Farmers use this road to bring out their produce from the backdam, school children use this same road to go to school, and all the government workers from in here use here. Thousands of people traverse here, and this is a great relief and improvement to the lives of all of us. It now reduces our time on the road, and no longer do we have to meander our way to our destination. Thank you," Shomwattie Persaud said.
Around the Web