PPP executive Gail Teixeira says she is not retracting statements she made about Minister of Public Telecommunications Cathy Hughes in relation to a contract that her company, Videomega secured from the Department of Energy (DoE).
Teixeira has been served with a lawyer's letter threatening legal action if she does not retract her statements a nd apologise to Hughes.
"I am not retracting and I am not apologising," she said in a brief voice note released by the party on Thursday afternoon.
She said that around 1:20 pm she picked up a letter from Freedom House from Nigel Hughes' law office. "You may call it a lawyer's warning letter but it's more than that because it says that I must make an unequivocal public apology, which they have to approve to Mrs Hughes as I have caused her great distress and injured her feelings etc. and that I must pay ten million dollars compensation and that if I didn't answer by April 16th which is the date of the letter, they would serve me with a writ" she said adding that she collected the letter on April 18.
"My position of all in the family continues. This is the husband of the minister sending me a lawyer's letter," she said.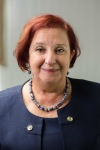 "If this is the way the government is going to go …that every time the newspapers or anyone makes a comment that is critical of them, that they are going to be threatening to sue left, right and centre, this is undermining the freedom of expression and also most importantly the anti-corruption issues…" she said.
Teixeira noted that the Inter-American Convention against Corruption and the United Nations Convention against Corruption, which Guyana ratified  "makes it clear that public officials must not be involved in issues from which they benefit by using their public office, financially or otherwise and secondly makes it clear that transparency and public exposure and public access to information is critical, therefore again referring to freedom of expression, freedom of access to information."
She insisted that the letter sent to her is just a reflection of the undemocratic nature of the government and "as I said the family affair that we see exposing at all levels of the government."
The letter, a copy of which was seen by this newspaper listed four alleged defamatory statements made by Teixeira which were published on the Inews Guyana Forum both by way of television and online broadcast on April 9, 2019.
"These allegations amount to a very serious libel on our client and have caused her considerable distress and embarrassment. All the allegations made against her are false and your attack on her was unjustified," the letter states.
"In the circumstances, our client requires from you as a matter of urgency a full unequivocal public retraction and apology in terms to be approved by us and an undertaking not to repeat these allegations," it adds.
Nigel Hughes who signed the letter said that he had advised his client that she is entitled to a "substantial compensation" for the injury to her reputation and feelings and we are instructed to demand….the sum of $10,000,000 as compensation …"
The minister has already filed legal proceedings against Stabroek News and columnist Anand Goolsarran over statements published in the April 15th edition of Stabroek News where it was stated that she was in breach of the Integrity Commission Act as a result of a contract awarded to her company.
In her statement of claim filed yesterday Hughes is claiming damages in excess of $20m for alleged libel in the April 15, 2019 edition.  She is also seeking a "permanent injunction" restraining Guyana Publications Inc, publishers of Stabroek News and Goolsarran from causing the words complained of to be printed or published.
In her claim, Cathy Hughes is also seeking exemplary damages. She said in the claim that the publication of the words complained of has gravely injured her reputation. In addition, she alleged that the publication "was deliberately calculated and intended to harm the claimant. The said publication was deliberately contrived to abuse the freedom of the press to the detriment of the claimant".
Stabroek News Editor-in-Chief Anand Persaud has said that Hughes' lawsuit will be fully contested. The filing of the lawsuit by the minister, he said, would be seen as an attack on freedom of expression and the free press. The reportage on the Minister by the newspaper, he said, constituted fair comment on a matter of public importance pertaining to a senior government official.
Cathy Hughes' company, Videomega, secured a contract valued at $832,200 from the DoE for the production of three sixty- second television Public Service Announcements. She said she had relinquished day to day responsibility for the company and was unaware of the contract.
Around the Web