Since ExxonMobil's oil discoveries offshore Guyana, a number of global oil majors and oil support companies have established their presence here, with local offices and other facilities secured through leases or acquisitions.
After its initial 2015 find and subsequent major discoveries, ExxonMobil announced plans to be here for many years and as a result it has secured itself a 50-plus year lease with the Ogle Airport Inc. for some 15 acres of non-airside land to build its local headquarters at Ogle, on the East Coast of Demerara.
Many of the company's oil support service providers have also established their own offices and on-shore support facilities.
TechnipFMC, the United Kingdom headquartered subsea project management company, in February broke ground for its proposed facility at Houston, East Bank Demerara. The company emphasised its commitment to local content as it informed that it had been training locals overseas for employment at its operations here. The facility will initially support the second phase of the Liza project and future projects.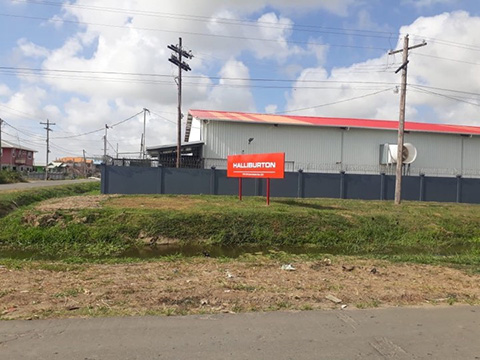 This newspaper has reached out to the Manager for both TechnipFMC's Guyana and Trinidad operations, Johnny Hewett, who took questions in late March but said that they had to be forwarded to the corporate headquarters for reply. Up to press time, those questions had not been answered.
However, the company had issued a press release after it broke ground at Houston and it stressed that it was committed to the development of local content in Guyana.  "We are proud to have invested in Guyanese employees who will make positive impact to their local communities. We look forward to expanding our local footprint in Guyana and building a base that will contribute to the positive future of the country," Jeff Mathews, Vice President, Subsea Services North America, was quoted as saying.
According to the company, it has been not only been active here but this year demonstrated its commitment to the country's development by training 27 Guyanese employees for employment in the oil and gas sector. "All new employees complete a 12 to 18 month apprentice program before transitioning into operational teams that support ExxonMobil project related activities offshore Guyana. Currently, eight employees are in training at TechnipFMC's Brazil office in Rio de Janeiro and a new eight will begin their journey mid-February 2019 to become Technical Service Providers (TSP); laying the foundation for TechnipFMC in Guyana and becoming future leaders in their country," the company added.
ExxonMobil has lauded TechnipFMC's efforts in building local capacity here, even as it pointed out that the company's proposed facility was an example of the growth and opportunity this country has.
"Local Content development is a vital part of project stewardship and our commitment to Guyana.  Local content and capacity building will continue through our prime contractors — such as TechnipFMC — as projects progress," said Rod Henson, ExxonMobil Guyana's Country Manager. "This ground breaking is an example of future growth and opportunity in Guyana," he added.
Also based at Houston is oilfield services provider Schlumberger, which is forging ahead with its construction of a mud plant aback the Gafoor's Complex. Gafsons Industries Ltd had sold its Plantation Houston, East Bank Demerara complex to the United States oilfield services provider in a "multi-billion dollar" deal.
While it has established a presence here for more than a year, officials of the company have been tightlipped about the local operations.
This newspaper had reached out to officials of the company but they indicated that they do not discuss their operations.
"We are pleased to have established an office in Guyana; however, due to the competitive nature of our industry, we do not discuss our operations, plans or our customers," an official, Susan Ganz, said.
Another prime contractor of ExxonMobil here is the Italy-based Saipem, which has told this newspaper that it intends to leave a footprint of its own here.
Through a partnership with John Fernandes Limited, Saipem will be doing work on ExxonMobil's Liza 1 project, which is expected to begin oil production in 2020.
"The whole idea of Saipem is to leave behind a footprint, a sustainability programme which develops into a footprint. We have never gone out showcasing 'Hey we do this or that.' What we do is we work from the background. We are focused on local content, on developing the local ability to bring out the expertise and also see the skills and match them. The moment you give them that foundation and procedural requirements, it is easier to bring them up to speed in what is required in the oil and gas sector, especially on safety, especially on work ethics and attitude wise. These are things we look at and we want [to] blend them inside and to develop a regional player then international," Saipem's Country Manager, Thuran Nadarajah, had told the Stabroek News in an interview.
And while some companies are based on or near the river-front, others have set up operations on the eastern side of the East Bank Public Road.
Leading global oil support service provider Halliburton has operations at Eccles on the East Bank of Demerara.
The company established an office in Guyana in 2017 and had said that it was at the time assembling its local workforce, where then Country Manager Gerald Leboeuf said it would be training Guyanese to meet crucial safety standards for oil and gas rig work.
Also in Guyana is SBM Offshore, the prime contractor for Liza phase 1's Floating, Production, Storage and Offloading (FPSO) vessel, which operates through its subsidiary Guyana Deep Water Operations Inc.
More recently United States-based marine transportation company Harvey Gulf moved to set up an office in Guyana.
"We are hiring locals so that they can answer our questions," Chairman and Chief Executive Officer of Harvey Gulf Shane Guidry told this newspaper in an interview. Aside from oil support companies, petroleum companies have also set up offices here.
TullowOil has an office in Middle Street, Georgetown, Repsol in Duke Street, CGX in Lamaha Street and Ratio Energy in Prashad Nagar.
Around the Web