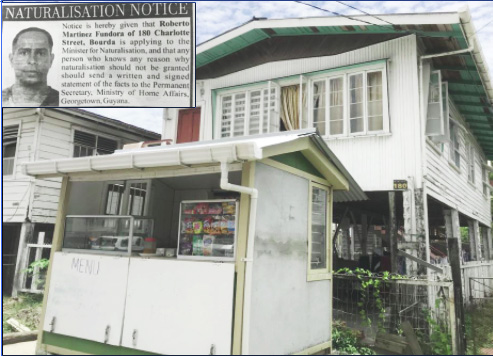 Some foreign nationals seeking citizenship are providing fake addresses on their applications.
Sunday Stabroek recently visited three of the addresses which were listed by applicants in public advertisements and found that in two cases there was no record of the applicant being resident there.
"Wuh? Who? That is Spanish name and nobody like that don't live here," a man, who gave his surname as Lowe, said when asked to confirm if Roberto Martinez Fundora, who stated in an advertisement in the Kaieteur News that he lived at 180 Charlotte Street, Bourda, was indeed resident there.
 "Look, there is a hotel right over the road there and plenty Cubans… stay there, so maybe you can check there but nobody by that name don't live here. This here is the Lowes and the (names provided)," he added.
In another case, Manuel Sanchez stated he lives at Lot 90 Robb Street, Lacytown, Georgetown, but it was a similar scenario when a visit to that address was made by this newspaper.
However, in the case of Erik Eltin Ribeiro Silva, who gave his address as Lot 273 Forshaw Street, Queenstown, it was different as he was found and he told of how he has been trying to get naturalised for over a decade.
The 31-year-old father of two Guyanese children said he has been living in Guyana since 1996 after his father brought his family to Guyana while working for a local shipping company.
Silva who hails from, Cape Verde, an island off the Coast of West Africa, explained that it is not the first time he is applying for citizenship. He pointed out that he had misplaced his certificate of citizenship and had to reapply.
He related to Sunday Stabroek that he has started a family and after spending most of his life here, he decided to settle. Silva attended the New Guyana School and School of the Nations. He disclosed that he has worked with Trans Guyana Airways and Air Guyana as translators in the past.
"It has just been hard because I deh here since I was child and every time I try to get naturalise is always some long story," he said.
"If dem ain't lost this, they can't find that. Is this, is that, is something. Last December I had to leave the country; spend one set a money, only to come back and hear me ain't had to leave to begin with," he added.
He said that he is praying that all goes well this time around and he can be naturalised soon so that he can be a financial contributor to his family's welfare.
Around the Web