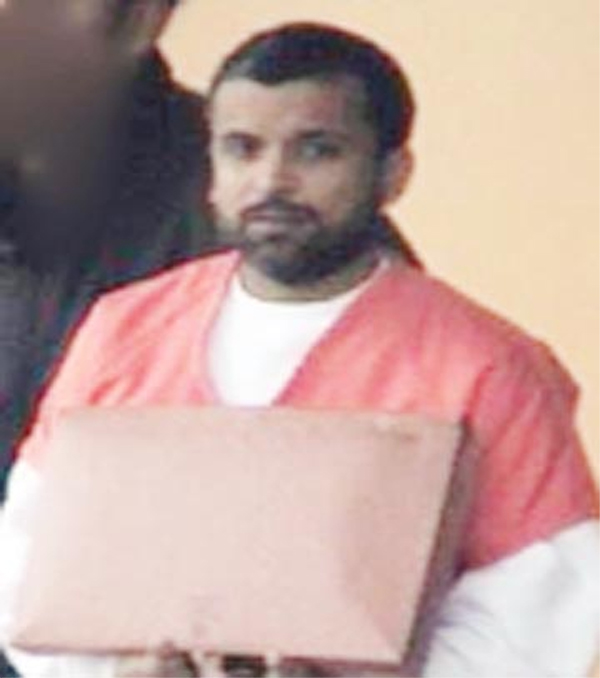 An attempt by convicted Guyanese drug kingpin Shaheed 'Roger' Khan to secure an early release from prison in the United States is facing opposition as the amendment of an existing law on which he has based his petition does not take effect until July 25th, seventeen days after his current sentence comes to an end.
In response to Khan's March 13th emergency petition, Warden Bryan Dobbs, through United States Attorney Ariana Fajardo Orshan, yesterday said the Bureau of Prisons (BOP) does not "presently have the authority to recalculate [the Petitioner's] good time credit" until the relevant provisions of the amendment take effect in approximately mid-July 2019.
In the response, which was filed yesterday and seen by Stabroek News, Dobbs asked for Khan's petition to be denied and listed three cases which were filed this year and to which a Magistrate Judge ruled that the claims were premature in light of the delayed effective date of the amendment.
On March 13th, Khan filed an Emergency Peti-tion for a Writ of Habeas Corpus in which he sought an order from the court requiring "the BOP to recalculate his good-conduct credits," with the application of the retroactive section of the First Step Act.
Dobbs noted that Sub-section 102(b) of First Step Act of 2018 provides that a section of the Act be amended by striking out current language and inserting language that provides for good-conduct credits "of up to 54 days for each year of the prisoner's sentence imposed by the court."
Dobbs pointed out that Khan's petition is dependent upon his argument that the amendment took effect immediately upon the passage of the First Step Act on December 21st, 2018. "The plain and unambiguous language of the First Step Act, however, belies Plaintiff's argument," Dobbs said in the response.
He pointed out that the Act imposes the following "effective date" for subsection (b) of Section 102: "The amendments made by this subsection shall take effect beginning on the date that the Attorney General completes and releases the risk and needs assessment system…"  This amendment, according to the court document, must be completed 210 days after the December 21st 2018 date of the passage of the Act, which will take the date for it to become effective to July 25th, 2019.
"Accordingly, under the plain and unambiguous language of the First Step Act, the amendments… which provide for the recalculation of good-conduct credits, do not take effect until the Attorney General has completed and released the risk needs assessment system, which, by operation of statute, must be by or before July 25th, 2019," the response said.
As a result, Dobbs is asking Magistrate Judge Lisette M. Reid to deny Khan's petition.
No calls to judge's office
Following Khan's petition, Judge Reid had ordered a shortened period for BOP to respond and also noted that no motions for extensions of time would be granted except under the most extraordinary circumstances which may require a show case hearing. The judge had also ordered that the Dobbs respond to the petition on or before April 30th to show cause why Khan's petition should not be granted.
On March 30th, the judge had also ordered that Khan, his family, friends or acquaintances must "not call any Judge's office for any reason. No information about the case can be obtained from the Judge's office."
If Khan wants to know the status of his case, he can file a pleading entitled 'Notice of Inquiry,' the judge indicated.
When Khan filed his petition in early March, he did so on his own behalf without the assistance of a lawyer and at that time he did not pay the filing fee nor filed a motion to proceed in "forma pauperis," which is a Latin term meaning "in the form of a pauper."
However, Judge Reid ordered and adjudged that the implied motion of the petitioner to proceed in forma pauperis was granted solely for the proceedings to this stage of the case. But if Khan wants to file anything further in that court or any other federal court, he must pay the appropriate filing fee or file a motion to proceed in forma pauperis with supporting financial affidavit.
In his March 13th filing, Khan revealed that the BOP had issued a memorandum to the inmate population which specifically stated its stance on when it would award the interpretation of the proper calculation of good-conduct credit. As a result, he argued that it would be futile to avail himself of the administrative remedies as he pointed out that the BOP's administrative remedies is a four-step process that takes approximately 130 days, when he was slated to be released in less than 120 days.
Khan says his release date is much earlier than the July 8th date the Federal Correctional Insti-tution, Miami (FCI Miami) still lists.
Khan argued that BOP is basing its decision to wait until July before it makes the necessary retroactive calculation upon "an admitted oversight" in the way the bill was drafted by Congress. This interpretation by BOP, according to Khan, ensures that thousands of prisoners like him will not benefit from the passage of the First Step Act.
He pointed out that with the application of the First Step Act's recalculation of his good-credit time, he would have a projected release date of mid-to-late March 2019—a benefit of approximately three months. "Yet since the BOP is not projected to apply the fix until after Khan is released, he will not receive the benefit this legislative enactment was targeted for," Khan said in his petition.
It was on October 16, 2009, Khan was sentenced by Judge Dora Irizarry to two 15-year and one ten-year prison terms, all of which were ordered to run concurrently.
The sentencing had brought an end Khan's case, which had riveted the country as explosive information linking the then Guyana government to the once powerful and violent drug lord was revealed. Khan's now convicted lawyer's trial had been similarly revealing. Among others, the revelations linked former Health Minister Dr Leslie Ramsammy to Khan and implicated him as being the government official authorising the importation of spy equipment to Guyana. Ramsammy has repeatedly denied any links to Khan.
Khan was charged with conspiring to import cocaine into the US over a five-year period from January 2001 to March 2006. The US government had said he was the leader of a cocaine trafficking organisation based in Georgetown. It had also asserted that he was able to import huge amounts of cocaine into Guyana, and then oversee exportation to the US and elsewhere.
The US government had charged that a significant amount of the cocaine distributed by Khan went to the Eastern District of New York for further distribution. As an example, it cited a Guyanese drug trafficking organisation based in Queens, New York, which it said was supplied by Khan. The Queens organisation was said to have distributed hundreds of kilos of cocaine in a two-month period during the spring of 2003.
Khan had resided in the US and committed crimes in both Maryland and Vermont. On January 6, 1992 he was convicted in Montgomery County of breaking and entering and theft. While he was on probation for that offence, he was arrested in Burlington, Vermont for receiving and possessing three firearms while being a convicted felon. He was subsequently indicted and was released on bail in November 1993. He promised to obey all conditions of his release but fled to Guyana in 1994 in order to avoid prosecution and as a result there is an outstanding warrant for him for violating the conditions of his partial release and an outstanding warrant in Rockville, Maryland for violating the conditions of his probation.
It was on June 15, 2006 that Khan was held in Suriname. On June 29th of the same year he was expelled from Suriname and, on June 30th he was arraigned in a US court.
Around the Web