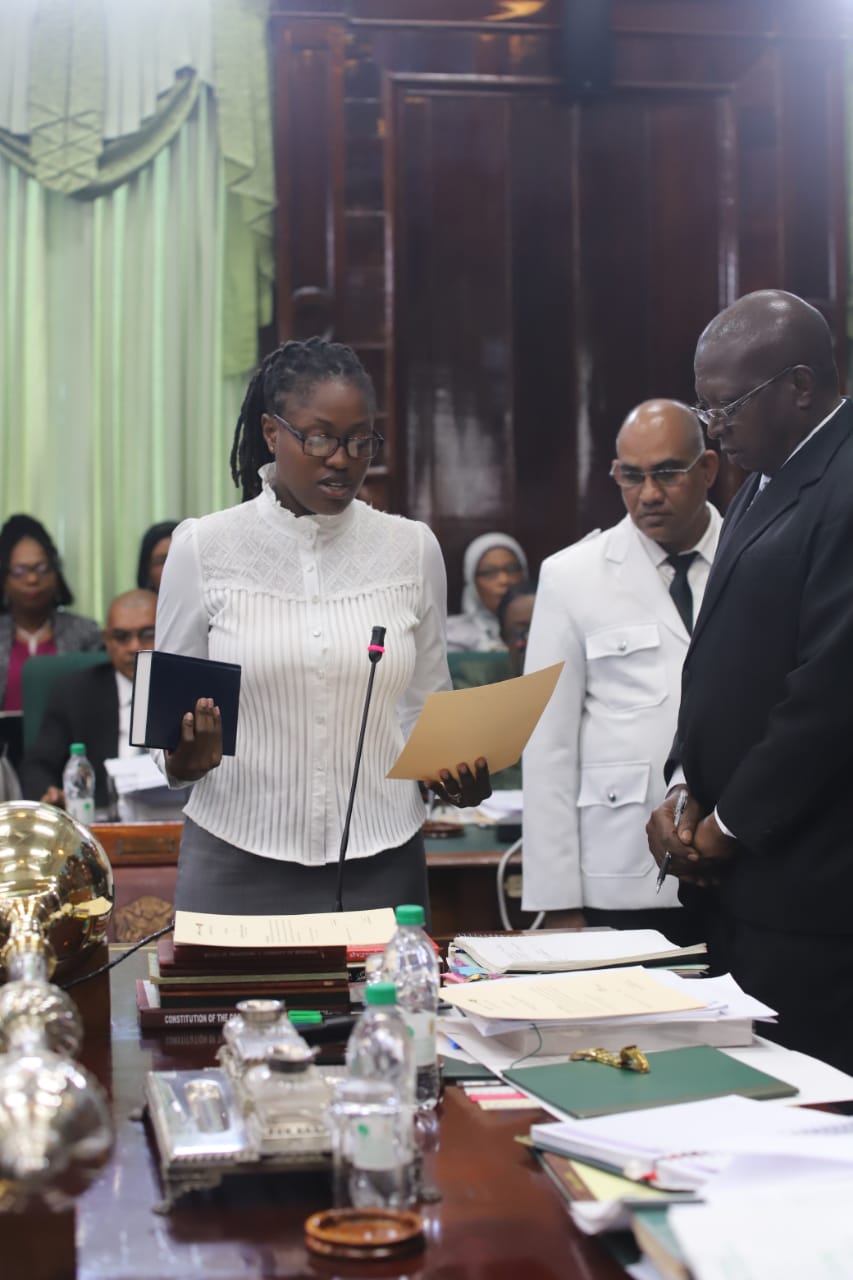 Four new APNU+AFC coalition Members of Parliament (MPs) were sworn in this afternoon, when the National Assembly reconvened.
The new MPs are Tabitha Sarabo-Halley, Mervyn Williams, Donna Mathoo and Raynard Ward, who are replacing four ministers who were recently forced to resign as a result of court rulings that confirmed that persons holding dual citizenship are ineligible to serve as MPs. Williams is a ministerial advisor, who previously served as a parliamentarian for coalition partner PNCR, while Mootoo and Ward are members of the AFC.
President David Granger on Thursday announced that Sarabo-Halley would serve as the new Minister of Public Service in the Cabinet, replacing Dr Rupert Roopnaraine.
The portfolios of two other former State Minister Joseph Harmon and former Business Minister Dominc Gaskin, have been assigned to Dawn Hastings Williams and Hemraj Rajkumar. It is unclear who will assume the reigns of the Foreign Affairs Ministry, which was previously headed by Carl Greenidge, who was also forced to resign.
In a statement issued today, the WPA saluted Sarabo-Halley in her political elevation to the national responsibility thrust on her by the party, APNU, the coalition and President Granger. "We stand ready to give our full support to ensure that the new Public Service Minister and Parliamentarian is successful in her new roles," it said.
"As a younger generation political leader, woman and strong advocate of youth empowerment, her appointment symbolizes WPA's enduring commitment to and support for youth and gender equality," the party added.
The party said it expects that her presence in the Cabinet will greatly enhance relations between the WPA's Executive and the Cabinet. "For us, this marks a new and significant phase in our relations within the APNU, the Coalition and the Government. We are confident that her appointment will strengthen our collective efforts to prevail in the general and regional elections, whenever they are held," it explained
The party also noted its appreciation for Dr. Rupert Roopnaraine's "years of selfless service" in advancing the interests of the people of Guyana and offer its continued support to him in keeping with his desire to serve the people of Guyana.
Around the Web