The Ministry of Public Health (MoPH) yesterday launched its second annual Health Expo and is seeking to target a larger audience.
The event will be held under the theme 'Reaching for a Better Life with Good Health,' with the main objectives being to strengthen the health communication and awareness among citizens, to sensitise the public about the services provided by the ministry for improved health care, and to provide the platform whereby local and foreign manufacturers, distributors and suppliers can interact and discuss current knowledge and best practices.
The expo will be held from June 5th to June 8th at the Sophia Exhibition Centre.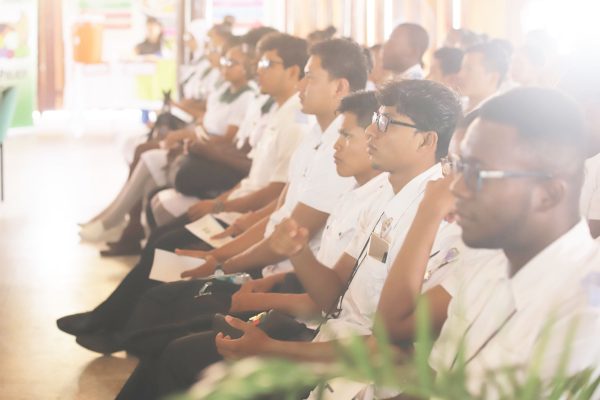 The launch was held at the Umana Yana, where Prime Minister Moses Nagamootoo, delivering the feature address, said the nation's health has always been a priority for government and resultantly much emphasis is placed on ensuring public health care is accessible to every citizen. "The expo will provide knowledge of how to access the services available in the public health sector, we have to make available the choices to our people…Much of our budget is allocated to the public health sector from $23.2 billion in 2015 to $35.9 billion in 2019," Nagamootoo said.
He explained that every time there is an issue in a region, it becomes a general issue for the entire country.
The state, he explained, is "driving" the health sector and citizens are not benefitting from the kind of information that will inform them of such. "…The public health facilities are open to all Guyanese," he said, while acknowledging that they cannot boast that they have achieved the goals set for full access.
He observed that it is difficult for people to access medical attention in many areas and said this would remain a challenge. "So we cannot boast that we have satisfied all the requirements of our people in mental, physical, dental attention in the areas of public health," Nagamootoo said.
The Prime Minister applauded the MoPH for its efforts in ensuring country-wide programmes are available to all Guyanese, while adding that "immunisation should be a priority."
Meanwhile, Minister of Public Health Volda Lawrence said the expo is launched with the hope and vision of reaching a larger section of persons, especially residents of Region Four as well as those from contiguous regions and beyond, and educating them of the great benefits to be derived from life and a better life with good health.
She said the ministry is tasked with an "important and enormous" mission, which is to ensure that all citizens are among the healthiest in the Caribbean and the Americas.
"Our mandate is aligned to the sustainable development goals which have and will behold us to ensure the health and wellbeing of all by 2030," she said, before adding that every Guyanese throughout Guyana has to be able to access primary health care.
Lawrence explained that the delivery of quality health care services and important health information are critical to the ministry in fulfilling their mandate and obtaining their health objectives. The expo, she said, provides another opportunity to "wage war" on the alarming statistics on preventable diseases that constantly bombard us.
"In 2017, Dr Alfia Samuels, Head of the Port-of-Spain non-communicable diseases evaluation team stated that Guyana and Trinidad and Tobago (T&T) have the highest mortality for premature cardiovascular diseases and diabetes in the Americas," Lawrence recalled.
Out of 54 countries, she said, Guyana was number one, followed by T&T.
As it relates to diabetes, she highlighted, the number of those with the ailment in Guyana stood at 52,400 in 2017, according to the International Diabetes Federation.
In terms of cancer, Lawrence said, Guyana tops the Caribbean in cancer deaths. "We have a mortality rate of 21.0 per cent per hundred thousand persons with approximately 100 women succumbing each year," she said.
Lawrence further disclosed that child obesity is also on the increase as the consumption of sweetened beverages and sugary substances has taken a strong hold on the youth population. She also said that road fatalities remain a great source of concern. "The high incidence of many deaths on the roadways attributable to driving under the influence of alcohol."
"The list of lamentable woes of negative statistics goes on. And so, we at the Ministry of Public Health, we want to spread a message of wellness as we embrace Health Expo 2019," Lawrence asserted.
MoPH Permanent Secretary Collette Adams, meanwhile, said that the ministry is committed in hosting this event every two years after this year. "Health Expo saw thousands of citizens benefitting from various health services. In the case where services could not have been afforded at the venue, referrals were made to tertiary facilities," she said.
Last year, she said, there was over 70 local and foreign exhibitors who offered patrons products and services that benefitted their lives. They were also introduced to modern technologies in health, Adams said.
Health Expo this year will feature a host of activities including a career day, which seeks to introduce students to a career in the health field and will also provide them with an opportunity to seek training in various areas such as nursing and other aligned professions.
Also, there will be a fitness center, which will portray that fitness is the best, the launching of a Non-Communicable Diseases risk factor reduction campaign and a mini Exposition on tobacco control.
Adams said for this year, they also expect to have more local and international organisations, health practitioners, manufacturers and suppliers participating.
Around the Web