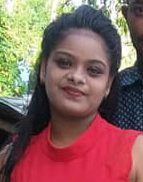 A Timehri mother of one is fearful for her life after she was brutally attacked just over a week ago by the father of her child and she is calling on lawmen to work more diligently to arrest him.
Nirmilla Sookwah, 20, of 131 High Park, Timehri, East Bank Demerara, was attacked after returning home from a wake in the neighbourhood just after 11 pm on April 25th. As a result of the attack, she suffered a fractured jaw, a punctured knee, and other injuries to her body. Sookwah is expected to undergo surgery to rectify the injury to her jaw shortly.
Speaking to Sunday Stabroek, Sookwah explained that she separated from her common-law husband about a month ago, after being constantly ill-treated and accused of infidelity.
"Living with him was miserable. He was always quarreling for something or misbehaving and hitting me. He threatened to kill me and always make threats about what he would do to our son, I just couldn't stay with him," Sookwah told this newspaper.
She noted that last Thursday's attack remains a fresh memory, as she recalled the entire ordeal as if it had just happened.
"I can't sleep. Like every time I go to sleep, I wonder if he would come back because I know he is out there. I know he can come back… I can still remember everything … I need justice. I need them to catch him," she stressed.
Recalling the attack, Sookwah said after she returned home, she changed her clothing and retired to bed. Having fallen asleep, she recalled hearing an individual call out to her twice but she did not answer.
"I hear like is two persons outside and I get up and peeped through the window and I recognised was my son father from the jersey he was wearing. He come and pulled the window and the bolt break. I run to the door and ask he why he come… I tell he come back another time and if he come in the house I would holler," she recounted.
"He keep asking me why yuh opening yuh mouth and he came in the house. I open the door and run out but he jump out back and run behind me. I run down the hill and he tried to catch me…but after he couldn't reach, he tek he foot and kick me down the hill," she added.
The young woman said she rolled down the hill and when the man caught her, he dealt her blows about her body and only relented after the neighbour's dogs started to bark.
She explained that after he fled, she was rescued by relatives and rushed to the Diamond Diagnostic Centre, where she was treated before being transferred to the Georgetown Public Hospital for further medical attention. Sookwah said she spent a day in the hospital before being discharged but has to return to undergo surgery.
She noted that since the attack, she cannot eat any solids.
'Free'
"All I want is some justice and be able to live freely. I survive this but if he is out there I gon' keep thinking he can come for me and my son. The police come and search for him three times but they can't find but people saying he hiding by people in the village," she said, when asked about the police's response to her attack.
She further stated that she wishes the police can secure search warrants and go into the homes where the accused is reportedly being harboured and search for him.
"When I moved out from him, I feel so free. I find a house to rent next to my aunty and a job at her shop. It wasn't enough but I feel free. I had to make up my mind and move out because I couldn't live like that anymore…," she stressed.
Nonetheless, she pointed out that it was not the first time she had moved away from the man but it is the first time she has stayed away for as long. "I would move out but he would always come and beg for me to go back with him. I does do it for a week or lil bit over a week. I never stay away this long and I don't know if he realise this and know that I was serious," she stated.
She added further that prior to this attack, her child's father was dealing with a matter with welfare officers, which they were trying to resolve. She, however, noted that she has since informed them of the latest ordeal.
Asked if she has received any form of counselling since the attack, she responded in the negative. Throughout the interview with this newspaper, she kept calling for justice and wishing for a life free from fear for herself and her son. "I need justice. I wish people knew how much pain I am in because of him and stop hiding him. I have to take so much tablets because of the pain he caused me," she lamented.
Around the Web