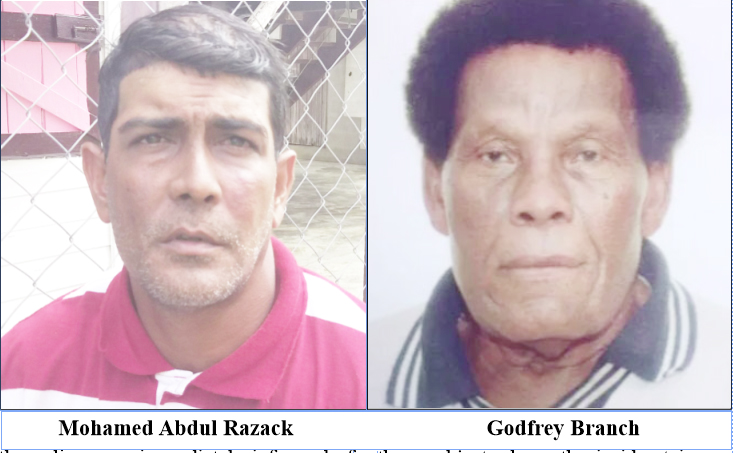 Following a spate of robberies, the Guyana Police Force has deployed officers attached to the Special Weapons and Tactics Unit (SWAT) to Berbice, a source confirmed yesterday.
The recent robbery committed on Z-One Chinese Supermarket, located at Lot 16 B Albion Front, Corentyne around 9.15 pm on Saturday evening, along with several other robberies committed over the past two months throughout the county, have left residents in fear.
According to a source in the division, the ranks from the unit, who arrived in Berbice yesterday, are expected to carry out intelligence work in order to nab the perpetrators behind the attacks.
Calls from Stabroek News to Commander of 'B' Division Paul Langevine to confirm this, went unanswered yesterday. Stabroek News had also wanted to clarify with the commander whether any arrests or progress had been made in relation to the recent robberies.
Calls to the country's Crime Chief, Lyndon Alves, also went unanswered yesterday.
However, a police source in the division told Stabroek News that no arrests had been made in connection with the Chinese supermarket robbery, which left one proprietor, a Chinese national, nursing injuries to her head. 
The bandits, who were armed with guns, stole $250,000 in cash and one cellphone. However, before escaping, the bandits opened fire on ranks attached to the Albion Police Station, who arrived at the scene in their patrol vehicle.
Residents in the area, who are still very upset about the incident, criticised the ranks, who they said seemed to have no knowledge on how to approach the situation. The residents also chastised the ranks for not working on information provided to them on the spot from eyewitnesses.
According to the residents, the bandits hid through a cross street next to the supermarket for a while in a resident's yard, before making an escape. Although the police were immediately informed of this, they failed to act.
Meanwhile, notably, the police in Berbice are yet to charge anyone in relation to a number of robberies.
On May 9, an Alness Village, Corentyne pensioner was left hospitalised, after two armed bandits invaded his home and robbed his family of $5,000, a cellphone and a gold ring.
The bandits assaulted the pensioner and his wife, along with their grandson, while demanding cash.
On May 5, a Skeldon moneychanger was shot when bandits robbed him while he was plying his trade a stone's throw away from the Springlands Police Station. Mohamed Abdul Razack, 44, of Lot 23 Eliza Avenue, Springlands, who sustained a gunshot injury to his leg, had told this newspaper  that had he not fought off the bandits, he would have been shot in his face. The bandits escaped with over $550,000 in Suriname and Guyana currency. 
On May 2, a Tain, Corentyne family was forced to fight off armed bandits during an attempted robbery. The bandits had reportedly broken into the lower flat of the house, after which the owner, Haimraj Pattiram and his two sons, armed themselves with cutlasses and began to throw objects down the inside staircase. The bandits had attempted to wrench out the door in order to gain access to the upper-flat, where the family was located.
It was after the family had thrown a chair to block the staircase and phoned the police, that the bandits decided to escape.
On May 1, a Cumberland Village, East Canje, Berbice goldsmith woke up to his home being broken into and discovered that they had been robbed of cash, jewellery and electronics. Hamza Khan, also known as "Daniel", had also told this newspaper that the Reliance Police Station, which is located two villages away from where he resides, had failed to respond to his call. However, a patrol attached to the New Amsterdam Police Station had responded about one hour after they were phoned.  The perpetrators stole over $440,000 in Guyana and United States currency, along with a quantity of electronics and jewellery from Khan's house.  On 27 April, three bandits armed with guns robbed a Canefield Village, East Canje, Berbice businesswoman of over $200,000 in cash and phone cards. The bandits, during the robbery, assaulted the woman and placed a gun to her grandchild's head while demanding cash.  
On 11 April, Kumarie Bhagwandin, 63, of Second Street, Bloomfield Village, Corentyne, was pushed off of her shed during a robbery by four armed bandits. The bandits, who were armed with guns and cutlasses, escaped with over $60,000 in cash, a pair of gold earrings and three rings. 
After all of the robberies mentioned above, Stabroek News was told that persons were held for questioning. However, they were then released and no charges have since been filed.
Furthermore, investigators in Berbice are yet to nab any suspects in connection with the murder of Godfrey Branch, 73, the re-migrant pensioner who was found dead with stab wounds about his body in his house at Springlands, Corentyne, on May 3.
Branch was discovered with two stab wounds to his abdomen, one to the region of his heart, one to the right side of his chest, and one to the back of his head. His feet were tied together with trousers.
Also, his house was ransacked and an undisclosed sum of cash was missing, along with the DVR with surveillance footage.
In late April, a Cumberland man and woman were charged in relation to a robbery committed on a Canefield Settlement bar. Sylvester Joseph, 29 and Ashley Bonita Drigpaul, 22, are both on remand, after they were jointly charged for robbing the bar owners and several customers on April 13.
Additionally, Christopher Rampersaud, 40, was remanded to prison for a robbery committed on March 16 on a New Amsterdam businessman. It was alleged that Rampersaud, while in the company of others and armed with a gun, robbed Robin Busgith of a Toyota car valued $1 million, $3.7 million in local currency, US $1,500 and a cellphone. 
Around the Web