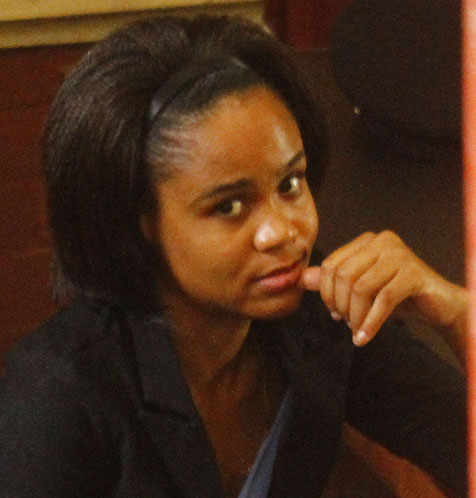 A North East La Penitence shop owner who was accused of throwing pepper sauce on her neighbour after they got into a scuffle over money was yesterday granted bail after she appeared in the Georgetown Magistrate's Court.
Colleen Sage, 25, denied the charge, which alleges that on May 19, at North East La Penitence, she unlawfully and maliciously threw a corrosive fluid on Cecil Moore with intent to maim, disable, disfigure or cause grievous bodily harm.
In his application for bail for Sage, attorney Adrian Thompson told the court that the mother of two was on $10,000 station bail and stated that Moore, who was indecently exposed, was armed with a cutlass after the scuffle, which resulted in Sage throwing pepper sauce on his face.
Prosecutor Annalisa Brummel strongly objected to bail, stating that the possibility exists that Sage might be a flight risk and noting that the two are known to each other. Brummell further stated that on the day in question, there was a misunderstanding between the two, after which a scuffle ensued. Brummell explained that Sage armed herself with the fluid, before throwing it on Moore's face.
Moore then opted to speak and told the court that his eyes are still swollen and he is unable to see properly.
He said that Sage had recently opened a shop and they entered into an agreement in which Sage was to pay him $10,000 a month. He related that because she had recently opened the shop, he didn't pressure her into paying the $10,000. However, he was soon in need of the money, which resulted in him asking her for the money she owed him.
His request was met with displeasure by Sage, who handed him $2,000 and said that she didn't have any money. He said that after the scuffle he went home, noting that his residence is located next door to Sage's. He related that he was followed by Sage, who subsequently doused him with pepper sauce.
Magistrate Faith McGusty granted Sage bail in the sum of $150,000, with the condition that she reports to the East Ruimveldt Police Outpost, lodges her passport, and has no further contact with Moore.
Sage will make her next appearance in court for the matter on June 19, 2019.
Around the Web