President David Granger has declared that Guyana will strengthen its relations with Russia and is looking forward, particularly, to the successful conclusion of agreements relating to investments and the mutual recognition of educational qualifications.
 According to a Ministry of the Presidency (MotP) release, the President was at the time speaking at a reception hosted at the Embassy of the Russian Federation last evening that was also attended by former President Donald Ramotar, Ministers of the Government and other members of the diplomatic corps, in honour of Russia Day 2019.
 "Guyana will continue to collaborate at the multilateral level with Russia in pursuing our common interests, including action to combat the threats of transnational crime, the adverse effects of climate change and the securing of global peace and security," President Granger said.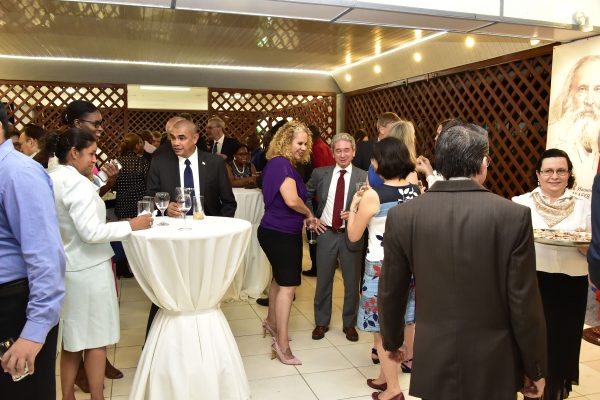 He said that Guyana is pleased to be part of the celebration of this anniversary, which commemorates the adoption of the Declaration of State Sovereignty of the Russian Soviet Federative Socialist Republic (RSFSR) on June 12, 1990. It also marks the adoption of the new Russian Constitution, a new national flag, a new national anthem, a new emblem and a new name for the country – the Russian Federation, President Granger added.
 The President went on to state that, "Russia's role within the international community remains an important one. Russia's contributions to science and its economic and social achievements – straddling all spheres of human endeavour – have benefited developing countries, including Guyana and of course the world at large. Guyana and Russia have enjoyed excellent formal and informal relations for over fifty years. Our relations are predicated on respect for treaties and international law and the maintenance of regional peace and security,"
The Head of State noted that Guyana and Russia have collaborated in the fields of culture, education, the economy, security and science and the training of Guyanese in Russia has provided the country with a corps of skilled professionals who have and continue to contribute to national development. Russia's support for debt relief and disaster relief is also welcomed and appreciated.
Russian Ambassador to Guyana, Alexander Kurmaz, in his remarks said that Russia and Guyana have had cordial relations since 1970 and noted that these relations are based on mutual respect and non-interference in each other's affairs, the release added.
"We share common approaches to a number of issues on the global agenda and looking forward to expand on our relation, not only on a bilateral level but also within international mechanisms. One area of collaboration has been education and approximately 200 Guyanese have graduated from Russian institutions and work in Guyana today. We will put our heart to cooperate and build a more cooperative world," the Ambassador said.
Around the Web