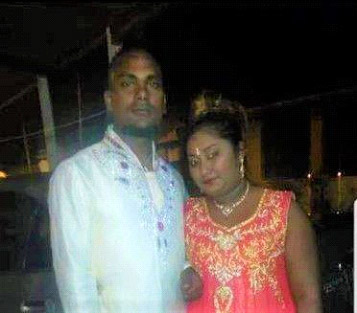 (Trinidad Express) The wife of slain Couva fish vendor Samuel Sookdeo said that six months ago she made a police report that she had been threatened.
Shivani Ramjit said she received the threats on her Facebook account in July, and told Sookdeo about them.
Ramjit said she took the information to the police and deactivated her Facebook account.
 "The threats said that one day I will end up in the creek like a dog. They called his (Sookdeo's) name in it. I told him about it but he didn't say anything. I told him don't take any action and I went to the police", she told the Express yesterday.
On Tuesday night a man dressed in camouflage clothing gunned down Sookdeo at Ramjit's parents' home at Bachan Road, Union Village.
Sookdeo, 31, also of Union Village, was shot at least six times at close range.
His friend, Patrick Samuel, was shot to the back and is warded at hospital.
Shivani's brother, man Brandon Siew, 20, was grazed by a bullet.
The shooting occurred around 10.35 p.m.
Moments before the shooting, Sookdeo, Samuel and other relatives and friends had just eaten a meal of duck and dhalpourie, and were walking to a shed when the killer attacked.
Ramjit, had said Sookdeo was marked for death and had a lot of enemies in another village.
She said that no one was arrested for the threats made against her.
Ramjit said she and Sookdeo lived together for two years and he left behind his a life of illegal drugs when he began a relationship with her.
Police said they did not know the motive for the killing but that Sookdeo had pending matters in court for firearm related offences.
Around the Web