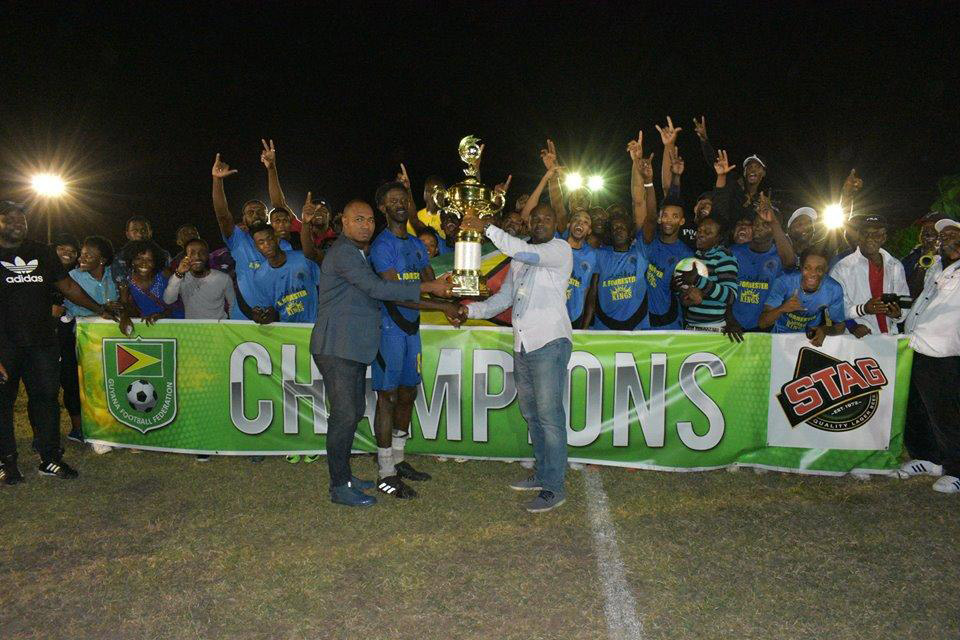 Den Amstel was crowned the Guyana Football Federation [GFF] 'Stag Beer' Super-16 Champions, defeating home side Buxton United 2-0 yesterday at the Buxton Community Centre ground.
O'Neil Heywood, head-coach of the victorious Den Amstel outfit during post-match comments, said, "It was overwhelming for us because it is our first major tournament that we have won, and we worked hard morning and afternoon."
According to O'Neil, "It all started when I went to Miami and saw the level of professionalism and I said when I came back I am going to start with myself and change the way how we approached things and the players agreed with me and we set a short time goal to win the Super-16."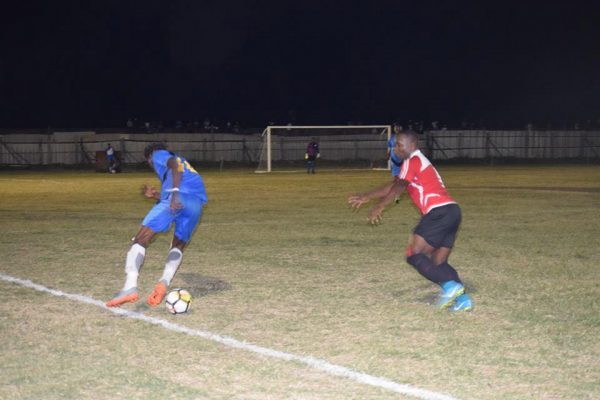 With the win, Den Amstel walked away with $2,000,000, a trophy and training equipment, while the losing finalist pocketed $1,000,000, the respective accolade and equipment.
Witnessed by a large crowd which surprisingly featured hundreds of supporters from the West Demerara region, Jamal Harvey broke the deadlock in the 47thminute, after the first half failed to separate the sides.
It was an opportunistic finish by the versatile Harvey, who happened to be in the right place at the ideal time, as initial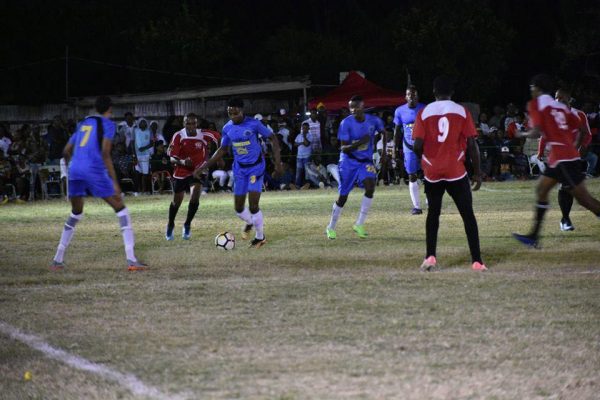 strikes, firstly by Gideon Payne and subsequently by Kester Jacobs, was pushed into his awaiting path by the custodian Jason Cromwell to slot home.
The conversion sent contrasting emotions throughout the venue. However, the home side was presented with a golden opportunity to level proceedings, as they were awarded a penalty kick. Tasked with the responsibility from the distance, Denver Dennis failed to convert, as he fired his effort wide of the target.
The aforesaid miss proved to be detrimental as Den Amstel recorded their second conversion in the 85th minute to seal their championship.
The goal emanated from a counterattack, as a right side cross from Jamal Pereira was inadvertently directed into the back of the net by a Buxton United defender.
Meanwhile, Fruta Conquerors downed Western Tigers 2-0 to clinch the third position. Nicholas McArthur opened the scoring in the 61st minute following a scoreless first half, before a Raphael Edwards own goal in the 75th minute sealed the scoreline.
Due to the result, Fruta Conquerors pocketed $500,000, a trophy and football equipment. On the other hand, Western Tigers collected a trophy and equipment.
Complete Results
Game-1
Den Amstel-2 vs Buxton United-0
Jamal Harvey-47th 
Own Goal-85th 
Game-2
Fruta Conquerors-2 vs Western Tigers-0
Nicholas McArthur-61st
Around the Web