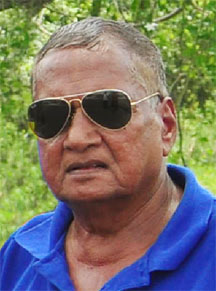 National Cycling Coach Hassan Mohamed on Saturday deemed 2018 a 'reasonable year' for the sport while indicating that he looks forward to the same support for the upcoming season which gets underway January 26.
In an invited comment, Mohammed said…"Well I would say from my perspective 2018 was a reasonable year and with the help of the sponsors it was a success."
`The father of cycling' as he is commonly known in the fraternity churned out 33 races for the year and credits all the sponsors who have been with him over the years including the Burnham Foundation, Cheddi Jagan Foundation and Regan Rodrigues Memorial.
Mohamed said there were hardly difficulties in the year, if any but expressed his discomfort with some individuals who committed themselves to sponsorship and did not fulfill their pledges.
Looking at the new season, Mohammed, who has been organising cycling events since 1977, explained that it is his hope to have all the sponsors remain on board while emphasizing that he or any new sponsor want to come onboard it would mean a lot for the development of the sport.
The cycling season will pedal off with the 26th Ricks and Sari Agro Industries cycling meet which is scheduled for the inner circuit of the National Park.
Last year, Curtis 'Chappy' Dey of PSL Trojan rode away with the 35-lap featured race in a time on one hour, 12 minutes and 51 seconds.
Briton John won the Juveniles 10 lap while Shane Bourne copped the Mountain Bike five lap race. In the Veterans division of five laps, Kennard Lovell took home the over-50 and Junior Niles sealed the under-50 categories. Meanwhile the BMX 6-9  category was won by Alpha Harrison, the 9-12 category by Jaheme Henry and the 12-14 category by Taharan Garbaran and Jonathan Ramsuchit.
Around the Web