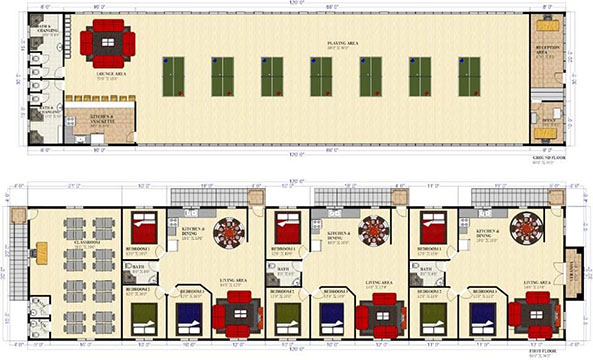 As the level of table tennis continues to grow on the local scene, Dwain Dick is keen on advancing Titans Table Tennis Club with the main focus set on a new facility.
Speaking with this publication, Dick explained that the prospects for the initiative is expected to be completed by 2021 and will feature a State-of-the-Art Academy.
According to Dick, the facility will be situated in Heritage Drive, A Field Sophia on a portion of land gifted to him by his mother whom he describes as "a big supporter of Titans and table tennis."
Dick said that he has already began preparatory works on the land with a fence constructed and land filling currently ongoing.
When the two-storied structure is complete, Dick envisions it will employ 20-25 persons including coaches, administrative staff, nutritionists and psychologists while the building will feature three dorms, a playing area, canteen, classrooms, all similar to an academy.
Dick began coaching at the Malteenoes Sports Club in 2009 and founded Titans, which is based at Red Cross Head Quarters, Barrack Street, Kingston, in 2011 with one table and four players.
He has transformed the club which now has over 60 registered members and eight tables.
Although the facility will be catering for sports, it will also have classrooms where players can also be taught. Dick, who is a Mathematics teacher at Chase Academy and a Physical Education teacher at Westfield Preparatory School stated that the aim of the club is to produce rounded individuals.
"Hopefully, when the facility is completed, I can offer tuition for the STEAM [Science, Technology, Engineering, Arts and Mathematics] subjects as I would like to steer the students in that direction. To show that sports and academics can go hand-in-glove and hopefully, I can see many of them getting scholastic and professional opportunities from the sport," Dick said
The founder of the Club envisions a system whereby companies can come on board and secure branding rights with the club and facility.
The club, in 2018, staged four tournaments, Scotiabank and Banks Malta at Queen's College as well as the Viva Water's Slammer Rammer at Marian Academy and the Raj Singh Insurance/Beacon Café's Play to Conquer tournament at the Cliff Anderson Sports Hall.
The club also staged summer camps in schools for talent spotting.
"I can say we had a phenomenal year due to the fact that we saw several players being crowned National Champions such as Thuraia Thomas (13 years and under girls), Nevaeh Clarkston (under-15 and under-18 girls), Jasmine Billingy (under-9 and under-11 girls), Colin Wong (under-11 boys), Jonathan Van Lange (13 years and under boys) while most of the second and third place finishes were also our players… Van Lange capped it off with a gold at the Joola North American Teams but throughout the year we dominated all the junior tournaments then our senior female, Natalie Cummings also won the women's national title."
This year, the club has 11 activities planned with the year set to begin with a mental toughness seminar on January 13 and 20 from 13:00hrs to 16:00hra each day. The event will be hosted at the Red Cross top floor with Noelle Smith facilitating the event that will target under-15 and under-18 athletes.
Around the Web