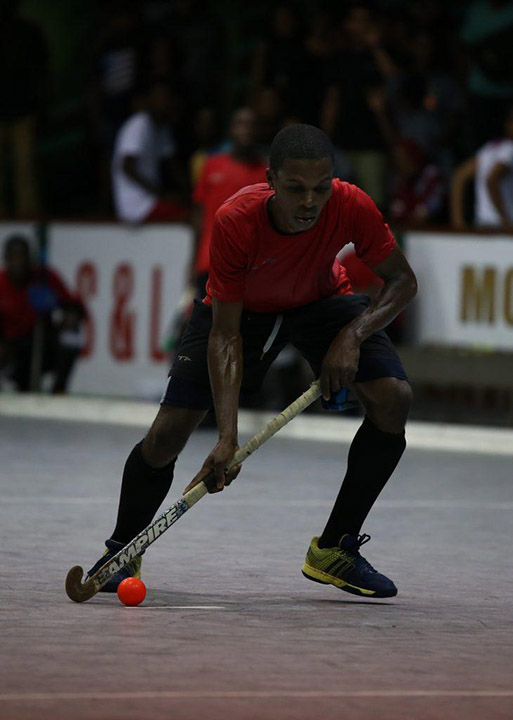 Guyana's national under -19 indoor developmental hockey team, Supernova, was made to work on the penultimate day of the University of the West Indies (UWI) Indoor Tournament, currently underway in Trinidad and Tobago where they encountered a draw, a defeat and a win to complete their group matches.
 The juniors were held 4-4 in their second match of the tournament against UWI.   
Omar Hopkinson got his team off to a good start in the second minute with clinical penalty corner conversion, before Trinidad and Tobago senior men's team player Jordan Reynos equalized seconds after in similar fashion. 
Despite dominating the majority of the first half, the Supernova front line was unable to penetrate the compact UWI defence.  
 Five minutes into the second half it was a second blistering penalty corner flick from Hopkinson that left the UWI goalkeeper frozen on the goal line, but again Reynos answered immediately with a penalty stroke to the bottom left corner.    Supernova went two goals clear in the 24thminute when the dynamic duo of Shomere Garnett and Warren Williams scored from either flank in a matter of seconds. Two minutes later it was Daniel Byer who finished a lethal UWI counter-attack to make it 3-4 before Reynos pulled his team level in the 28thminute from a second penalty stroke. 
 The juniors were then defeated 5-6 by Queens Park. Goals for the Guyanese came off the sticks of Jamarj Assanah, Kareem McKenzie – twice -, Hopkinson, and Williams. 
 Guyanese Jeranzeno Bell and Aidan De Gannes scored twice for the winners while Shawn Lee Quay and Evan Farrell scored the other goals.
 Supernova in their final group match, pulled off a 3-2 win over Malvern to keep their semi-final hopes alive which is now predicated on other results going in their favour.
Assanah, Shakeem Fausette and McKenzie got on the scorecard to ensure the win for the Guyanese while Michael Stewart and Kristien Emanuel netted for Malvern in a losing cause. 
Around the Web